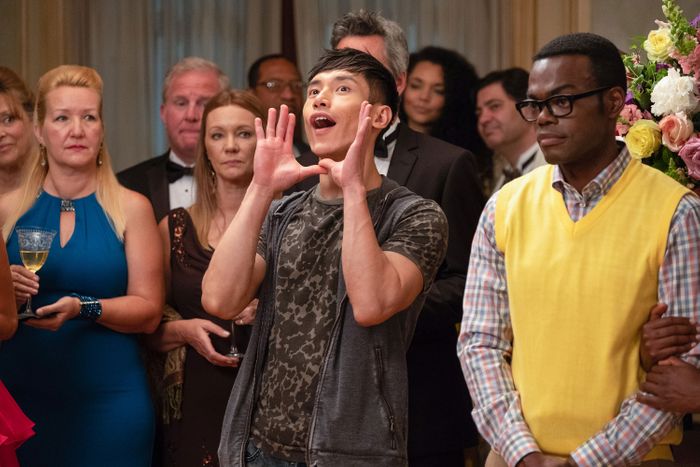 Almost from the beginning, and definitely throughout season two, some The Good Place fans have proposed that this show is partly intended as a sly commentary about what it's like to create a sitcom. Michael is a stand-in for writer-producer Michael Schur. Janet is his internet connection and word processor. The four humans are the characters Michael can drop into just about any situation he imagines. And the other demons are … well, they're just demons. (It's not a perfect analogy.)
This week's episode, "The Snowplow," should be a big one for anyone who enjoys reading The Good Place as metafiction. Safely back on Earth, door locked behind them, Michael and Janet find the abandoned St. John's University journalism department ("Bad for the world, good for us!" Michael chirps), and they start using surveillance equipment to keep track of the study group. Whenever an unexpected complication arises — like Eleanor running out of money, or Jason and Tahani crushing on each other — the extra-dimensional guardians nudge aside any major obstacles. They're like a snowplow clearing a path … or like TV producers writing their way out of a corner.
As any writer will tell you, sometimes characters have minds of their own. Stories need conflict, which is why even fictional constructs have a way of stumbling into a fresh pile of trouble just as soon as their creators pull them out of their previous scrape. This latest Good Place is primarily about how hard it is for anyone — even people who make TV shows — to get everything exactly, satisfactorily right.
Like last year's "Dance Dance Resolution," "The Snowplow" has some fun with the idea of skipping ahead in a story, rather than grinding through the tedious bits. About half of the episode consists of fleeting vignettes, showing scenes from Eleanor & Co's lives over the course of roughly a year.
Michael and Janet break out their "snowplow" for the first time when Eleanor starts looking for a job (even though her only real skill, beyond scamming people, is that, "I can usually guess how long to microwave food without looking at the box."). Janet doesn't have her powers any more, but she retains all her memories from before she got unplugged from the universal net, which is all the data she needs to find a winning scratch-off lottery ticket for Eleanor. After that "fix" goes swimmingly, the duo keeps futzing. They get Chidi and Simone some better tech. They set Tahani back up with her ex-boyfriend: pediatric chiropractor and celebrity brother Larry Hemsworth. They buy Jason some high-cut jean shorts. (That one's Janet's idea.)
The payoff for all this meddling is one hilariously whimsical scene at the end of the time skips, wherein Chidi summons his AI-enabled "superboard" before getting preempted by Tahani, who asks the computer for "some triumphant music" so she can announce her engagement to Larry.
The Larry Hemsworth subplot is funny for a couple of reasons. The character himself is a winner: an overshadowed sibling like Tahani, who thinks of himself as fat and ugly and "dull as a rock" (and unable to come up with a better simile than "dull as rock"). He's sensitive about everything, and isn't reassured when Tahani meekly suggests that "fixing baby spines is just as valuable as acting."
This is also one of those episodes that goes all-in on Tahani as an out-of-touch aristocrat, which is always comedy gold. Whether she's assuming Eleanor's $18,000 lottery price is a letdown, or she's casually admitting that she can handle Larry's enormous engagement stone because "girls in my social class begin ring training at a very young age," or she's inviting her school chums to pop by the place she found on "Heir B&B" (a site where the children of the obscenely wealthy helpfully swap blimp-hangars and the like), Tahani is side-splittingly insensitive. Thank goodness she decided to get out of the spotlight of her Get Out of the Spotlight tour and join this group.
Here's the problem, though: Larry and Tahani's marriage will drive them away from Sydney, effectively terminating the study. That's the way it goes with fictional characters: If they're going to be interesting at all, they need to be doing something, at which point raw narrative logic takes over. If Tahani can't be with Jason, she's bound to end up "smashing" someone else, which will lead wherever it leads. Not even if Michael pretends to be "Nathaniel Cookswell, caterer to the stars" and plies Larry with a tray of Vegemite canapés so he can talk this couple out of moving away. (It doesn't help that Larry immediately sniffs out Michael and Janet are fakes, and possibly scandal-hunting journalists from "T.M.Zed.")
As much as The Good Place is a show about writing fiction (which, I hasten to add, might not even remotely be what Schur and his writers have ever had in mind), it's even more a show about broken people trying to figure out how to be whole. Just last week, the New York Times published a great behind-the-scenes look at this very episode, which delves into how seriously Schur takes the mandate he's given to himself: to make a sitcom that's both riotously funny and genuinely instructive about the steps we can all take toward becoming better people.
Inevitably, the playfulness in the first half of "The Snowplow" gives way to Eleanor irrationally lashing out at the friends she insisted she never wanted, after she finds out that they're about to leave her behind. And it leads to Simone analyzing Eleanor's tantrum, saying that when it comes to humanity's two main existential problems, "Me vs. Us" (the question of whether or not to share resources with a community to maximize the chance of survival) and "Us vs. Them" (the challenge of seeing different communities as worthy of respect), Eleanor still hasn't advanced beyond the former. Deep down, she'll always feel that sharing is for suckers.
In a similar way, Michael will always feel deep down that Eleanor and Chidi and Tahani and Jason are going to ruin everything if he doesn't micromanage them. The episode ends with Michael in Tahani's cellar, opening up the doorway to the afterlife, planning a daring gambit to charge into Gen's chambers and reset the timeline again. ("I assume there's a knob, or a button, or you unplug it," he mutters to Janet.) It's only the unexpected arrival of the four humans that stops the plan, and leaves us with a cliffhanger.
What happens next? I suspect that Michael will explain who he really is, and the humans will debate whether they want to continue on as they have been or start over. The real choice, though, will always remain with The Good Place writers. Week to week, they'll have to keep figuring out whether these characters are good enough as is to tell this show's story, and to say all that needs saying.
Down Under:
• I'm loving the Simone/Eleanor dynamic. Simone sees through every one of Eleanor's poses, and keeps her from defining every minor choice as a test of how she defines herself as a person. ("Counterpoint: These are delicious free cupcakes. Get over yourself, and eat one.")
• Eleanor tries to imagine who might replace Tahani in the Brainy Bunch: "You think Margot Robbie is into philosophy?"
• Jason's Jags fandom and Jacksonville roots provide a few good goofs in this episode, including him complaining that he has to watch games early in the morning on Mondays (because Australia is in "a different clock-land") and him inviting everyone to his waterfront property in Florida (which didn't used to be so scenic, but good news: the whole city is a swamp and it's sinking into the ocean!). And let us never forget Blake Beartles! A kind of okay giant teddy bear? Maybe. I dunno. It's being debated among experts. It's confusing.