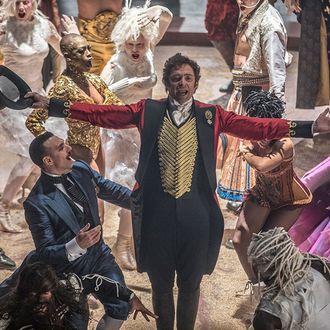 Woah!
Photo: 20th Century Fox
Thanks to a strange quirk in the space-time continuum, The Greatest Showman somehow continues to exist and to be wildly successful, so much so that it has spawned an album of A-list covers of its soundtrack. Variety reports that Pink, Kelly Clarkson, Sara Bareilles, and more artists have all lined up to put their own spin on the circus musical's Pasek and Paul songs for an album titled The Greatest Showman — Reimagined. The highlights include Kesha and Missy Elliot joining Keala Settle on "This Is Me" as well as the inevitable Kelly Clarkson cover of "Never Enough" and Sara Bareilles covering Michelle Williams's sad-wife song "Tightrope." The full track list is as follows:
The Greatest Show – Panic! at the Disco

A Million Dreams – Pink

A Million Dreams (Reprise) – Willow Sage Hart

Come Alive – Years & Years and Jess Glynne

The Other Side – MAX and Ty Dolla $ign

Never Enough – Kelly Clarkson

This Is Me (The Reimagined Remix) – Keala Settle, Kesha and Missy Elliott

Rewrite The Stars – James Arthur and Anne-Marie

Tightrope – Sara Bareilles

From Now On – Zac Brown Band

Bonus tracks:

The Greatest Show – Pentatonix

Come Alive – Craig David

This Is Me – Kesha

Rewrite The Stars (Acoustic) – Zendaya
The album will be out on November 16, just in time for everyone to make even more money from this circus. P.T. Barnum would be so proud.