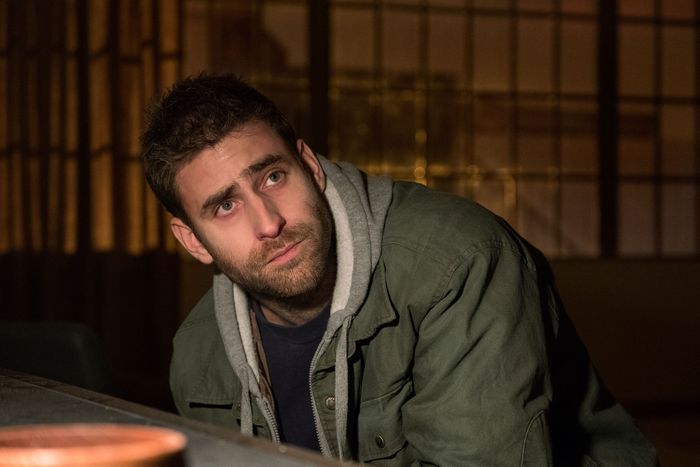 Photo: Steve Dietl/Netflix
For the first time maybe ever, during this episode I found myself whispering at the screen: "Don't do it. Don't go in there." We've already seen plenty of vulnerable people entering ill-advised places — Shirley opening the door to the garden shed, or Theo heading down to the basement in search of what frightened Luke. What made my heart pound, though, wasn't a mysterious evil lurking in the shadows but another of the demons of this world that Mike Flanagan has already conjured so effectively: Luke, 90 days clean, heading into an alleyway filled with junkies in search of a girl he wants to rescue.
We still don't know who any of the ghosts in Hill House are, including the new one who appears in "The Twin Thing": a tall, skinny man who uses a cane to propel himself along, his feet floating at least a foot off the ground. He haunts the upstairs hallway and enters the bedroom young Luke and Nell share in search of his bowler hat, which earlier, Olivia, still doing her inventory, plopped on Luke's head. (Olivia keeps talking about having a yard sale, a nice comic touch: It would be a good setup for a spin-off if it hadn't already been done.) By my count, this makes the fifth resident specter in Hill House so far. There were two in episode one: the face of a statue that appeared over Nell's shoulder in bed, and the bent-neck lady. One in episode two: the little girl in the blue dress. And a big one in episode three: the thing in the basement. I'm not counting the disembodied voice calling through the intercom. Which raises an interesting question: Does each of the children get their own ghost? (Although Luke now has three, which seems … unfair.)
I would have expected more background on the hauntings by now, but Flanagan has chosen the opposite tack. We've spent more time in the present than the past, charting the reverberations of the family's tragedy through the wreckage of the siblings' lives. Now it's time for Luke, maybe the most wrecked of them all. We catch up with him in rehab: These 90 days are the longest stretch he's been clean since he started using ten years earlier. Now he's embarking on the infamous Fourth Step, "a fearless moral inventory." He's wrestling less with the sins he committed against his family — mostly lying and stealing, standard for an addict — than the one he still hasn't forgiven them for: not believing him, whether it's about the ghosts he saw as a child or his ability to kick his habit. He doesn't want to call Steve with the good news of his 90-day chip, because he insists Steve still wouldn't believe him. (It turns out there's more to it, since they parted on bad terms the last time they saw each other.) The only one who truly has faith in him is Nell, with whom he shares a psychic bond: "It's a twin thing," he explains to Joey, the girl he befriends at the rehab.
At this point we might feel a little guilty ourselves, because it was so easy to take Steve's side when we saw him confront Luke on the stairs in episode one: shivering, clutching the camera and the iPad, insisting, "It's not what it looks like." By the time the scene comes around again, we know Steve's an asshole and Luke's telling the truth. He's desperate not for a fix but to help Joey, who's just blown her nine months of sobriety. (Will we find out what drove her to leave the rehab center?) He's been fleeing his demons through the streets of L.A., counting from one to seven — the number of people in his family — as protection against that guy in the bowler hat, just as he used to do in Hill House with whatever small objects he had: army men, buttons. As young Luke, Julian Hilliard has a sweetness and openness to his face that's accentuated by the worried frown he perpetually wears. He doesn't in any way resemble Oliver Jackson-Cohen (an English actor whose American-bro intonation is pretty perfect), but they do share that sweetness and a certain hangdog quality. As he shuffles along the sidewalk — beaten up, robbed of his sweatshirt and shoes, clutching his neck at (apparently) the spot where Nell was injured — he's a pathetic and deeply vulnerable figure. He can't save anyone, but he tries.
"Big boys know the difference between what's real and what's imaginary," Hugh tells young Luke. I started to hate him at that moment. If there's anything we can be sure of in the show so far, it's that the boundary between what's real and what's imaginary is porous for many of us. Take the truly awful story the Iraq War vet tells in the opening sequence, which unfolds without any gore, despite the obvious temptation. (His reference to "pulling faces" out of clouds and wallpaper sounds like an homage to the Robert Wise movie — have another look at the clip I posted last time.) An addict who puts out his own eyes to rid himself of his horrifying flashbacks to the war: It doesn't get much more tragic than that. Who's to say whether those visions are more or less real than what the children see in Hill House and afterward? In the end, it doesn't matter. The human cost is the same.
Bent-Necked Ladies
• The name of Luke's rehab is the Sanderson Center — in the novel, that's Luke's last name. The character in the novel is a rich playboy and a cad who plays Eleanor and Theodora off each other. The new Luke, obviously, is nothing like him.
• We finally get to see the house Steve and Leigh bought with his Haunting of Hill House money — it's a white stucco Spanish-style villa, pretty palatial. The house number is 696, I guess because 666 would be too obvious.
• Olivia demonstrates some more of her psychic abilities: this time it's déjà vu. The shawl she wraps herself in gives her a vision of the library from the past: The previous family had three kids, one in a wheelchair. Also lots of "case goods" (I had to look it up) and leather upholstery.
• The visit to the doctor in episode one made it seem like Steve and Leigh might have broken up over fertility issues. Now I'm suspecting the problem is that Steve doesn't want children, and who can blame him? The only sibling with kids is Shirley, and she had them with … Mr. Harris.
Fear Factor: (1: The Mummy–5: The Ring): 3