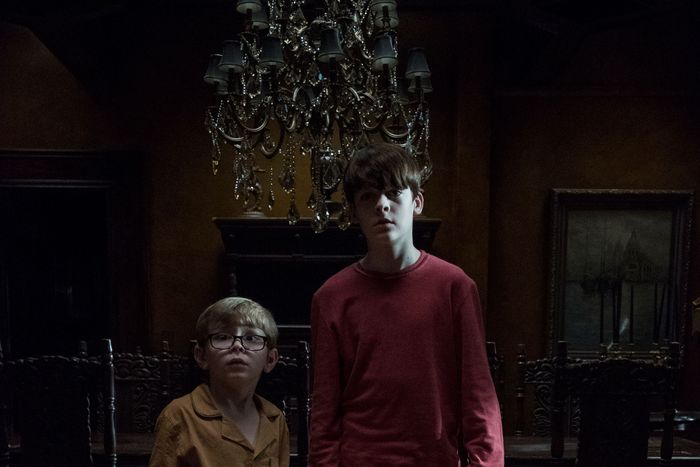 Photo: Steve Dietl/Netflix
On the Haunting of Hill House Twitter feed (@haunting), GIFs are posted showing the "hidden ghost tally" for each episode — those faces flickering in a mirror or a corner of the screen that you're not quite sure you saw. Episode one has four; episode three, nine.
Episode six has zero. Nearly all of it takes place in the present, in the relatively mundane confines of the Harris Funeral Home, and the skeletons that come out of the closet are the usual kind — the old griefs and grievances, petty or otherwise, that can poison the atmosphere of any family reunion. "We're just like any other family," Steve told Nell in the last episode, and there's more evidence for that here than in any other episode to this point. Reunited with each other — and their estranged father — for Nell's funeral, the siblings squabble among themselves and misbehave. Steve makes lame jokes, Luke freaks out, Theo gets drunk, and Shirley acts self-righteous. The one thing that unites them, aside from their love for Nell, is their rage at their father and their desire to finally get the truth out of him about their mother's death.
That's not to say that there are no ghosts — to the contrary. Not only have we not seen the last of the bent-neck lady (although we're seeing her in a different incarnation), we meet two new residents of Hill House: a boy in an old-fashioned wheelchair and an old lady who might be his grandmother, sitting up in the bed that freaked Theo out in episode three. After Olivia's encounter with the boy, she enters what might be a fugue state, drifting through the halls apparently unaware of her surroundings or time passing. "Sometimes Mommy sees people here too," she tells Nell — perhaps the least reassuring thing possible to say. "But they're not here to hurt us." Thanks, Mom!
So far, we've heard a number of different theories about ghosts. To Steve, who's been getting rich off writing ghost stories while claiming not to believe in them himself, they're memories, daydreams, or the representations of emotions like grief or anger. We imagine we see ghosts, he says, because that's more consoling than the idea that our loved ones are gone forever. Hugh tells Nell that the visions she sees are her dreams overflowing their boundaries and spilling into reality. And in a line borrowed from Doctor Who, in episode two Olivia says, "We're all stories in the end." Much of what takes place in this episode is the Crains exchanging stories about Nell — the letters to Santa in which she asked for gifts for her siblings rather than herself; her made-up words and mispronunciations, such as "indivisible" instead of "invisible." Of course, the siblings once were indivisible, until they weren't anymore.
But what no one comments on explicitly is the slippage between past and present that's one of the show's central tropes, reinforced subconsciously by the exquisite editing that allows scenes to fade seamlessly into each other. In an earlier episode, Theo picks up an apple in the present and bites into it back in Hill House. Here, Hugh turns a corner in the funeral parlor and finds himself in the Hill House hallway. (For a moment, he and his younger self are in the same frame.) It's perfect because the past is present in these characters' daily lives in such an extreme way. There's no need to journey back — they're already there.
This episode also introduces a more disturbing form of slippage that takes place in the house, almost like the parallel universe in Stranger Things. In another take on the "Whose hand was I holding?" scene, Nell vanishes while Theo believes she's holding tight to her hand. The family searches the house for her, to no avail. Finally, when the storm ends and the lights go on, there's Nell, shivering and sobbing. She was there the whole time, she says, waving and screaming and trying to get their attention, but none of them could see her.
When Hugh first enters the funeral parlor, he sees his children as they were at Hill House — as children. The camera makes a slow pan around the room; by the time it returns, they're adults again. Parents often tend to picture their adult children as younger than they really are. For Hugh, that's especially true, since he's been disconnected from his children ever since Hill House. Like Nell, he may look back on that period with something like nostalgia, since it was the last time they were all together. When he sees Nell as a child in the coffin, it's almost unspeakably moving.
The question at the heart of this episode is, again, the one that's central to the show: Are the ghosts real, as Hugh and Luke believe, or projections, as Shirley and Steve argue? ("You're the ghost!" Steve yells at his father. "I can see right through you.") Is Hill House just a pile of bricks and wood and glass, as Dr. Montague tries to tell Nell in the previous episode, or is it a "live organism … not sane," in the words of Shirley Jackson, one that confronts its inhabitants with a form of reality so absolute that it drives them mad too? We're not any closer to the truth.
Bent-Necked Ladies:
• Shirley has her own ghost — the guy who seems to be raising a glass to her after the scene with Kevin and Theo in the closet. We also saw him in episode two, making the same gesture on her couch. Since both times he shows up are after she and Kevin have had some kind of discord, my guess is he's a dead ex-boyfriend.
• More Doctor Who references: There's a statue in the drawing room at Hill House that looks just like a weeping angel. (In the book, it's the drawing room. I'm not sure what it should be called here.) Similarly, Olivia's ghost first appears to Steve by Nell's coffin; when he looks back, she's advanced a few feet.
• Another reference to the actual Shirley Jackson: the monthly letters Nell sends to her father while the siblings are living with Aunt Janet, filled with everyone's news but her own. Jackson wrote similar monthly letters to her parents for her entire adult life.
• Kevin! I was right that he's evil. Or was I?
Fear Factor: (1: The Mummy–5: The Ring): 4