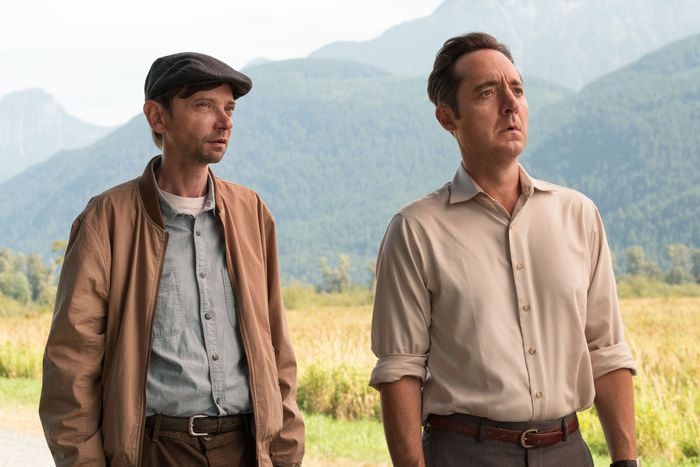 Photo: Liane Henstcher/Amazon Prime Video
The Man in the High Castle suffers from tonal jumps and that's never been truer than in "Sabra," an episode named after the word for a native-born Israeli, which includes a scene of self-immolation, the most disturbing dream in the show's history … and some seriously horny characters. It would be a great accomplishment for any program to go from watching a man burn himself alive to showing us two characters — who saw said immolation, by the way — getting romantic, but it's definitely a tonal jump too far for the people behind this show, one that really needed to find its focus after a tumultuous second season that saw a showrunner jump ship halfway through the year. It's still struggling to do so.
What's often frustrating about The Man in the High Castle is that there are interesting threads within it if you pull the show apart — it's how they're woven together, or so often not, that can make for an unsatisfying, herky-jerky experience. Take for example the revelation that Frank Frink, badly burned, is still alive in a Jewish Resistance community in the heartland, making the "Sunrise" propaganda that has been increasing in popularity in San Francisco and trying to stay hidden. The best scene this week was actually pre-credits, as the man who kidnapped Mark Sampson made his way to the community, only to be shot by one of its leaders, a woman named Lilah. The idea of a community that must stay hidden as it tries to spark a revolution is a particularly timely one as new groups pop up all over this country to protest our current administration in 2018. And the persecution of people based on their religion or country of origin remains depressingly timely as well. How Frank will feed the revolution while keeping his existence secret could be this year's most fascinating subplot.
But, despite its title and that riveting cold open, "Sabra" barely spends any time with Frank. As the show so often does, we jump around the world, checking in with Joe/Juliana/Tagomi/Kido in San Francisco, Robert/Ed in the neutral zone, and Nicole/Thelma/John in New York City. If there's an interesting theme this week, it's in the larger-than-average number of characters expressing themselves sexually, and, in this society, in ways that could get them killed. Ed has been emboldened by the handsome stranger he met in the middle of nowhere, a man who tells him he's becoming more himself. Perhaps that's why Ed is able to push back against Robert when he tries to rip off a woman selling them John Wayne's belt buckle, or able to pull a gun on the marauders who eventually steal all of their possessions. And just moments before Robert was remaking how soon they'd be "swimming in Yen."
As for the New York front, the Smith family continues its descent into grief and possibly madness over the death of their son Thomas. John Smith told his wife Helen that she had to stop going to therapy, worried that she might blow their cover regarding the Adler murders. The problem is that her sadness is eating Helen Smith alive. She sits in bed in a darkened room, drifting away into nothingness. After John has a horrifying dream, one that ends with an SS soldier swinging a child around as preparation to fling and kill it after his gun jams, John tells her she can go back to therapy. Perhaps he now realizes he could probably use some too.
Before we get back to San Francisco, the writers are clearly developing something interesting with Nicole Dormer, whom we saw working on her revisionist history film this week and getting closer to reporter Thelma Harris. Homosexuality is not allowed in the Nazi empire, and this could be the downfall of its newest rising star, the SS's self-professed new Leni Riefenstahl.
John Smith's dream, Frank Frink's return, even Robert & Ed's Neutral Zone adventure and Nicole and Thelma's passion — all of these worked better than the Joe and Juliana subplot this episode, one that has increasingly forced fans of this show to realize the thinness of the character that is Juliana Crain. Think about it. The writers of this show have never given Juliana the depth she needed to really anchor this show, always making the characters, often the men, around her more interesting, turning her into a character that's always reactive and never proactive. And here we are again with Juliana being rescued by Joe only to have the mysterious Wyatt return to her life. With everything going on in this program, who really needs a flat love triangle right now? We know where this is headed as Juliana will be torn between the Nazi and Resistance alpha males. There's something wonderfully noir-ish about the way the producers and directors frame Luke Kleintank and Alexa Davalos in their scenes together — it's easy to see that both would have been household names in the '40s — but the episodes drag in terms of narrative when they're around. And let's not get into the weirdness of two people watching a man burn himself alive and then going home to get it on.
Perhaps the Joe/Juliana arc will get some more believable depth now that Tagomi is likely to trust Mr. Blake even less given how this episode ends. After a lovely dinner with his new lady friend, Tagomi is walking down an isolated street. We see Joe walk up behind him and cock the trigger. Cut to black. The cliff-hanger will likely keep fans moving onto the next episode quickly, but there's no way this is the end of Tagomi. Will Joe change his mind? Or will Tagomi somehow escape?
Join the Resistance
• We need to talk about the scene. I'm not sure how I feel about a show that's often as goofy as this one using such stark imagery as a self-immolating monk, especially given how quickly the episode moved past it here. It's clearly designed to bring to mind the death of Thích Quang Duc, who burned himself alive at an intersection in Saigon in June 1963 to protest the South Vietnamese Diem regime. The action of High Castle is close enough to that actual time that there could be something interesting about a sacrificial monk playing a role in all the various planes of reality in the early '60s, but it feels a bit too exploitative for my tastes to reduce such an iconic moment to what amounts to little more than a cameo.
• Speaking of reincorporating actual history with the world built by the show, I did enjoy the story of what happened to John Wayne, who volunteered to join the Rebels and died in the Battle of Dayton. Also liked the shout-out to one of his best movies, Stagecoach, which Ed calls his "Favorite Ford." It's a great movie, even if I'd go My Darling Clementine. But maybe that didn't exist in this timeline. You never know.
• Much of this season seems to be headed to Lackawanna, which is where Juliana says her dreams are leading her, and where her memories tell her Joe shot (or will shoot) her. Interesting bit of trivia: Lackawanna is a Lenni Lenape word that means "stream that forks." That's awfully appropriate for a show about branching realities.