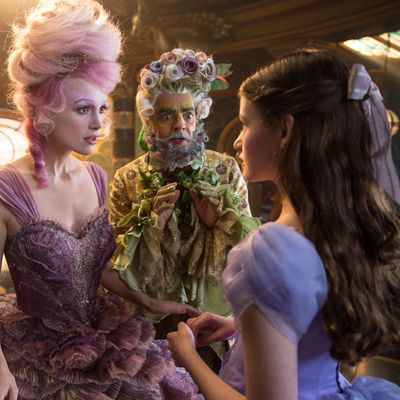 Photo: Laurie Sparham/Walt Disney Studios Motion Pictures
The Nutcracker and the Four Realms is a terrible title for any movie, but it's also a pretty terrible title for this movie. The Nutcracker to which the title refers was a supporting character at best in the beloved Tchaikovsky ballet to which Four Realms is a loosey-goosey sequel; here, he is barely an afterthought, a servant our heroine drags around from Realm to Realm. It should have been called Clara and the Four Realms, but the franchise — in this case, an 1816 short story adapted into a 1892 ballet suite? — is of course the main character here, the familiar name to get mall-weary families into the theater this winter. Jayden Fowora-Knight, who plays the title role with appropriate woodenness, is the teeniest tiniest head on the pile-of-heads movie poster.
In this retelling, Clara (Mackenzie Foy) is a young mechanical genius who is mourning the death of her mother, original Nutcracker heroine Marie. On Christmas Eve, she's given a mysterious silver egg that her late mother wanted her to have; it looks as if it opens, but there's no key. She and her family head to her godfather Drosselmeyer's (Morgan Freeman) annual holiday shindig, and after bonding with him over their shared love of gears and machines, Drosselmeyer bequeaths her with his special holiday gift: a portal into the magical world of sweets and snow and mice — so many mice — which her mother discovered as a girl. Unfortunately, since Marie left, Mother Ginger (Helen Mirren) has gone mad with power and is at war with the Sugar Plum Fairy, and the realms — Sweets, Flowers, Ice, and the Fourth One — are engulfed in chaos and fear.
Few things will make you realize how weird the original Nutcracker was than this Disneyfied Find Your Voice quest, which shoehorns the essentially nonfunctional logic of Clara's story into a Save the Cat–esque Hero's Journey sleepwalk. There's a reason most people know of E.T.A. Hoffmann's original story via a wordless ballet, and a dance interlude starring Misty Copeland is among the film's few uncomplicated pleasures. But Clara's grand tour of the titular Four Realms (nothing gets kids more excited than an even number of realms) lacks any of the dreamlike wonder of your local ballet company's annual holiday production, and Foy passes through it with a pose-y befuddlement, putting far more effort into looking the part of the pretty princess than to bringing any spark or character to the role. (I know all Disney heroines have to be into engineering or coding now, and while I happily embraced Black Panther's Letitia Wright as my new STEM Princess, I don't believe it for a second with Foy's Clara.)
The supporting cast seem as lost as Foy. As the regent of the Ice Realm, I felt deep embarrassment for Richard E. Grant, a sensitive actor with a great face, nearly completely obstructed by a fringe of plastic icicles. Eugenio Derbez seems to be giving his flamboyant Flower Regent performance on another soundstage altogether (not unlikely, in fact). Not even Keira Knightley as a saccharine-voiced Sugar Plum Fairy can inject any feeling of human presence. Much of the film feels like a cast improvising their way through a big-budget Wizard of Oz-esque spectacle, having a vague sense of when a moment should land, but with little guidance from the script or director Lasse Hallström as to how to make that happen. By the time Clara saddles up to lead everyone to war with Mother Ginger, it seems mostly out of boredom than anything else.
Even divorcing it from its storied, perennially retold source material doesn't leave one with a coherent narrative. I can sense the film Nutcracker thinks it is: a throwback to the practical-effects-driven kids' fantasies like Labyrinth or the traumatizing Return to Oz (a scene under Mother Ginger's voluminous skirts tries for some of the latter's nightmarish horror, but irritates more than unsettles). But there's nothing grounding enough here; everything — the sets, the costumes, the performances — seems to drift off in a CGI haze. As a contender for cherished childhood mythology, its methods are cheap. And as a mere child distractor, it seems awfully expensive.