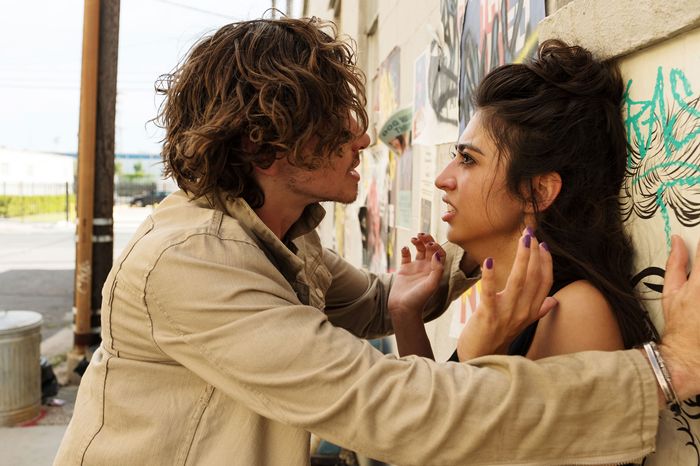 Photo: USA Network/Patti Perret/USA Network
Well played, The Purge. I've spent four episodes thinking I knew exactly where the Rick/Jenna/Lila/Stanton Death Party storyline was going … and then this episode totally pulled the rug out from under those expectations. The series had set up two sources of tension: Rick's potential seduction by the Stantons, who want him to join the New Founding Fathers of America, and Jenna's relationship with their former threesome partner Lila Stanton. Factor in Jenna's pregnancy and Albert Stanton's desire for a grandchild and it seemed pretty clear what lay ahead for the characters.
Then the appropriately named "Rise Up" blew up all those expectations in a blaze of gunfire, revealing that the seemingly meek Catalina is part of a resistance group with plans to spark an uprising, starting by taking down the murderous elites at the Stanton party. She's been trying to help Jenna not out of innate kindness — though that no doubt factors in as well — but because she picked up on Jenna's anti-NFFA sympathies and doesn't want her new friend lumped in with the NFFA monsters when the revolution comes. So she sends Rick and Jenna down to the cellar — the show is happy to literalize the upstairs/downstairs divide — where they can escape, but she doesn't have much time for Jenna's plea for Lila's life. "No Stanton is safe tonight," Catalina says with a look of steely-eyed resolve we've never seen before. Catalina is now my favorite character. I hope we haven't seen the last of her, and I hope she personally lights the fire that burns the place to the ground.
It's an exciting, anything-could-happen-now development that arrives at the end of a more-sluggish-than-usual episode that doesn't seem to have as firm a handle on its characters or their world as its immediate predecessor, the bar-raising "Release the Beast." The flashbacks belong to Miguel and Penelope and they mostly reveal that the creepy guy who bought Penelope at the Carnival of Flesh auction is Henry, Penelope's ex-boyfriend. An abusive drug dealer, Henry lost his eye in a fight with Miguel, which seems to have turned Henry from a garden-variety creep to a full-on super-creep willing to spend a lot of money to burn a victim at a stake on Purge Night, even before realizing that Penelope would be an option.
Penelope seems to be going through an even more rapid evolution as a character. A fervent believer in the Purge cult who just a few episodes ago was happy to die so that others might rid themselves of their anger — a mere few hours ago in the chronology of the show — she's now shouting, "Everyone thinks this night will solve all their problems, but it won't! It can't!" But she's also still chanting the beliefs of the Purge cult. So which is it: Has she lost the faith, or is she redefining its tenets in a way that works against The Purge? It's a little unclear. I hope future episodes engage with this issue a little more. Right now, it feels inconsistent.
We do get a Miguel/Penelope reunion — well, sort of. Miguel makes it to the tent where Penelope is being held hostage, only to be taken down by the security guards who've been tipped off by Rex the Cowboy, whom Miguel has knocked out and brought to the Carnival as a captive. (Rex is having a rough night, but at least the Carnival officials refer to him as a "robust haul.") Prior to that, however, he runs into an old military buddy and is shocked to find him participating in the Carnival's "Fall of Saigon" simulation. "We're soldiers," Miguel says. "We don't hurt civilians." Except sometimes they do, apparently.
The Matron Saints are definitely into hurting civilians, albeit civilians who deserve it. Or deserve some kind of punishment, anyway. Jane accompanies them as they break up a horrific scene of domestic abuse, then balks when she realizes they're going to brand the word "PIG" into the abuser's forehead. There's a lot in this scene that didn't quite work: The victim initially defends her husband, then leaves with the Matrons, apparently convinced to walk away from her life for whatever awaits her in their care. Like Penelope, she shrugs off a deeply entrenched abusive belief system in just a few moments.
Jane's into the rescue operation, but not into the punishment, arguing that there's a better, legal way to deal with the abuser. It's an argument that head Matron Madelyn isn't buying, and I'm not sure I'm buying it, either, at least not in the context of this world. For the record, I'd like to be clear that I'm firmly opposed to vigilantes branding anyone in the real world. But in the context of the series, this episode suggests that bad people exist on both sides of the Purge issue, which feels like a pretty questionable stance.
As with Penelope's faith, maybe future episodes will explore this at greater length. For now, we leave Jane having broken with the matrons and heading to David's house in the hopes of calling off the hit she had ordered on him. Will she arrive in time? Or does some other twist await her? This show isn't afraid of cliff-hangers, so it's no surprise that her fate remains a surprise.
Survival Tips
• Prior to the raid on the Stantons, Rick seems more drawn to the NFFA than ever, and there's a curious ellipsis in the action. When the Stantons hand out fancy daggers ("each one has been handcrafted") to their party guests to slay helpless victims, Rick takes one and pockets it. When next we see him, he's talking to a typically pushy Albert who says, "In for a penny, in for a pound." Did he participate in the slaying? Has the slaying even happened yet? It's unclear if this is supposed to be intentionally vague.
• A couple of intriguing details from Penelope and Miguel's flashbacks: It seems that Miguel's military service is part his punishment for attacking Henry. Is that how the military works under the NFFA? Also, Penelope's social worker is the leader of the Purge cult. Is it possible that the cult itself is part of the NFFA system?
• Once again, the masked vigilante does not show up until the end, this time to take on some Purge Night enthusiasts ganging up on a victim. The vigilante is outnumbered, but I wouldn't bet against him.