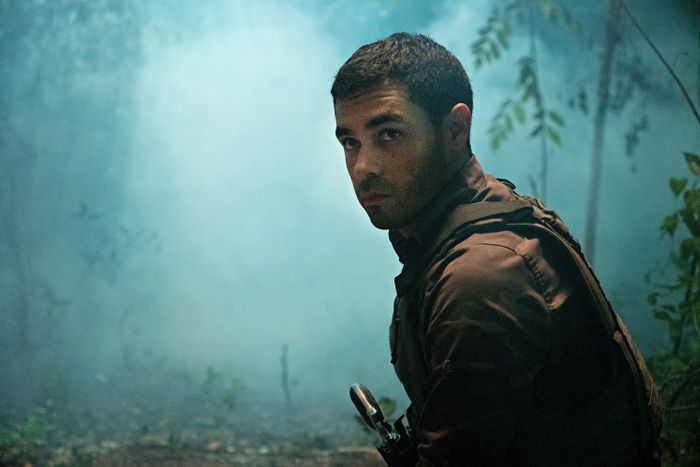 Photo: Patti Perret/USA Network
Wait, are we watching the wrong show? As "The Forgotten" opens, it's daytime and there's up-tempo music playing. A man gets out of bed and seems perfectly happy to start his day. There seems to be joy in the world! Or, at least, not a constant barrage of terror and misery that we're used to seeing. But hold up. That face looks a little familiar. We've seen it once before, crying, after failing to protect some would-be victims of the Purge. It's the creepy mask guy. Only, as we'll soon discover, he's not that creepy. He's just disaffected, a laid-off factory worker who's seen his job disappear and his prospects dry up.
The title of the episode echoes the "The Forgotten Man," a recurring political term that's most recently been picked up by the MAGA contingent (and served as the name of a truly tacky right-wing painting currently in the Sean Hannity Collection). Joe — we know his name now — is the subject of this week's flashbacks, and we see him go from being a skilled, popular (if unlucky-in-love) foreman to a day-drinking job seeker, to someone who's more or less given up and become resigned to stare at the TV. This also makes him susceptible to the pro-Purge motivational speaker we've heard him listening to as he makes his rounds on Purge Night.
Only Joe's not the typical Purger. And if this episode doesn't fully explain what's brought him to behave this way during this Purge Night, it's still a compelling character study of a good man caught in a bad situation in a world not far removed from our own. (It also helps that first-rate character actor Lee Tergesen, recognizable from Oz and The Americans, brings an understated vulnerability to the role.) He wears a scary mask and has no reluctance about engaging in violence, but he seems committed to remaining a white knight in the midst of the darkness. He even seems to have a list of those who need help, though where he got it remains a mystery. As does why Jane is part of his next rescue operation. How could he know she's in trouble?
But make no mistake, Jane's in big trouble. Her decision to come clean with David does not work out well for her, but it does lead to this episode's best scenes. He's waiting for her, still drinking, and not terribly upset to hear she's hired an assassin because, well, that assassin is dead. "Never, ever, ever send a woman to do a man's job," he says, flanked by security guards who probably did the dirty work for him.
David's awful. And he's awful in an especially timely way. We've spent the last year reckoning with one #MeToo revelation after another and the last few weeks in particular, considering grave sexual-assault accusations leveled at the latest Supreme Court justice. When David takes Jane to his basement chamber, it's like a trip into the dark heart of all that. Other privileged white men mill about in the company of bound women who, if they want to get out alive, will allow themselves to be fondled in silence.
It's a horrifying spectacle, and another example of what the Purge franchise does best, taking a real-life horror to its logical extreme. There's nothing subtle about it, or about David waxing nostalgic for a pre-PC world in which his dad could openly state a "No blacks, no broads" policy. Also not subtle: William Baldwin's Trumpian performance, but it's also kind of perfect. We live in such unsubtle times that The Purge has to caricature a caricature in order to alter it at all. That Amanda Warren continues to give the series' most grounded performance as its most multifaceted character helps too. She goes from truly regretting putting out a hit on David to wondering why she ever wanted to call it off. He is a pig. But he's a pig that has her in a tight spot as the episode ends.
Elsewhere, Miguel and Penelope escape from the Carnival of Flesh's "Witch Tent" after Miguel kills Henry (R.I.P., but also good riddance to the creep) then stir up some chaos on their way out. It seems like in any given episode of The Purge, a couple of the subplots hum along while others run in place. Though reunited at last and participating in a dramatic escape, Miguel and Penelope mostly run in place.
Rick and Jenna don't do that much either, but their storylines give the end of "The Forgotten" its most dramatic cliffhanger. The not-so-happy couple spend most of the episode back home sorting through what just happened at the Stantons and how it affects their relationship. (And, honestly, the balance between their relationship chat and talk about how they just saw a gang of revolutionaries raid a mansion and start to gun down everyone in sight seems a little off.) Jenna claims she doesn't still love Lila, but she can't stop calling her. At one point, someone does answer Lila's phone, only to say she's dead. Rick and Jenna resign themselves to making breakfast as they stay safe at home. The camera lingers on their reconciliation just a little too long … and then someone pounds at the door. It's Lila! Cut to black.
Survival Tips
• That last scene is surprising only up to a point. Lili Simmons remains in the opening credits and we never saw her die. Plus, I suspect there are wheels within wheels here and the drama of whether Rick signs up with the NFFA or not — which gets talked about a lot this episode — remains unsettled. It's a love triangle, a morality play, a political drama, and (I'd bet) a conspiracy story all rolled into one. Though not much happened this week, it remains one of the show's most compelling plot lines.
• Nice callback: Rick and Jenna's jerk of a neighbor laughing as they're pursued to their front door.
• "We're not that different, you and me," Henry says. Really, Henry? Is that the best you can do?
• This week's one laugh: You can overhear a reference to the Purge Home Shopping Network on a television. What do they sell? And what C-list celebrities show up on it?