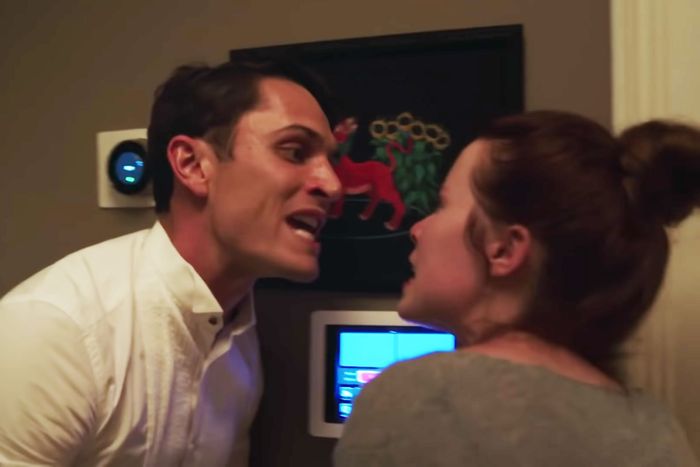 From the beginning, The Purge has alluded to unsettled business between Jane and her mother Lorraine. This episode finally reveals what that's all about, or at least most of what that's all about, and it's not what I was expecting. It's less a deep, dark family secret, and more a philosophical divide about how a woman should navigate the world that rarely has her best interests in mind — and might actively be out to harm her.
We've seen much of Jane's recent past in a previous episode, but this time, her flashbacks go deeper, depicting her time as a promising high-school student admired by a teacher who regretfully informs Jane and her mother that she just got edged out by another student for a spot in a robotics lab. What he doesn't say, and doesn't have to say, is that if the decision were up to him she'd definitely have gotten an opportunity that went to a male, presumably white student. So what's the solution? For Jane's mom, it means playing "their game," using Jane's desirability to earn scholarships via the pageant circuit (where she still doesn't get the cheers of the blonde, Barbie types), losing a form-concealing blazer when she goes in for a job interview, and so on.
Jane hates it, and doesn't want to play along. "Can you at least wait until we're secure until you go rocking the boat?" Lorraine pleads. "No, mom," she replies, "I can't." Cut to Jane in the present day, bound and being groped by David. There are a couple of ways to read this edit. It could seem to confirm the rightness of Lorraine's approach — Jane was defiant and principled and where did it get her? — but I think there's more going on here. Anya, the rival who took Jane's promotion, played the game and got ahead, but deep down she knows she's a lesser person for it and that Jane's righteous fury should burn inside her too. When Joe bursts into the rescue later, Jane barks, "Anya, get off your ass!" And Anya listens; she knows who's right and who's wrong, even if it took the arrival of a masked gunman to make her act on it.
Elsewhere, Miguel and Penelope start a riot at the Carnival of Flesh and head to the woods, but not to safety. After witnessing some horrific violence from a distance — including a harrowing bit of business with a zip line — they find themselves targeted by hunters while Penelope continues to defend her choice to join the cult and die as part of a Purge Night sacrifice for the greater good. They're trapped. Then they escape. Then they hit the streets in search of a place that may or may not have pancakes (presumably Pete the Cop's bar). Their flight gives the episode, directed by Tara Nicole Weyr, some of its most striking images, but their storyline continues to be the series' least compelling. Right now, it reminds me of one of the time-killing subplots in 24, like when Kim found herself trapped by a cougar, seemingly just to give her something to do each week. The rest of the show is working well enough that I trust it's going someplace. I just hope it gets there sooner rather than later.
Jane gets this episode's best dramatic moments, but it's the Rick-Jenna-Lila subplot that gets the most surprising developments. Rick drags his feet about rescuing Lila, but eventually relents, helping her get in through the security gate after she fights off her attacker. But, in shades of the first Purge movie, someone else gets in too. It turns out that last week's shot of Rick and Jenna's creepy neighbor Ross wasn't just a callback to the first episode. Ross seriously wants his neighbors dead for a variety of offenses starting with how they dared to park in front of his house. "In this country, you can't make your neighbor move," he says. "But you can Purge."
Ross doesn't make it through the night, prompting Jenna to declare that they'll be moving because she can't have her child sleeping next to where she helped murder their neighbor. That seems fair, sure, even if it's a little soon to log onto Zillow to look for three-bed, two-baths in a good school district, given that Purge Night isn't over yet. In fact, it's far from over. Rick keeps finding apparent flaws in Lila's story, and though a final, tearful monologue seems to account for any discrepancies, he doesn't seem entirely convinced (nor, do I think, he should be). The three decide to wait out the rest of Purge Night together and both Rick and Lila take a sleeping Jenna's hand. It's a peaceful moment, but there's tension built into it. This won't last.
Survival Tips
• There's a lot more to talk about with Jane. As she's assaulted, Amanda Warren makes the line, "You know I am never going to recover from this," sound both chilling and true. It has the inflection of a curse, letting David know just how much this is hurting her and that whatever glimmer of a conscience he has left will be haunted by what he's doing to her.
• Of course, David doesn't live long enough to be haunted by anything. With the words, "There's nothing left to say," Jane shoots him dead. It's hard not to take a little pleasure in this — if anyone has it coming, David does — but to take too much pleasure in it is to take your first step toward a world in which Purge Night makes sense, one in which consequence-free violence can solve the world's problems. Has The Purge considered the implications of this? Again, there's a thoughtfulness to this season that makes me think this isn't a simple applause moment, where the bad guy has been dispatched in the seventh episode and it's all blue skies for Jane from here on out. I suspect she won't be able to just walk away. David can no longer feel guilt — if he ever could — but she can.
• Jane complains about the hypocrisy of David praising his company's diversity efforts while remaining a prejudiced pig of a man. The Purge seems to take such initiatives seriously, however: Weyr's episode follows one directed by Nina Lopez-Corrado and the script is co-written by Krystal Houghton Ziv.
• Those are the Matron Saints rolling up to David's den of misogyny at the end of the episode. Will we see more of what happens there now that Jane and Joe have vacated the premises, or is this just a dark punchline given that we know what they'll do once they make their way in?