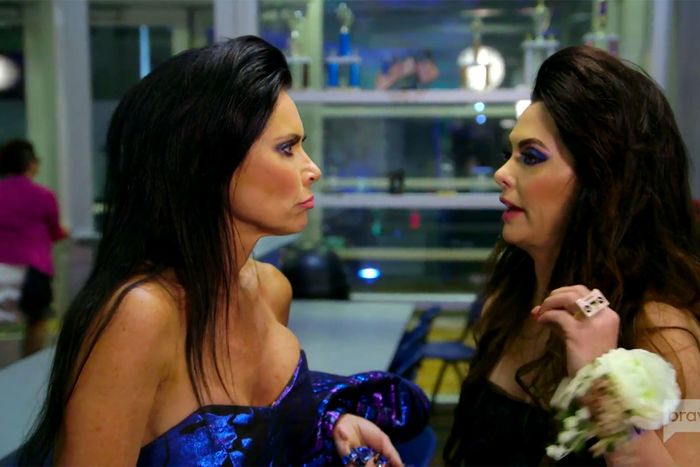 Flip open the last window on your Advent calendar! The extremely over-discussed Kameron-Stephanie-LeeAnne lunch is finally upon us. Kameron likens Stephanie to a sorority pledge; my beloved Stephanie instead sees herself as "a female Christopher Columbus … exploring uncharted territory in the land of pink and carny." Stephanie will undergo laser vaginal rejuvenation later in the episode, and yet this is without a doubt the greatest ordeal that she'll face this week. To be fair, she seems like she's enjoying herself. For one thing, Kameron pronounces steak-frites as "steak frittays," and for that I could kiss her on the face.
LeeAnne likens her two Bizarro World, mirror-image friends — what with their blonde locks, their sons named Cruz/Cruise, and even the coordinated pastel tops they're wearing today — to "Barbie and Skipper," which, ouch for Stephanie, I guess. (Discussion question for the class: Where we would we find LeeAnne in the extended Barbie universe? I submit: Cutlery Funtime Midge With Things in Her Hands That Are, in Fact, Knives.) The implication underlying the meal — well, I guess it stops being an implication once people just start saying it explicitly — is that the nefarious forces of Brandi have kept them from connecting so far. The trio gets served three unsolicited tequila shots, which they sip demurely. "I'm in the right group! Finally!" LeeAnne exclaims.
Across town, a pair of tequila shots are being consumed much more enthusiastically. Brandi and D'Andra are having a lunch of their own, thank you very much, at which LeeAnne is the sole topic of conversation. D'Andra complains once again about how displeased she is with her best friend of ten years failing to confide in her about the wedding, as well as all the rumors she's heard about Rich's unfaithfulness. In fact, D'Andra says, she'd be "really surprised" if a wedding actually happens. (Have you ever been invited to a wedding where you resisted pulling the trigger on your Bed Bath & Beyond registry checkout until, like, 11:30 a.m. that day, you know, just in case? I'm not saying I have, but I have.)
That night, D'Andra makes a serious tactical error. Her boozy lunch with Brandi runs long, so she brings her along as her date to a charity event where LeeAnne will also be in attendance — specifically so that the two of them might talk. Brandi, in vertical Where's Waldo stripes, isn't stumbling, exactly, but she's obviously drunk: If you've ever been to physical therapy and used a wobble board, you know exactly what we're looking at here. It's making me a little dizzy just to watch her. This heart-to-heart was ill-fated from the moment Brandi tottered out of the car.
LeeAnne confronts Brandi about what Cary said: That Brandi said LeeAnne was poisoning Kameron against her. Like any human without an elaborate flowchart in front of them, Brandi finds this chain of accusations kind of difficult to follow, but nevertheless feels compelled to "call bullshit," as do the editors of RHOD, who treat us to a montage of LeeAnne actively telling people not to be friends with Brandi.
Kameron, who reminds us that she of course is too young to remember the '80s herself, is nevertheless the honorary co-chair of an '80s-prom–themed fundraiser to benefit AIDS Services of Dallas. The women rise to the occasion in their San Junipero x Romy and Michele's High School Reunion finery. Stephanie has truly insane curls piled atop her head, Toddlers & Tiaras glam (applied post–go-go juice), and a lamé dress in two shades of purple that can surely be seen from the International Space Station, but her crowning glory is a set of fake braces fashioned out of metal earring-backs. Brandi, in boy drag, picks her date up in a stretch limo. For a moment, I thought Brandi was supposed to be Little Richard, for some reason, and that we were headed for the Countess does Diana Ross all over again. But no, the jet-black curls cascading over her tux and haloed with a zebra-print headband and massive sunglasses are unsettling strictly for aesthetic reasons.
Kameron channels Madonna in white lace, a pink tutu, and pearls on pearls on pearls; D'Andra looks even more like Elvira than usual. (Please take this as the high compliment I mean it to be.) It's pretty great watching the women try to have serious, emotional conversations through, say, Cary's perm and Brandi's wispy mustache.
If you had told me last season that I'd feel this strongly on LeeAnne's side over Brandi's in an argument, I'd have assumed you'd inhaled as much Aqua Net as is currently keeping LeeAnne's hair pouf ceiling-scrapingly high on her scalp. Brandi, bizarrely, sees fit to press her No. 1 frenemy on the status of her wedding. That's one thing when D'Andra tries it — quite another when someone who doesn't even particularly like LeeAnne does the same. "It's not your fucking business," LeeAnne replies, extremely correctly. Brandi deploys her favorite phrase to "call bullshit" and accuse LeeAnne of being jealous of D'Andra. If LeeAnne is theoretically jealous of D'Andra, does that also make her theoretically jealous of Dee via the transitive property? Now I'm imagining LeeAnne and Dee fighting and I'm riveted just at the thought; it would be like Mothra vs. Godzilla.
Things go even worse between LeeAnne and D'Andra, which is honestly kind of an achievement. LeeAnne invites her to come shopping for wedding dresses, to which D'Andra responds by saying, "I'm concerned for you." (This was the original tagline of Say Yes to the Dress.) By this point, LeeAnne sure seems like she's heard more than her fair share of rumors about herself and Rich. "If I hear one more time that we lead separate lives, I am going to go into a rage of fury that the fucking meditation bowl cannot get me out of," she growls. "I call total bullshit on this," D'Andra says, unconsciously cementing her new alliance with Brandi by weaponizing her trademark verbal tics against her own (former?) BFF. Ouch.
It's not all bad. LeeAnne Locken may not have attended her prom, but she's crowned the queen of this one. "[It's] like God saying, 'I'm proud of you. LeeAnne, keep doing you, girl. You're a good person,'" she explains in a confessional, choking up. At this moment in time, I think that tiara might be her closest friend.