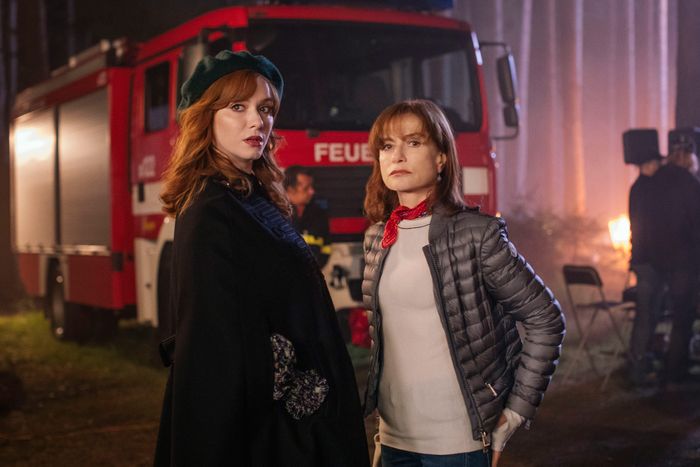 Photo: Jan Thijs/Amazon Studios
Horror is a genre in conversation with itself — more so, perhaps, than any other genre, because the topic of conversation is always ultimately the same. Horror filmmakers study the things that frighten them, then reimagine, refine, and revise them, the better to unleash their own specific fears upon new audiences. This is as true of capital "G," capital "F" Great Films like Under the Skin and Hereditary as it is of derivative corn like Stranger Things, or of recent critical darling Mandy, which after the weed-scented glacial pacing and lush psychedelia of its first half has nary an original idea in its head and is basically just Stranger Things for heshers. The stuff that's truly worthwhile does more than merely remix the past, because the people making it filter those fears through their own unique ideas about the present.
Among many other things, "The House of Special Purpose" is a horror film, and it is not Matthew Weiner's first. As the creator and showrunner of Mad Men he presided over several eerie and gut-wrenching hours of television, primarily during the show's death-haunted fifth season. The fever-dream murder (guest-starring Twin Peaks's Mädchen Amick) and the real-life terror of mass murderer Richard Speck in "Mystery Date," the car-crash scare tactics and the shadow of tower sniper Charles Whitman in "Signal 30," the acid-trip creepiness and artificially lit missing-person freakout of "Far Away Places" — all this is before the season's climactic death, which I prefer not to name-drop publicly if I can help it but to which the character's fellow cast members reacted, by all accounts, with genuine horror. (Of course, let's not forget the lawnmower scene, either.)
But the anthology nature of The Romanoffs enables Weiner to go deeper into the genre than ever before. A self-contained story, with no previously screened backstory for the characters and no need to write for their continued existence either, abrogates the need for Weiner to do anything but creep people out in his own idiosyncratic way. Working with writer Mary Sweeney, he does exactly that.
Christina Hendricks stars as Olivia Rogers, an A-list actress grieving the recent death of her mother when she arrives on-set in rural Austria to film — it's meta time, folks — a limited TV series called The Romanovs, in the role of Empress Alexandra. Her co-stars include Brian, a genial hunk playing Czar Nicholas (he's played by SVU veteran Mike Doyle), and Samuel, a method madman who inhabits the role of Rasputin with alternating charm and obnoxiousness (he's played by Boardwalk Empire's Jack Huston). Comedian Paul Reiser co-stars in his Aliens mode as Bob, her smooth-talking agent (sample quote: "I'll tell you the same thing I told Meryl") and lifeline back to the States.
But her primary foil, and perhaps even nemesis, is Jacqueline Gerard, the mercurial and dictatorial actor-turned-director helming the project. Isabelle Huppert turns in one of my favorite performances of the year in the role, in large part because of the contrast between her acting and that of Hendricks. Everything you loved about her turn as Mad Men's Joan Holloway is present in Olivia: the clipped cadence of her voice, the precision of her movements, the ability to fill innocuous lines with acid in one moment and let the ironclad facade crumble before our eyes in the next. Putting her up against Huppert's Jacqueline — an artist prone to unpredictable fits of rage, joy, spite, tenderness, and eventually madness, all in an earthy French accent that feels wholly alien to Olivia's pointedly un-accented American English (we hear her mom's voice at one point, and it's powerfully midwestern) — is a clash of styles for the ages.
Indeed, the entire point of the story is to take Olivia, an actor at the top of her game despite her recent loss, and make her feel alone, adrift, and helpless in a maelstrom with Jacqueline at the center. It goes beyond the director's bizarre and abusive on-set tactics and off-set behavior — way beyond.
Every member of the crew, and the staff of the hotel at which they are staying, is either unnervingly fawning or (more often) distant and deceptive. Communication breaks down still more directly thanks to mysterious phone calls on the one hand and the slow loss of Olivia's phone's ability to connect to the outside world on the other. Her fellow actors are of little help: She sleeps with Samuel early on in the filming, which he appears to take as license to sexually assault her in-character during the next day's shoot. Brian is the more innocuous of the two, but he's given license by Jacqueline to improvise by singing Elvis Presley's "Suspicious Minds" during a scene with the cameras rolling, which is as disorienting as any on-set freakout would have been. The ironically uncanny phrase "sweet dreams" recurs half a dozen times at least, as if every single person who bids Olivia goodnight was in her car on the way from the airport when the weird driver cued up Eurythmics' "Sweet Dreams" on the radio for her.
Most importantly, there's a slow breakdown between fact and fiction. Jacqueline claims to be descended from the Romanovs (that's this show's gimmick, after all). Though she later admits this to be a lie, she winds up channeling the voice and personality of Czar Nicholas's mother, Empress Marie, turning a dinner with the show-within-the-show's investor into a séance-like nightmare when she places a curse on his Russian wife, literally scaring her nearly to death. A little girl dressed as Princess Anastasia walks into Olivia's room, reeking of the gasoline the Romanovs' bodies were immolated in — this was the first scene Olivia saw when she arrived on the set — and disappearing into her armoire, sending Olivia into I-just-saw-a-ghost shrieks of panic. Samuel is abducted from the street into a van while drunk, as if Rasputin's assassins have come back for another round.
Olivia comes close to bolting several times, though she's always talked out of it, whether directly by Bob or indirectly when she temporarily patches things up with Samuel after the assault and Jacqueline after the dinner incident. I think it's a testament to her seriousness about her craft, as much as her desire to continue her career, that the straw that breaks the camel's back isn't abuse or apparitions, but shitty writing: Jacqueline, "possessed" by the Dowager Empress, rewrites the ending so that the Romanovs secretly escape execution en masse, and when Olivia hears about it on-set for her death scene, she bails.
But in the end, she goes nowhere. She gets lost in the woods on her way off-set. Bob unexpectedly arrives, and tells her to pack her things and wait until the morning, when they will leave together. And overnight, she is abducted by the crew, dressed as Bolshevik soldiers. They drag her to a basement filled with the other actors playing the royal family, whom they slaughter in a storm of bullets, gouts of blood flying everywhere as Olivia screams in terror. She collapses to the ground. The soldiers finish off the survivors with bayonets and bullets at point-blank range.
And then … cut! It was all a ruse, in which everyone — Jacqueline, Bob, the cast, the crew — colluded to coax out the best possible performance from Olivia, a star whose wattage they all acknowledged but whose talent they seemed to feel could only be truly accessed through manipulation. But they did their job too well. Like something straight out of Scary Stories to Tell in the Dark, we see in the episode's final shot that Olivia has died of fright.
From the start of it all, Weiner wears his influences on his sleeve. The Germanic environment and red-door decor of the hotel where Olivia is staying had me thinking of Dario Argento's Suspiria, another story about a talented woman who finds herself in a lion's den of deception and murder, even before a poster for the film popped up in Bob's office. Weiner's classicism as a director and his emphasis on gorgeous men and women in impeccable clothes recall Hitchcock even before you consider the gaslit paranoia of the plot, which also hearkens back to the Master. Speaking of gaslit protagonists, Rosemary's Baby, and its sense of one woman against a darkening world, is all over this thing. Kubrick is name-dropped, if the hotel and the ghostly little girl didn't already have you thinking of The Shining. At one point, Olivia even quotes The Silence of the Lambs.
But the biggest horror influence, as it was in Mad Men, is David Lynch. Co-writer Sweeney was one of Lynch's most prominent collaborators for many years (she is also his ex-wife). The plot recalls the Hollywood-gone-rancid storyline of Mulholland Drive, while the movie-as-death-trap and Mitteleuropean setting indicate the influence of Inland Empire even more directly. Olivia's unexplained loop through the forest when she tries to flee the set, which sees her start and end her journey at an out-of-place classical statue, is a mirror image of Agent Cooper's attempts to navigate the Black Lodge in Twin Peaks, with the lush greenery and the statue's male subject standing as polar opposites to the crimson curtains and marble Venus of the Red Room. (Olivia's agent's name, Bob, and her director's surname, Gerard, will be familiar to Peaks fans as well, if you really wanna get into it.)
What Weiner brings to the table amid all this trainspotting are his usual obsessions, explored as forcefully here as anywhere else: tyrannical bosses; hostile work environments; the way women are warped by patriarchy, sometimes standing together against it, sometimes turning on one another for what's left over; the way men can lie and hurt and then charm their way right out of it; the inescapability of the past; the way an artist's need for their talent and hard work to be acknowledged can become a crippling, life-destroying addiction.
And what else is there to say about all of that in this context that hasn't been said before, really?
Sweet dreams.