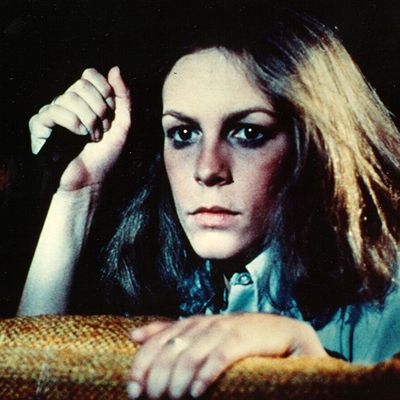 Photo: Columbia Pictures Corporation
When John Carpenter's Halloween quietly opened in Kansas City on October 25, 1978, it did not seem like the kind of movie anyone would speak kindly of — or think about at all, really — 40 years later. A low-budget horror thriller aimed primarily at secondary markets and drive-ins; even its director harbored no illusions of its being art. "That's a programmed movie," he told Film Comment's Todd McCarthy. "It's an old county-fair haunted-house movie. You say to the audience, 'You're going to see something that's going to scare you. Now get ready. I'm not going to tell you when it's going to come … but here it comes!' It's programmed right in, just laying it on." Nevertheless, Carpenter and his team crafted a film that transcended its meager roots and modest targets to become a game-changer in the horror genre and the independent film scene, begetting countless imitations, a remake series, and nine sequels, the latest of which opens this Friday. Not too shabby for a bunch of hippies making an exploitation movie about a babysitter killer.
At least, that was the movie Irwin Yablans saw in his head. "I dreamed up Halloween on an airplane," he told the New York Times in 1981. "I was coming back from a film festival in Milan, and I was looking for an idea that wouldn't cost money because I didn't have any money. I couldn't afford to buy a book or a play. And it happened to be Halloween night." He worked out the idea of a madman stalking and killing babysitters; everyone's either been a babysitter or had a babysitter, he figured, so the story was relatable. When his plane landed, he hurried to a phone and pitched The Babysitter Murders to John Carpenter.
Yablans had acquired Carpenter's 1976 urban western Assault on Precinct 13, a gripping, tightly wound action picture that failed to find an audience anywhere but in Britain (where it was successfully distributed by Miracle Films, headed up by a kindly gent named Michael Myers). The director was looking for a commercial hit; Yablans was looking for a director for his very commercial movie. They made a deal. Yablans would executive produce the movie, financing it through his company Compass International Pictures, splitting the $300,000 budget (a low one, even for then, even for an independent film) with financier Moustapha Akkad. In exchange for writing and directing it, Carpenter would get creative control, $10,000, and a percentage of the potential profits; Carpenter brought on then-girlfriend Debra Hill to co-write the script and produce. They came up with the story of Michael Myers, a six-year-old boy who murders his teenager sister on Halloween night in 1963 and is sent away to a mental institution, only to escape on the same holiday, 15 years later, to return to his hometown and kill again.
The slender budget meant Carpenter and Hill couldn't afford stars, which was fine with Yablans, who knew the story was the selling point anyway. British actor Donald Pleasence (whose credits by then included The Great Escape, the James Bond film You Only Live Twice, and the Biblical epic The Greatest Story Ever Told) was as close as to a marquee name as they could afford; he was paid $20,000 for five days' work as Dr. Sam Loomis, who spent years trying to reach Michael, and then trying to keep him locked up. The rest of the cast was rounded out by mostly-unknowns, though Jamie Lee Curtis (in her film debut as Laurie Strode, the tale's "final girl") brought some star power — she was the daughter of Tony Curtis and Janet Leigh, who appeared in two of the film's biggest influences, Psycho and Touch of Evil.
Everything on Halloween happened fast. Yablans (sensibly) wanted to get it into the theaters in time for the title holiday, so the entire production was working backwards from that deadline. Carpenter and Hill wrote the script in about two weeks, the film was shot in 22 days in May of 1978 (the crew had to keep sweeping up and reusing their scant pieces of fall foliage), editors Tommy Lee Wallace and Charles Bornstein cut the film shortly thereafter, and Carpenter composed the score in three days, because, as he told Fangoria a few years later, "I was the fastest and cheapest I could get."
Yablans and Akkad had financed Halloween in the hopes of a "negative pick-up" — put simply, a major studio/distributor would buy the film from them outright to market and release, while the producers would immediately recoup their investment. And it seemed, to them, a highly commercial product. Aside from Yablans' original babysitter angle and ingenious holiday hook ("The thing that baffled me," he told the Times, "is that in 75 years of moviemaking, nobody had ever used the title Halloween for a picture"), Halloween was released in a period in which young female protagonists often translated to robust box office results, in exploitation pictures like The Pom Pom Girls and Candy Stripe Nurses, and in more mainstream genre efforts like Exorcist II, The Fury, and (most of all) Carrie, a commercial sensation to which Halloween was often compared in its initial reviews, usually unfavorably. (P.J. Soles, who played Linda in Halloween, was cast on the strength of her small role in Carrie.)
It was also a good time for horror, thanks to the jaw-dropping success of Jaws in 1975 and, to a lesser extent, of The Omen in the following year; both featured an unstoppable killing machine, not unlike Michael Myers. As Richard Nowell notes in his indispensable Blood Money: A History of the First Teen Slasher Film Cycle, there were also a pair of more direct predecessors: The Texas Chain Saw Massacre (1974) and The Town that Dreaded Sundown (1976), both independently produced and distributed horror films about masked killers. And as Amy Nicholson explains on her excellent podcast Halloween Unmasked, the notion of a random psychopath mass-murdering strangers was particularly timely in the late 1970s, an era that saw the first proliferation of serial killers (Son of Sam, Ted Bundy, John Wayne Gacy, The Hillside Strangler). Most horror movies were still hung up on supernatural scares of the Exorcist and Omen variety, yet here was a film that underscored the terrifying notion that anyone could be a victim, anywhere, anytime.
Yet every major studio rejected Halloween, leaving Compass in the unenviable position of self-distribution — a highly risky proposition in that studio-dominated era. After that barely-in-time-for-Halloween debut in Kansas City, the film quickly expanded to Chicago, then New York, Los Angeles, and Philadelphia, and then into smaller markets, even though the title holiday had long passed; tickets started selling and wouldn't stop, thanks to a combination of smart marketing (its iconic poster image, of a giant knife and a sinister jack-o'-lantern, was an all-timer), stellar word-of-mouth, and surprisingly positive reviews.
Well, not all of them. Most of the initial critics dismissed the picture outright, often with some variation on the "more trick than treat" construction. Variety deemed it "just another maniac-on-the-loose suspenser"; the New York Daily News called it "schlock shock." But a handful of critics saw Halloween for what it was. In the film's first major rave, the Village Voice's Tom Allen compared it to Psycho, Night of the Living Dead, and even Vincente Minnelli's Meet Me in St. Louis, calling it "a movie of almost unrelieved chills and violence, conjuring up that unique mix of subliminal threat and contrapuntal physicality employed by Hitchcock." A month later, Newsweek's David Ansen followed suit, calling Halloween "the most frightening flick in years" and "a superb exercise in the art of suspense." By the following January, Vincent Canby of the New York Times, who hadn't even bothered to review the film when it opened the previous fall, was faintly praising it as "admirably functional and to the point," and the Chicago Sun-Times' Roger Ebert was issuing praise that wasn't faint at all. "Halloween is a visceral experience," he wrote. "We aren't seeing the movie, we're having it happen to us. It's frightening. Maybe you don't like movies that are really scary: Then don't see this one."
Few took his advice. Variety had predicted "strong business in drive-ins and fast playoff situations," but Halloween's playoff was anything but fast; it ran for months, putting up steady numbers as it slowly crept across the country. In March of 1979, five months after its bow, Yablans was in Variety predicting a $20 million gross and prepping for a "major drive-in burst for July through August." (In what must've been a juicy bit of reconsideration for the producer, Warner Brothers eventually picked up the film for European distribution.) It grossed $47 million in its initial run and the seasonal re-releases leading up to its television debut in October 1981, timed to the release of Halloween II. That film had a far more impressive $2.5 million budget, provided this time by Universal.
By then, the Halloween model of low-budget production, fresh-faced casts, and unstoppable, knife-wielding, holiday-minded killers had been adopted by scores of lesser filmmakers and films (Friday the 13th, Mother's Day, Christmas Evil, My Bloody Valentine, Prom Night, The Bloody Birthday), most of which bypassed Carpenter's craftsmanship in favor of more explicit gore and sex. But none of those pretenders approached the original or lessened its impact, nor did its steady stream of mostly-terrible sequels. And none of that should come as a surprise. Halloween was the result of such a specific series of circumstances — a combination of talented and hungry filmmakers, never-say-die producers, properly primed audiences, and a genre ready for reinvention — that recapturing its magic would seem impossible. But they'll probably keep trying.