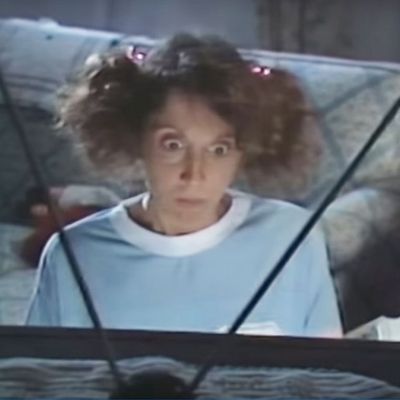 Photo: National Kid Safe Project
There are certain moments in cinematic history when a visionary director is paired with a project perfectly suited to accentuate their talents and push the boundaries of what film can achieve. Then there is Kid Safe, a children's educational video created by psychosexual horror icon Stuart Gordon.
The year was 1988. The instructional VHS market was in full bloom. Looking to capitalize on this trend, while also frightening young children into compliance, the good folks at Triaminic set out to create a short film highlighting the dangers of being home alone. And who better to helm a project aimed at young, impressionable minds than the man behind Lovecraftian body-horror classics Re-Animator and From Beyond?
Honey, I Shrunk the Kids, based on a story by Gordon, was set for release the following year. But Kid Safe offers a first glimpse at how the horror director would approach a young audience. And although it pales in comparison to Honey, I Shrunk the Kids in terms of large-scale child endangerment and the terrifying reality of how hairy bees are, Kid Safe makes up for its limitations by packing in as much underage drinking, informative dance numbers, and unlicensed appearances by Jason Voorhees as one can fit into a 28-minute video.
The tape begins with Joe Flaherty (Freaks and Geeks) reprising the Count Floyd character from his days on SCTV. This makes sense; what do children love more than outdated references to Canadian sketch comedy?
After Count Floyd welcomes us to "Monster Chiller Horror Theater," we meet the protagonist of Kid Safe, a young girl who has been left home alone by her parents. Of course, Kid Safe's titular kid is played by grown adult woman and fellow SCTV alum Andrea Martin, who was around 41 at the time the video was released. You may recognize Martin from Difficult People and Great News, where she plays everyone's mother.
Although the wardrobe department on Kid Safe masterfully attempted to conceal Martin's true age behind a set of braces, oversize T-shirt, and duel ponytails, there is something unsettling about watching an adult woman dressed as a child recite long monologues to herself as she slowly destroys her home. There is much of the uncanny in Martin's performance. Coming to fully inhabit the role of the idiot child in which she was cast, Martin's work is definitely the straight-to-video equivalent of Bradley Cooper's theatrical turn as the Elephant Man.
This being her first night alone, our young protagonist, Kathy Tudor, attempts to distract herself from the thunderstorm outside by watching some TV. Unfortunately, the only things on are a werewolf film, a news report about missing children, and a channel that seemingly consists of nothing but car accidents. (As a side note, the soundtrack to Kid Safe is hard to ignore. The score sounds like what you would hear if you pressed the demo button on a haunted Casio keyboard.)
Looking to relax, Kathy steps into the kitchen, where she will go on to do the most damage. After sliding some bread into the toaster, Kathy stumbles upon a large bottle of gin in the cabinet. She grabs the liquor, saying that her parents always drink to calm their nerves. This is perhaps the most frightening revelation in the video, highlighting the lack of healthy coping methods in the Tudor household. Kathy takes a big slug from the bottle, only to immediately spit it into the sink and complain that it "tastes like medicine."
Soon, after wandering through her home to stare at a creepy pile of dolls, a smoke detector alerts Kathy to a fire in the kitchen. She races into the smoke-filled room to find that her toast is burning. Since Kathy lacks any sense of self-preservation, she first attempts to remove the burning toast by hand before taking the next inevitable approach — cursing the toaster and violently jamming a fork into the appliance like a modern-day Ahab spearing the white whale.
This, of course, leads to Kathy being immediately electrocuted, her body writhing on the floor as her lungs fill with smoke. At this point it's hard not to imagine Stuart Gordon pitching his idea for a kid-friendly torture porn to the top bosses at Triaminic.
Gordon: "See, she's lying on the floor, shaking in pain and despair, no hope for rescue. The lack of parental supervision represents humanity's realization that God is but an illusion and to live is to suffer. We are but masochists in the void."
Triaminic CEO: "Mr. Gordon, how familiar are you with Canadian sketch comedy?"
Back in the video, Kathy briefly manages to flee the hellscape of her own making long enough to call 911. Failing to provide the emergency operator with even the most basic of information, Kathy returns to the the smoke-filled kitchen to slather her burns in a layer of butter. It is at this point that the lights and sirens of emergency vehicles alert Kathy that help is on the way. Except Kathy, having failed to absorb any basic of survival skills over the course of her life, assumes that the sirens indicate an approaching gang of aliens planning to abduct her. There is no hope in Kathy's world, only escalating terrors and constant isolation without chance of rescue. Kathy has no mouth, and she must scream.
A firefighter enters Kathy's home with an ax, but she rejects any situation that doesn't directly contribute to her own demise. She races to the front door, perhaps hoping to stumble into traffic, but Kathy is met by a police officer — and a doctor, for some reason.
We are then treated to the big reveal: the firefighter who came to Kathy's rescue is none other than star of Designing Women and the Mannequin series Meshach Taylor. Yes, Triaminic spared no expense when it came to bringing in the star power for Kid Safe. It is very humble of Meshach to not demand top billing on Kid Safe.
The remainder of the video finds the ensemble adult rescue workers lecturing Kathy about every mistake she has made over the past 13 minutes, while also hinting at an unrequited love triangle between the trio. Officer Ernie and Meshach refuse to let the well-being of a child distract them from vying for the affection of Doctor Tina. As with most romantic rivalries, the adults descend into a poorly choreographed musical number about how to stop, drop, and roll in the case of a fire. Officer Ernie appears immediately winded half-way through the number, likely cursing himself for claiming he had a "dance background" during the audition.
Struggling to hide his sexual frustration from the doctor, Officer Ernie grabs the open bottle of gin and begins berating Kathy for being a drunk. After a brief lesson in CPR, the adults are ready to take their leave. But first, Officer Ernie must capitalize on one last opportunity to demonstrate his superiority at the expense of a small child.
Pretending to have left Kathy's home, Officer Ernie knocks at the door, disguising his voice as he attempts to gain entrance. In hopes of outsmarting a frightened young girl, Ernie goes as far as pretending to be a friend of Kathy's parents who has stopped by to hand over $28 million in lottery winnings. Kathy, determined to be responsible for her own death, invites the stranger in. Successfully managing to dupe a minor, Officer Ernie admits his desire to arrest stupid people and tells Kathy, who has almost died multiple times over the past 20 minutes, that she deserves to spend the rest of her life in jail. This is community policing at its finest.
Having finally learned the perils of stranger danger, Kathy is once again left alone. For once it seems like Kathy might just survive the night. But wait. Kid Safe has one last twist for us.
There's a knock at the door. A low, gravelly voice pleads with Kathy to open up. The stranger claims to be a friend of Kathy's parents, but she is unmoved. This interloper doesn't even have $28 million dollars. The stranger's ploy has failed. Then the identity of the stranger is revealed.
Yes, outside the door is a machete-wielding, yet legally distinct due to copyright reasons, Jason Voorhees. The Friday the 13th star is flanked by a witch, wolfman, purple alien that looks exactly like Megamind from Dreamworks animated film Megamind, and a Mummy that looks nothing like the Mummy from Universal's failed Dark Universe installment The Mummy.
Bested by a child who only moments ago managed to burn, electrocute, and suffocate herself in one fell swoop, Jason and company slowly slink off into the night, continuing their search for another unsuspecting child. Perhaps one who didn't benefit from a private safety lesson from Mannequin's own Hollywood Montrose.
Thus ends Stuart Gordon's first and last foray into the world of straight-to-video edutainment. Hopefully, you learned the valuable lesson that danger and evil lurk around every corner and not even your home can protect you. Happy Halloween, kids.