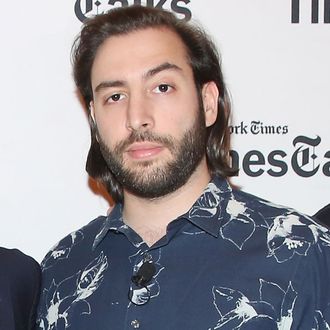 Mike DiCenzo.
Photo: Mireya Acierto/Getty Images
Changes are happening over on The Tonight Show Starring Jimmy Fallon. Executive producer Mike DiCenzo, who has worked with Fallon since his Late Night days, announced on Twitter today — which also marks his ten-year anniversary since his first day working at Late Night — that he's decided to leave the show. In the Twitter thread, DiCenzo called his departure "one of the toughest decisions I've ever made," but ultimately, he felt that the time had come to part ways with the show. Read DiCenzo's full announcement below:
According to Deadline, former Today executive producer and current president of NBC Olympics Production and Programming Jim Bell is in talks to join Tonight Show as the new showrunner, but an official decision has not yet been announced. DiCenzo has been responsible for some of the show's most popular sketches and bits over the years, including the "Slow Jam the News" with President Obama in 2016 (which he co-wrote with Gerard Bradford), the Saved by the Bell reunion in 2015, and the recurring "Classroom Instruments" segment.
Update, October 23: With his parents sitting next to him, DiCenzo made his Tonight Show farewell during last night's episode with his final appearance as his recurring audience character Mets Bucket Hat Guy: