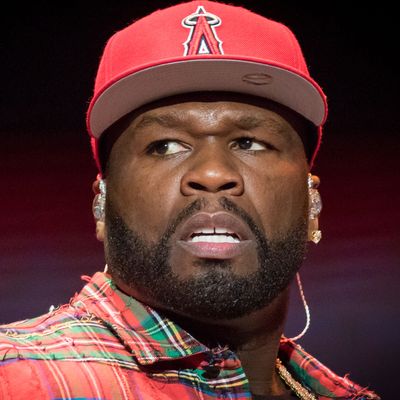 Photo: Mark Horton/Getty Images
Last week, 50 Cent made headlines as he often does: for reasons entirely unrelated to his present-day musical career. "At $15 a pop you can't lose," he posted on Instagram along with a screencap of a news story stating he'd bought 200 front row seats to Ja Rule's concert in Arlington, Texas, on November 9 — just to ensure they'd be empty. The phenomenally petty gesture (which we still have to wait another week and a half to see if it bears more meme-able fruit) was the latest salvo in a beef between the two rappers that goes back nearly 20 years, stemming from an alleged robbery dispute in the late 1990s and quashed in 2011, only to be revived four years later by — what else — Drake and Meek Mill's own feud.
50's own history of pugnacious pettiness is similarly lengthy. As you'll see below, he practically kicked off his career sniping at anyone he could see with the naked eye; after a period of time in the early 2000s marked by near-death experiences, legal troubles, and his meteoric ascent with 2003's debut Get Rich or Die Trying, there didn't seem to be a single moment in which 50 wasn't biting back against someone — or, occasionally, biting first. His methods of revenge have been clever, eye-rollingly stupid, good for a shallow chuckle, or criminally despicable, sometimes all at once. He knows how to make a good villain, a characteristic that has since eclipsed his own musical career entirely.
What follows is an exhaustive-as-possible chronicle of 50 Cent's public pettiness, which has only raged forth with increasing intensity in the always-online era of social media. A few quick notes: Besides the summary of the Ja beef above, the highly publicized "rivalry" between 50 and Kanye around the time of their released-on-the-same-day 2007 albums, Curtis and Graduation respectively, has been excluded since, arguably, said rivalry was a publicity stunt meant to gin up album sales in an era where albums simply weren't selling anymore. We've also excluded the many, many times 50 has simply weighed in on current events — his self-insertion in the currently ongoing Nicki Minaj–Steve Madden feud is a good example of this, as well as his opining on Kanye's admission to having gotten plastic surgery.
Oh, and one more thing: Don't blame us if you find that a minor slight or two has been left out here. The man simply loves to fight online, to the point where it's nearly impossible to keep track of the targets.
August 1999: Lest you think 50 Cent's pettiness wasn't baked into his career since day one: His debut single, "How to Rob," drops as the lead single for his ultimately unreleased LP Power of the Dollar (it was also featured on the soundtrack to that year's Omar Epps–LL Cool J crime drama In Too Deep). Over a Trackmasters beat, 50 describes literally robbing a who's who of popular musicians at the time, from Lil' Kim and Jay-Z to Keith Sweat and Kirk Franklin(?!). Wikipedia claims that the song also featured digs at Mariah Carey and ex-husband Tommy Mottola — digs that were allegedly lifted from the track after Carey threatened to leave Columbia if they weren't wiped from the song. Fact or fiction? Stranger things have happened!
February 2005: 50 goes on New York City radio station Hot 97 to publicly excommunicate the Game from his G-Unit group, following an interview the latter gave to the station the previous week that the former characterized as "disloyal." 50 also claimed that he saved the West Coast rapper from getting dropped by Interscope and that he authored more songs on the Game's debut from that year, The Documentary, than was previously reported. Afterward, an altercation between the Game's entourage and several individuals leaving the radio station leads to a nonfatal shooting of 24-year-old Kevin Reed of Compton, California.
March 2005: 50 Cent's sophomore full-length The Massacre is released, which includes "Piggy Bank," a practical diss track aimed at Ja Rule, Jadakiss, and Fat Joe following the former's 50-dissing lines in the previous year's single "New York." "Piggy Bank" also licks shots at a variety of rappers ranging from Lil' Kim (again) and Shyne to Sheek Louch and Nas; the accompanying animated video features more visual disses to rappers like the Game, as well as a pink-hoodie'd rendition of Cassidy getting punched in the face (itself a response to the video for Cassidy's "B-Boy Stance," which featured homophobic gags directed at 50).
August 2005: Post–"Piggy Bank," the war of words between 50 and Fat Joe escalates, with the latter taking aim at the former on "My FoFo" (from Joe's album All or Nothing) and during that year's Video Music Awards. "I knew Fat Joe would respond first," 50 states at a pre-VMAs press conference, noting in nearly the same breath that All or Nothing sold a then-paltry 110,000 copies in its first week of release. "It's obvious he doesn't generate the interest of the general public, so he doesn't generate mine either."
July 2006: 50 superimposes the Game's head on a male stripper for his DJ Whoo Kid mixtape G Unit Radio Part 21: Hate It or Love It Verse 1 (the title referring to 50's verse on the titular Game single).
February 2007: An on-air verbal sparring match with Koch Entertainment's then-GM Alan Grunblatt on Hot 97 quickly turns into a feud with Cam'ron, as the two argue about album sales and industry issues after Grunblatt passes the phone to the Harlem rapper. An exchange of diss tracks ensues — 50's "Funeral Music," Cam's "Curtis" — and nothing much else comes of it, with Cam claiming the beef was quashed in 2011.
May 2007: "Well, Master P doesn't sell CDs anymore," 50 tells a gaggle of reporters during a BET press conference when asked his opinion about the No Limit founder's plans to start a record label committed to releasing records without profanity or demeaning language toward black women. "You can tell him I said it. Cameras rollin', right?" The comments trigger an editorial response from P, and 50 would later appear on Rap City in a somewhat tables-turning appearance with P. To be fair, he did partially walk back the comments the following month in a two-part interview with AllHipHop.com …
June 2007: … But naturally, he takes shots elsewhere at other rap targets, claiming that he punched Ja Rule in the face and referring to Cam'ron as "the best bowling pin I ever met in my life … You can just fall back and he just going to continue to do things to make [himself] look crazy."
September 2007: 50 resurrects his spat with Fat Joe on Rap City, calling him a "coward" for refusing to confront him to his face …
January 2008: … And then does the exact opposite a few months later with "Southside (Ni**a)," a stray diss track in which 50 attempts to poke holes in Fat Joe's allegedly precarious financial dealings.
February 2008: After Fat Joe fires back with a diss track of his own, "I Won't Tell," 50 plays the song during an appearance on NYC radio station Power 105 while stating with a grin, "This is officially trash right here."
March 2008: Rick Ross gets caught in the crosshairs of 50's beef with Joe: "I also complimented [Ross] that he had the No. 1 album. I said, 'Just don't stand too close to this fat piece of …'" It's the first gesture in a longer — and far messier — war between the two rappers.
January 2009: Following Ross's 50-dissing "Mafia Music" and an alleged personal affront at the previous year's VMAs, 50 goes on the offensive with two tracks aimed Ross's way: "Officer Ricky (Go Ahead Try Me)," the title referencing the previous year's revelation that Ross was briefly a corrections officer, and "Warning Shot." He also releases an "Officer Ricky" animated short that turns into a semi-recurring series on 50's site.
February 2009: Jeez, what a month: 50 kicks it off by escalating the Rick Ross feud by releasing a video interview with the mother of Ross's son, in which he also takes her shopping. As the beef continues, 50 releases (and eventually deletes) another video purportedly spying on DJ Khaled's house, including footage of what 50 claims is Khaled's mother sleeping at a desk with threatening statements. ("You push, I punch. You stab, I shoot," he later describes his beef strategy to Miss Info.) Things couldn't get any pettier and grosser …
March 2009: … And then, invariably, they do. Along with the fourth installment of the "Officer Ricky" animated shorts, 50 releases a trailer for a purported sex tape between Ross and the mother of another of his children, Lastonia Leviston. A few days later, he posts the whole thing, with added commentary from 50 himself. Pretty despicable! Unsurprisingly, Leviston would go on to sue 50 the following year for emotional distress and unauthorized use of her face or image.
September 2009: "Did 50 Cent Throw a Jab at Jay-Z on 'Flight 187'?" screams an MTV News headline speculating about 50's track from the mixtape The 50th Law (which is also the title of his junk-philosophy book co-authored by junk-philosopher Robert Greene). "Jay rockin' that Urkel look, isn't he from Marcy?" he spits on the cut, "They say he growing dreads and now he's talking like a Yardie." A week later, 50 tells the outlet that the jab wasn't really a jab, kind of: "… [I wrote the song] out of the perspective of me mentioning things I thought were interesting … I said a lot of interesting things on the record, but they focus on Jay because his album is releasing," referring to the imminent The Blueprint 3.
October 2009: "He's tougher in his head than he is in reality," 50 tells Complex while revisiting his feud with Fat Joe from a few years prior with the following statement about Joe and similar haters: "It feels great because everybody's paying attention to them and talking on the radio about them. Mind you, while they're going out and doing all of this talking, I'm just chilling." Apparently, said "chilling" includes taking a shot at Jay-Z later in the interview ("You can't be gangster Jay from Marcy and be the good guy Jay-Z on Oprah. You just can't.") and releasing another Fat Joe diss later that month in video form, "Fat Joe's Funeral."
November 2009: Another extremely personal shot across the bow at Ross — this time, photos of 50 taking one of Ross's children to Floyd Mayweather's mansion. It's the last time (for a while, anyway) that 50 would take aim at Ross — as well as the Game, who was one of a few subjects of 50's ire on the Before I Self Destruct track "So Disrespectful." (The two ended up ironing things out at a strip club in 2016. Here's to happy endings!)
August 2010: After Fat Joe disses 50 yet again in the intro track to his album The Darkside Vol. 1, 50 responds in typically mature fashion via another YouTube skit: "50 Cent is really depressed right now," goes the description of "50 Cent Loves Fat Joe." "He just heard Fat Joe's album and found out that he only sold 5,000 copies his first week." (The album actually sold 12,300 copies in its first week.) The video turns out to be the final salvo in the 50–Fat Joe beef; two years later, Joe claims on a remix of Slaughterhouse's "Goodbye" that late mogul Chris Lighty encouraged the two to bury the hatchet.
September 2010: Not even 50's grandmother is safe, as it turns out.
September 2012: Gunplay — a Florida rapper who also counts himself as an associate of Ross's Maybach Music Group — gets in an alleged altercation with members of 50 Cent's entourage backstage at the BET Awards. Should be fine.
October 2012: Or not! Gunplay's chain — allegedly snatched in the previous altercation — makes an appearance around 50's neck in the video for his Young Jeezy–featuring "Major Distribution."
January 2013: Following an incident in which Ross crashes his car while allegedly being shot at, 50 weighs in with typical nuance: "Hahaha fat boy hit the building? lol it looks staged to me. No hole's in da car."
March 2014: A quickly deleted 'gram from 50 about a story insinuating that Ross, Diddy, and industry mogul Steve Stoute are engaged in a sexual relationship together. Gee, wonder why he chose to delete that one!
May 2015: Just a few months before Leviston wins her lawsuit against 50, he tries to sue Ross for his own linking to the sex tape — claiming that Ross should cover the resulting judgment if he loses. The audacity! It's the first of a few legal tangles between the two, marking the moment that Ross and 50's nearly decade-spanning feud reaches the courts. (It also wouldn't be the last time 50 attempts this defense: While suing the law firm that represents him in February 2017 following a bankruptcy filing, 50 cites the firm's failure to prove Ross's culpability in the lawsuit.)
August 2015: 50's not a fan of Meek Mill sharing a video of the former pushing sometime G-Unit compatriot Tony Yayo into bushes: "That's us playing," he commented on the since-deleted Insta before alluding to Meek's affiliation with Ross's MMG, "but you do be around some ni66as I will put on there head. No bullshit."
September 2015: This one's a little confusing, so bear with me: In a countersuit against landscaper Jonathan Zamudio, who claimed that Ross kidnapped and pistol-whipped him, the rapper names 50 Cent as a co-conspirator who attempted to frame Ross for the alleged crimes. Why would he think such a thing? Maybe it was a since-deleted Instagram from 50 earlier in the month posing with Zamudio, claiming the man as a "friend." But who knows, really?
November 2015: 50 and Ross take a break from fighting in the courts … to fight on Instagram, as a jab from 50 over Ross's clothing line escalates to mentions of 50's son and resulting threats. Meanwhile, 50 decides to weigh in on Meek Mill's feud with Drake: "That 'Back 2 Back' shit was fire," he tells an audience in Sweden before quoting a few lines from Drake's diss track. Oh, and he also proclaims himself a "troll" in an apparent threat to former romantic paramour Vivica A. Fox, following comments she made regarding 50's sexuality on Watch What Happens Live. Busy month!
December 2015: Another lawsuit — this time from 50, who files a $2 million claim against Ross for rapping over "In Da Club" on his Renzel Remixes.
January 2016: "I was the biggest L he ever took," Ross tells Rolling Stone about his ongoing feud with 50. The ensuing response is very mature: "When it's all said and done, I will have his head," 50 states on a since-deleted 'gram, accompanying a photo of a hyena holding the head of an antelope in its mouth. Very literal! Meanwhile, 50 briefly shifts his petty gaze from Ross and back toward Meek Mill, over (of all things) charitable donations to aid the Flint water crisis. Near the end of the month, he posts a video of a younger Meek praising 50 over Ja Rule on Instagram with the caption: "Damn Meek what happen man? You got confused I understand shithead."
February 2016: "That kid is not that bright," 50 tells DJ Sense in an interview, continuing his war of words with Meek and characterizing the latter's then-roiling feud with Drake as "a special kind of stupid going on over here."
May 2016: Was making fun of an autistic teenager the lowest 50 Cent ever sunk? Maybe! Kind of hard to tell, though — also, there's always the future. 50 issues an apology as well as an $100,000 donation to Autism Speaks, marking an all-too-rare act of contrition.
September 2016: "Man real life is gonna start sooners than you think," 50 posts on Instagram (since deleted, naturally) along with a countdown marking the end of his child-support payments to estranged partner Shaniqua Tompkins, mother to 50's son Marquise. Not falling far from the tree, Marquise issues his own invective: "Just don't forget to tell me happy birthday that day cause u missed a few." This is a good time to mention that 50 claimed he was quitting Instagram earlier in the year, amid mounting legal issues.
May 2017: Another dig at Tompkins and the issue of child support, with an Instagrammed photo of a man in a graduation cap with the caption: "Graduating from child support. Twenty years. To all my brothers, hang in there." After detailing how much he'd allegedly paid to date, Tompkins replied in kind, pointing out that he still had five months of payments left: "Calculate the hours you missed from your son!"
March 2018: After the release of a somewhat explicit report detailing the state Ross was found in after being found unresponsive and eventually hospitalized for pneumonia, 50 posts a screenshot detailing the report on Instagram with the caption "No comment." Naturally, he eventually deletes the 'gram.
October 2018: The Ja Rule ticket stunt wasn't the only feud 50 engaged in this month: After actor Michael K. Williams got into it with him on social media about a disputed claim involving incarcerated industry guy James "Jimmy Henchman" Rosemond, 50 takes to Instagram to post a since-deleted homophobic jab incorporating sex scenes from Williams's performance on The Wire. Some people never grow up!