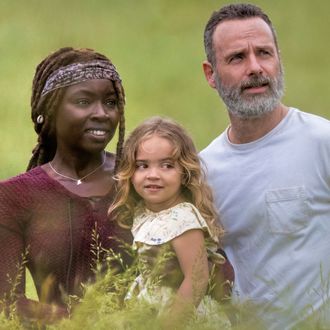 Photo: Jackson Lee Davis/AMC
Even zombies aren't immune from the ratings erosion virus spreading throughout TV land: The Walking Dead began its ninth season with just 6.1 million same-day viewers Sunday, losing roughly half the audience which showed up for the season-eight premiere a year ago. In the key advertiser-coveted demographic of adults under 50, Nielsen says the series notched a 2.5 rating, half of last year's 5.0 rating and the lowest-rated premiere ever for Walking Dead (the series debuted in 2010 with a 2.7 rating). It's a jaw-dropping decline, and one which undoubtedly has AMC execs reaching for the Maalox this morning. And yet, it's also not entirely unexpected in an era of massive linear audience declines for both broadcast and cable networks.
Just last month, CBS brass woke up to find the network's long-running powerhouse comedy The Big Bang Theory had lost 40 percent of its under-50 audience versus its previous season premiere, while companion series Young Sheldon dove 55 percent from its heavily hyped series opener. ABC's The Good Doctor has suffered a similar sophomore slump, while veterans such as How to Get Away With Murder, The Voice, Dancing With the Stars, and American Horror Story have all clocked in with declines of 25 percent or more. What's more, given The Walking Dead is going into its ninth season, the show is battling not only industry trends but the laws of TV gravity: Shows of a certain age are almost always destined to suffer serious ratings erosion they grow older. Still, there's no spinning this level of decline as anything but evidence that a big chunk of Walking Dead's audience has simply decided to move on. In addition to the year-to-year decline, Sunday's premiere also earned a smaller same-day audience than any episode of the series since 2011. It was also down 23 percent from last April's finale, notable since even for many other shows that have seen ratings fall, their series premieres managed to eke out small gains over their finales.
As ugly as these numbers are for AMC, it's not quite the apocalypse yet for the network. For one thing, it's possible Walking Dead will make up some of these declines once delayed viewing and streaming get tallied, though in the case of some broadcast network series this fall, DVR numbers haven't put a dent in the year-to-year declines. AMC also notes it had a record day of sign-ups for its AMC Premiere service, which lets subscribers watch the premiere a day early and without ads. (AMC did not say how many people signed up, however.) But Walking Dead will continue to tower over all other series on cable. Even up against broadcast fare, its premiere will rank among the top-five openers this fall among adults under 50 (NBC's This Is Us had a bigger premiere, while Dead tied The Big Bang Theory's rating in the demo). AMC also owns the rights to the show, allowing it to maximize revenue from international sales and syndication, while the subscriber-fee increases the network negotiated with cable operators based on the show's success are locked in for years to come.