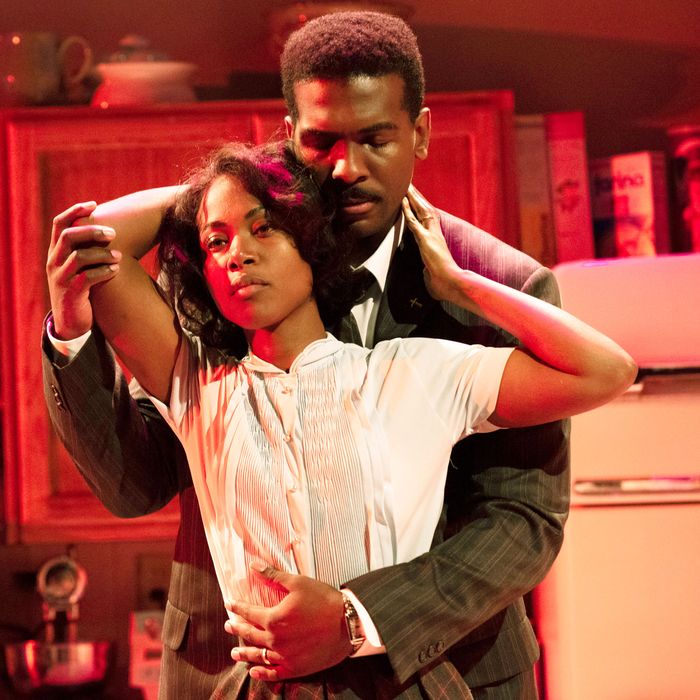 From
Fireflies,
at the Atlantic.
Photo: Ahron R. Foster
Donja R. Love's Fireflies, now at the Atlantic under the assured direction of Saheem Ali, is a play about the landscape of internalized trauma. Its language and design create a fearful panorama, a world where "the sky is on fire," bombs resound in the not-so-distant distance, and hope is envisioned as "a long road covered in heartache" or as "the highest mountain," on whose steep paths you might well meet death before you reach the summit. Set in the South in 1963 — just after the Birmingham church bombing that killed four black children — the play is the second in a trilogy meant to explore queer love at critical moments in black American history. (Its predecessor, the Civil War–era Sugar in Our Wounds, played at MTC last summer, and the triptych's third play, In the Middle, takes place in the now of the Black Lives Matter movement.) The production is anchored by smart design and two excellent performances, and it's a tricky one for me to reflect upon, springing, as it does, from a sensibility very far from my own.
I'm not referring to the fact that I'm straight and white — though I know that I bring my own identity and experience to each piece of art I encounter, that not all art is made for me, and that part of my responsibility is to consider the effect of my engagement with a piece of work. I also know my own taste, and in the case of Fireflies, what I find myself outside is a kind of soaring purple tone, a style of storytelling that's half soap-opera and half sermon. This is language as lush catharsis, language as endurance, language as empowerment, and it's combined with a set of circumstances so earnestly dire that it often borders on the salacious. It feels like going to church — the kind of church where the minister thunders and rhapsodizes, aiming both to appall and exalt. It might well transport many, and the fact that it leaves me at the station doesn't mean it's not doing what it set out to do. I never did do well in church.
The evangelical fervor in Love's language springs partly from context. Fireflies centers around a stormy 48 hours in the life of a preacher, active in the civil-rights movement, and his wife, the unfulfilled, fiery intellect who actually writes his sermons. Charles Emmanuel Grace (Atlanta's Khris Davis) is a virile, charismatic community leader, called upon with horrible consistency to preach at the funerals of black men, women, and children killed by white supremacist violence. His wife, Olivia (DeWanda Wise, of Spike Lee's revamped She's Gotta Have It), waits at home while her husband is away, keeping house and doing the legwork (and brain work) behind his ministry. But Olivia's ability to play the brave, supportive spouse is cracking. As Love's play begins, she stands tense and exhausted on her front porch, surrounded by red, rolling sky, pulling on a cigarette and staring into the void. She speaks aloud a letter she's writing to someone called Ruby, then falters, turns the paper over, and begins to write to God instead. (Love's play features an epigraph from Alice Walker's The Color Purple, and the novel's influence is present throughout, especially in Olivia's apostrophes to God.) The sky rumbles and flashes. "God," she pleads, "I keep hearing these bombs. When will it stop?"
Olivia has taken the seemingly endless violence of the outside world into her body, and Ali and his designers have done an ingenious job of turning that process of painful assimilation back around. They've built and scored a space that physicalizes Olivia's trouble in mind. Arnulfo Maldonado's set suspends the Grace's kitchen as a realistically furnished island in a sea of empty space, surrounded by a slice of curving backdrop where projections designer Alex Basco Koch gives us swirls of sky, often bloody in color and disturbed by the flicker of imagined — or perhaps real — bombs. Justin Ellington's sound design elegantly merges strains of soul music with the threatening hum and thunder of both Olivia's and the world's cruel disquiet. As much love and labor as Charles and Olivia have put into it, their home can't keep that world out. Where they exist at all, their walls are permeable, and the pain seeps in. "It seems," Charles shivers, "like death is always greeting a colored person at their front door."
Fireflies unfolds in the brief time between Charles's arrival home from Birmingham, where the church bombing has just occurred, and his return to that city to preach at the funeral of the four young victims. In the interim, Love lets loose with the domestic melodrama. Charles drinks openly, Olivia smokes secretly; Charles cheats, Olivia dreams of someone other than her husband; Charles struts and moralizes and demands that his wife be more "ladylike," while Olivia fulminates with unrealized potential. "I dedicated so much to this movement," she finally bursts out to her husband, "I poured all of me into it — into you. My whole world is you. My life is you. I don't even know who I am … I can't help but ask myself … Was losing me in all of this, in you, worth it?"
Olivia's terror at her lost sense of self is only multiplied by the fact that she's carrying a child. "Our little miracle," Charles calls it, but his wife's eyes are sharp with panic. "This world ain't no place for a colored child to call home," she says to him. And with God she's even more blunt. "Dear God," she begins another letter, "I don't want this baby. I never did … You're taking this thing back."
Love takes every opportunity to weave new horrors into the plot, from rapes and murders to grisly hints at self-induced abortion. We should shudder at each new and awful twist, but as the hits keep on coming, they become weirdly cloying. Again, like a stereotypical Baptist preacher, Fireflies aims for an emotional forte early on and doesn't often vary its pitch. It's a devilish target to aim for: Olivia is bone-weary from being "a colored woman … making something out of nothing everyday," and no doubt Love means to convey the full weight of her struggle, but somehow the play's lurid flights hinder our ability to feel honestly moved. It's like a very rich meal, eventually dulling the very senses it seeks to sharpen and satisfy.
The actors, and especially Wise, are what keep us invested. Davis skillfully finds the balance between Charles's charisma and his weakness. Despite his many flaws — including the imbedded patriarchal presumptions of a man of his time — the Reverend Grace is playful and appealingly earthy. We can see what it is that drew Olivia to him, and that keeps her with him, despite everything. Theirs is a real love — perhaps not a love that should have led to marriage, but no less profound for that. And while Davis's Charles is, in his messy mix of innocence and guilt, deeply human, Wise's smoldering, taut-as-a-bowstring Olivia is almost part animal. It's an electrically charged performance, the kind that you imagine an actor passing out after. Wise has extraordinary bright hazel eyes, cat-like in their intensity: They're the eyes of a domestic creature that should have been wild, a creature that's never at rest, whose small body contains a whole history of life before walls, before cages, before dependence.
It's the magnetic Wise who elevates Fireflies out of soap-opera territory. Her presence is so big that at one point — when Davis picked her up in a tender slow-dance, and she let herself lean into him, her tiny feet hovering above the floor — I was shocked at how slight she actually is. In a sense, Fireflies is her coming-out story, her journey from the brutal trap of her own mind, and her own home, back out into the world: a place no less brutal, but whose assaults she will face by having rediscovered her own soul.
What makes Fireflies part of Love's trilogy is that, despite her marriage and the baby she's carrying, Olivia's soul is queer. (She's also a descendent of Henry, a character in Sugar in Our Wounds who, like Olivia, will ultimately bring forth offspring despite his true orientation.) Her bond with Charles is real, but she's "never been able to feel the way [she] did" when, for a brief time, she was around the addressee of her many secret letters, the enigmatic Ruby. It may be either a feature or a bug that Fireflies' story of queer love is a muted one, mostly subsumed inside the story of a fraught straight relationship — which already has plenty of reasons for its fraughtness outside of Olivia's longings. Stories of the closet appeal to our sense of historical accuracy, and we've certainly seen plenty of narratives involving the gay husband in a straight marriage, but I'm not sure that that assumption of accuracy doesn't sometimes limit our imaginations. Part of me wanted to see the play that comes after Fireflies, the play where Olivia tries to live as a queer single mother and radical female preacher in the 1970s. That's a play I haven't seen. And despite the fine performances that drive Fireflies forward, its tone and trajectory ultimately left me feeling like it was one that I had.
Fireflies is at the Atlantic Theater Company through November 11.