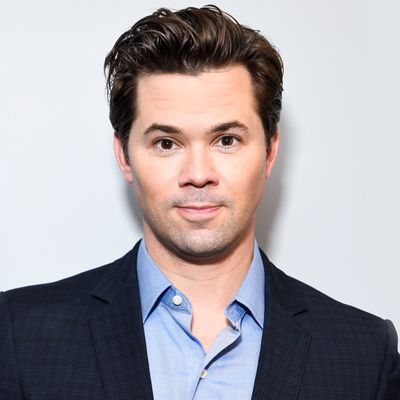 Andrew Rannells.
Photo: Jenny Anderson/Getty Images
The comedy podcast universe is ever expanding, not unlike the universe universe. We're here to make it a bit smaller, a bit more manageable. There are a lot of great shows and each has a lot of great episodes, so we want to highlight the exceptional, the noteworthy. Each week our crack team of podcast enthusiasts and specialists and especially enthusiastic people will pick their favorites. We hope to have your ears permanently plugged with the best in aural comedy.
Bitch Sesh - 80s Ladies w/ Andrew Rannells
Kathryn: Andrew Rannells (Book of Mormon, Girls) is an ideal guest for Bitch Sesh and, unsurprisingly, he delivers: This week opens with some wild karaoke and escalates from there. Let's be honest — no one has cable anymore, much less cares about these Housewives shows. A podcast about them has to be independently fun and throw shade at everything from doomsday preppers to vaginal rejuvenation surgery to The Greatest Showman. Rannells brings party stories about Casey and work stories about NeNe, with whom he co-starred on the NBC sitcom The New Normal in 2012, along with Justin Bartha and Ellen Barkin (the dream team?). You'll learn a lot from this episode, like which housewife looks like the female Gremlin, how to get your baby two birth certificates in case you need to go underground, and get a new angle on Casey's unborn son's missed connection with her late mother in the spiritual "in-between." If you are mid–lice infestation like Casey and Danielle, this bitch sesh will be a nice reprieve.
Listen: Spotify | Apple | Website
Boom Time With Flula Borg - Secret Pajamas, Dolly Parton, and Red Carpets (ft. Kristen Schaal)
Mark: German comedian and Conan O'Brien travel companion Flula Borg is one of the silliest new voices in comedy. Kristen Schaal happens to voice Louise Belcher, one of the silliest characters in comedy, so it should be no surprise the two drop a successful collab on this week's Boom Time With Flula Borg. Schaal and Borg kick off the show on a rare serious note, agreeing that the U.S. Senate should be made up of 100 female senators. Alongside director Alex Simmons, the two proceed to roll through bit after bit, occasionally throwing in advice about dealing with the audition process, finding new jokes from the same material, and of course, speaking German. Borg goes on to show off his DJ skills in a game of "Name that Tune" featuring his unique covers of Lee Hazlewood songs. Unknowingly, Schaal picks up the conversation about the joys of working on Bob's Burgers started by Bob's writer Kelvin Yu in a previous freewheeling, standout episode. In just 20 episodes, Boom Time With Flula Borg has become a consistently absurd escape from our grim reality.
Listen: Spotify | Apple | Website
Punch Up the Jam – Kokomo (w/ Jon Gabrus)
Tom: Hailed as one of the most inspirational bands of all time, the Beach Boys' place in music history is well documented. Two decades after the release of their magnum opus Pet Sounds — which I assume is about a zoo — the boys decided it was time to surf back into the studio and take us all down to Kokomo. Given this song is the personification of Jimmy Buffett meets Kevin James, our Punch Up the Jam crew has a field day with this one. While meticulously dissecting each line, hosts Miel Bredouw, Demi Adejuyigbe, and guest Jon Gabrus (High & Mighty) are driven to the point of insanity while trying to find meaning in the repetitive nature of this song. Gabrus gets so delirious at one point that he begins to speak like a minion doing a Gwen Stefani impression: Banana! As for the punch-up itself, we're given a wonderful ditty about what Demi considers his own personal Kokomo. If the Beach Boys are your favorite band and the thought of someone roasting them is offensive to you, it's at least worth tuning in to see why Gabrus has to frequent Chuck E. Cheese so often.
Listen: Spotify | Apple | Website
Entry Level With Brooks Wheelan - Al Madrigal
Pablo: For many Americans, their first jobs involve washing dishes or mowing lawns. And while Al Madrigal did both of these, his real entry-level job was firing people … at the age of 19. Like George Clooney's character in Up in the Air, Madrigal became so good at firing employees that it became second nature. But unlike the movie, Madrigal wasn't firing white-collar workers with 401ks to fall back on; he was letting go of disgruntled blue-collar workers, many of them with criminal records. As he tells Brooks Wheelan on this podcast that's all about the early jobs of comedians, the San Francisco–raised comic even got a switchblade held up to his neck one time, but it was at the aforementioned dish-washing job when he insulted the wrong cook. Madrigal saves the best story for the last: how he accidentally killed a guy because he got too high to mow a lawn. I won't spoil it, but it does take a dramatic turn when, at the deceased man's funeral, his wife points out the Grim Reaper's stoned accomplice.
Listen: Spotify | Apple | Website  
The Dumbbells - Getting Mentally Ready (w/Paul F. Tompkins)
Leigh: If a podcast exists and Paul F. Tompkins hasn't been a guest on it, does the podcast even really exist? You'll have to look to some other podcast to answer that, since Paul F. Tompkins is the guest on this week's episode of The Dumbbells. PFT joins hosts Eugene Cordero and Ryan Stanger to talk about all things fitness (but also other things like the huge missed opportunity on the part of the makers of the film Now You See Me 2). Starting with his background not playing sports as a kid through his time spent living a college lifestyle well into his 30s, PFT shares how starting therapy eventually helped change the way he approached getting in shape. From quitting smoking, eating right, and exercising to doing meaningful work and having healthy relationships, this is a great conversation about how mental and physical health are linked. No matter what your relationship to physical fitness is — whether you're someone who's in a committed relationship with CrossFit or someone who's never set foot in a gym at all — the insights about mental health, self-care, and self-love shared on this episode are not to be missed.
Listen: Spotify | Apple | Website
Armchair Expert – Amy Schumer
Marc: The Armchair Expert is on the road and, while in New York, host Dax Shepard got the opportunity to drop in on comedian Amy Schumer (Trainwreck, I Feel Pretty) at home. Schumer comes off super-caj and chill and game to talk about anything, from having confidence in the way she looks (and having to weather some harsh reviews of her appearance in I Feel Pretty: "It was my story — who else should have been in it?") to her "low-rent" upbringing ("Are we squatters?" she jokes about asking her father about their rent situation). The conversation flows pretty well until they get into the topic of how the male and female genders act and react in various situations. She points out that women almost always have to be guarded in public — that there's often the feeling of being sexualized and the threat of abuse or attack. Shepard acknowledges that but says that, as a victim of abuse himself, men are also sometimes in danger. It creates a little weird energy to end their chat on, but in the aftermath of the interview during the "Fact Check" segment with producer Monica Padman, Shepard shares texts that were exchanged between he and Schumer clearing the air about their conversational priorities.
Listen: Spotify | Apple | Website
Other Podcasts We're Listening To:
WTF - Busy Philipps
Listen: Spotify | Apple | Website
Who You Were - Connor Ratliff
Listen: Spotify | Apple | Website
Worst Case Scenario - The Tears of a Clown Are the Saddest Tears of All (with Jackie Johnson)
Listen: Spotify | Apple | Website
How to Be a Person - Lane Moore - How to Be Alone/How to Reach Out
Listen: Apple | Website
Hella in Your Thirties - When Your Dad Gets a New Hip
Listen: Apple | Website
Dopetown 3000 - The Softer Side of Rick James with Janina Gavankar
Listen: Apple | Website
Got a comedy podcast recommendation? Drop us a line at comedypodcasts@vulture.com.
This week's reviewers: Pablo Goldstein, Kathryn Doyle, Marc Hershon, Leigh Cesiro, Mark Kramer, and Tom Rainey.