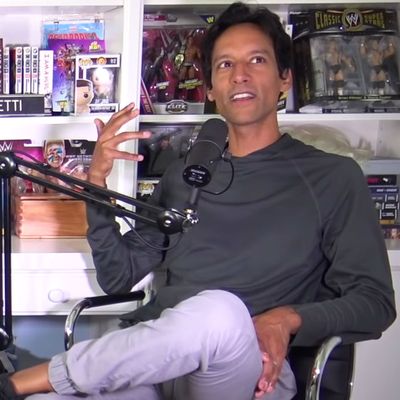 Danny Pudi on
Gettin' Better With Ron Funches.
Photo: Ron Funches via Youtube
The comedy podcast universe is ever expanding, not unlike the universe universe. We're here to make it a bit smaller, a bit more manageable. There are a lot of great shows and each has a lot of great episodes, so we want to highlight the exceptional, the noteworthy. Each week our crack team of podcast enthusiasts and specialists and especially enthusiastic people will pick their favorites. We hope to have your ears permanently plugged with the best in aural comedy.
Gettin' Better With Ron Funches - Energy Mirror With Danny Pudi
Mark: Some podcasts are worth starting at minute 11, but it's hard to beat the opening host banter of Gettin' Better With Ron Funches. Even if you don't have a son with autism or a mysterious Canadian girlfriend nicknamed "Robot," you have to admire Ron Funches's dedication to self-growth and introspection. After updates on this year's Sober October and visiting his son's honor roll ceremony, the most infectious laugh in comedy is joined by Community star Danny Pudi. The two catch up on the bromance forged during their short-lived sitcom tenure on NBC's Powerless, where they both learned about everyday professionalism from co-star Vanessa Hudgens. Aside from tips on fitness and parenting, the two discuss being forced into Hollywood's stereotypical boxes and their desire to share their own unique worldviews moving forward. The episode title, "Energy Mirror," is not based on the newest wellness product on Goop. An energy mirror is someone, like Funches, who reflects back the energy they receive from a person. Listeners are lucky to have the opportunity absorb the positivity Funches exudes on his show, and hopefully reflect the good vibes back into the world.
Listen: Spotify | Apple | Website
Everything Is Rent - I'll Cover You With Eliot Glazer
Leigh: Where were you when you realized the hit Broadway musical Rent was actually kind of ridiculous? What about how hilarious it was that so many 14-year-olds were earnestly singing about things like AZT or squatters' rights? For me, a former Rent-head who devoted a significant amount of time as a teenager learning every lyric to every song and seeing the show many, many times, it started a few months ago when I began listening to Everything Is Rent. Each week, hosts and die-hard Rent fans Beth Appel and Sarah Claspell go through the soundtrack song by song to talk about what they love and/or hate about the show. This week they're joined by fellow former fan Eliot Glazer to break down "I'll Cover You," a song that really bums him out. Glazer talks about his history with the show — growing up on Long Island with easy access to Broadway, keeping up with every single cast change, the absurdity of performing the show in high school along with a cast of exclusively white kids, and how when it went mainstream and he ultimately "got over it." If for some reason you're not ready to make fun of Rent, Glazer also discusses a show he's ironically obsessed with, Cats, a gross show about a list of cats. Be sure to stick around to the end to hear Glazer, known for his haunting renditions, sing his take on "Voice Mail #1".
This Might Get Weird - Episode 01
Elizabeth: You can't keep a good woman — or women — down. Grace Helbig and Mamrie Hart's YouTube show This Might Get, which ran every weekday for seven months, was canceled less than two weeks ago, but they have already rebounded and rebooted the show as a weekly podcast. Now titled This Might Get Weird, the show gives the duo a chance to break out of their previous format, which typically ran under 15 minutes. Also, for anyone wondering if the podcast will just be YouTube talk, they admit they don't exactly know what the podcast will be, but it definitely won't be about YouTube. For the debut episode they talk about their weeks, what they're watching on TV, and the fear of dying alone choking on a Werthers. Grace describes the terrifying experience of getting stuck in a Rent the Runway dress, resulting in popped blood vessels all over her arms. Then Mamrie shares the story of being asked if her dog, Beans, was Jewish. They also take topic requests from Twitter and nearly lose their minds over the birds in Planet Earth II. It's a free-flowing half hour that feels like you're listening in on two very funny friends.
Beyond With Mike Kelton - The Haunting at Cure Thrift Shop (Part 1)
Anna: At last, an excuse to judge Brooks Brothers — but can you handle the darkness? Beyond explores all things spiritual and supernatural. In this impressive episode, comedian, self-proclaimed "energy expert," and new podcast host Mike Kelton dives into investigative journalism: "Welcome to Serial, the Haunted Pants Edition." He finds himself entrenched in a haunting happening in real time, with real people, at the real Cure Thrift Shop in the East Village. First, I must note that Beyond's theme song gives strong Crazy Ex-Girlfriend season-two theme-song vibes, and it's wonderful! Now, this episode is spooky. Anyone familiar with Kelton's work, though, knows he easily makes anything palatable. The haunting involves Liz (Cure's owner) and dead people's spirits inhabiting their old clothes. Starting with an eerie MTV live video and ending with a pair of vintage Brooks Brothers pants, Kelton, Liz, and medium Asa Hoffman search for the source of this dark energy. And hey, even though we aren't exercising demons from thrift shops, let's all take Hoffman's advice on grounding energies. The Investigation of the Pants is happening in real time, but a twist at the end will send goosebumps up your spine… Sending positive energy toward a hasty Part Two release!
Listen: Spotify | Apple | Website
Armchair Expert - Rob McElhenney
Kathryn: It's dudes being dudes talkin' bout dudes as Rob McElhenney (It's Always Sunny in Philadelphia, Fargo) sits down with Dax Shepard for some casual testosterone talk. Dax is a big fanboy of Rob and even bigger fanboy of Rob's wife/co-star Kaitlin Olson, and they've got plenty of stories to tell about their dads and dads-in-law and Kaitlin's dad and what it's like being a dad. Plus they're workout buddies, so they go in-depth on how Rob got fat, then ripped, for Sunny (cottage cheese was key for one of those, not the one you'd think) while also acknowledging how silly these conversations are. Ultimately, the male physique is both cool and stupid and caring about it is both cool and stupid, and the armchairs of Armchair Expert are a safe place to admit that.
Listen: Spotify | Apple | Website
Other Podcasts We're Listening To:
A Funny Feeling – Murder House w/Tami Sagher (OITNB)
Listen: Spotify | Apple | Website
Culture Kings – 'Welcome Back Anna'
Listen: Spotify | Apple | Website
The Hilarious World of Depression – Words: Am We Uses Them Good at Mental Health?
Listen: Spotify | Apple | Website
The Need to Fail – Joe Mande
Listen: Spotify | Apple | Website
Fresh Air – 'BoJack Horseman' Creator Raphael Bob-Waksberg
Listen: Spotify | Apple | Website
Womp It Up!  – Natasha Rothwell – Spotlight On: Lunchlady Mary Frank
Listen: Spotify | Apple | Website
Got a comedy podcast recommendation? Drop us a line at comedypodcasts@vulture.com.
This week's reviewers: Kathryn Doyle, Leigh Cesiro, Mark Kramer, Elizabeth Stamp, and Anna Marr.