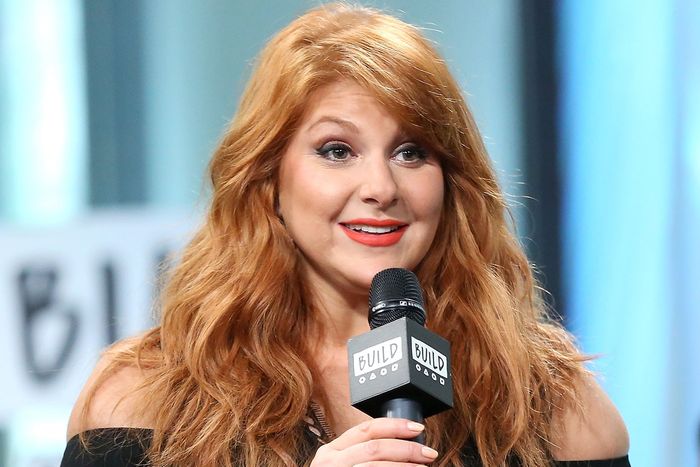 Julie Klausner.
Photo: Monica Schipper/WireImage
The comedy podcast universe is ever expanding, not unlike the universe universe. We're here to make it a bit smaller, a bit more manageable. There are a lot of great shows and each has a lot of great episodes, so we want to highlight the exceptional, the noteworthy. Each week our crack team of podcast enthusiasts and specialists and especially enthusiastic people will pick their favorites. We hope to have your ears permanently plugged with the best in aural comedy.
How Was Your Week? - I Wanted a Vegetarian Meal
Leigh: What a time to be asking someone how their week was! Thankfully, there's a new episode of How Was Your Week? to help make answering that a little better this week. To help us get our minds off things, host Julie Klausner takes us on a deep dive into the world of placenta encapsulation via Kat Von D's doula's Instagram. That sentence is a lot to take in so I'll give you a second to catch your breath. Now that we're all on the same page, you're probably questioning if this deep dive also includes talk of birthing tubs or umbilical cords, and the answer is a resounding duh. Other topics of discussion include the sexual orientations of other Sesame Street characters and Muppets, spending the high holy days at the synagogue that always let Difficult People film there, and feline dental care, plus a challenge to find a fuckable Christopher Lloyd character. And of course, it wouldn't be an episode of HWYW without catching up with NCIS's Pauley Perrette. Turns out, she's got a lot of hot takes on the movie The Devil Wears Prada. So if you're also living in 2006, you won't want to miss that.
Beautiful/Anonymous - I Survived a Mass Shooting
Mark: Not many podcasts can vary in tone from one episode to the next as Chris Gethard's brilliant Beautiful/Anonymous does. One week the caller might be on her way to a hippie commune to buy drugs; the following week's caller might be on her way to prison for selling drugs. This week lies on a completely different scale. A survivor of last year's Las Vegas shooting that killed 58 calls in for an episode Gethard describes as a great lesson for the rest of us on how to deal with life, how to treat others, and how to be strong. The proud "warrior" caller somehow maintains the sunniest disposition while describing the darkest of times. By performing 58 acts of kindness with other fellow warriors, she's helping to spread more love in the face of such abject violence. She also gives a lesson on social media and politicization of her experience that every single internet user should be forced to listen to before posting about any tragedy. Gethard piggybacks onto her lesson with a rant about Twitter that pretty much explains how the country divisions have become so stark. We should all be grateful to this caller for sharing her humanity with us.
Listen: Spotify | Apple | Website
The Hilarious World of Depression - Figuring Out Regular Adolescent Behavior vs. Alarming Disorder With Jen Kirkman
Anna: For anyone who's thought, "Was I depressed or was I a teenager?", you know it's hard to tell what's regular angst versus something deeper. Host John Moe believes reflecting upon what you were going through then can help explain what you're going through now. He calls up comedian Jen Kirkman to journey through her adolescent mental health. Between Morrissey songs and arrogance, depictions of "crazy" from Bugs Bunny cartoons, and a fear-of-flying course held in an airport, you might feel like you're back in homeroom. Plus, peek back at past seasons' guests, like Baron Vaughn and Andy Richter, trying to figure out their own adolescence; Margaret Cho was a goth who went to a church of ecstasy; while Mike Drucker wasn't full goth but asked his goth friends, "Wouldn't it be great it we were dead?" to a surprising response of "No." Patti Harrison, she hates it break it to us, was very popular, and Julie Klausner just wanted to be in her 30s drinking Merlot. Plus, hear from experts about early education intervention and tips on what to look for in teens. Thanks, THWOD, for making us time travel to high school and somehow laugh at the same time.
Listen: Spotify | Apple | Website
Pen Pals - RE: Concert, Being Stuck, & Worrying - With Reggie Watts
Marc: After podcasting their new show for a couple of months, the hosts of Pen Pals (Daniel Van Kirk & Rory Scovel) welcome their first guest: Reggie Watts, the musical comedy presence that's a big Comedy Bang Bang fixture. In honor of his presence, they answer not two but three letters from their pen-pal listeners. The first asks them about their favorite concert stories (attending, not performing), and DVK tops the others with his recollection of a couple watching him as he was watching them getting it on in the balcony at a Creed concert. To a letter asking what they do when they get stuck creatively, Rory puts it down to mind-set and, for comedy, how changing things up can shake the creativity loose. This show isn't strictly comedy, as some of the "pals" can get pretty heavy with their topics, and the third letter is from a woman who wants advice on how to stop worrying … about life. Her worry is so terrifying and paralyzing that she can't fall asleep. Fortunately, the trio has the comedy chops necessary to pull the episode out of a potential nosedive. "This is the kind of shit we love!" proclaims Scovel before touting the benefits of using a sensory deprivation tank to free himself from apprehensions. Van Kirk, always the promoter, listens to podcasts. And Watts goes totally Zen, using earplugs to live in the silence of his own mind. Heavy, yet still, from the right hosts, funny.
Listen: Spotify | Apple | Website
Podcast: The Ride - Sector 19 With Nick Wiger
Tom: Whether you're an artist or a critic, labeling something as a "saga" is a pretty big deal. Since the inception of the saga over a thousand years ago, we've seen these tales permeate throughout literature, pop culture, and yes, even podcasts. This week, Podcast: The Ride welcomes Doughboys' own Nick Wiger to help close out their 19-part chronicle: The CityWalk Saga. Like any legend, it's important to end on a high note. Lucky for us, the three self-described "childless men in their 30s" did not disappoint, and, perhaps, outdid themselves by concluding their epic with a review of CityWalk's always-exciting six different parking structures. The first 18 parts aside, I think it's safe to say this episode is a saga in and of itself. From the four parking pals meticulously discussing each garage to Wiger's run-in with "deviant youth" vaping in Jurassic Parking, this episode has more twists and turns than any ride at Universal Studios. Although a podcast about parking lots may not sound fun, I implore you to buckle up and enjoy the ride!
Listen: Spotify | Apple | Website
Other Podcasts We're Listening To:
Off Book: the Improvised Musical - Law & Order: Restaurant Unit (w/ Scott Aukerman, Paul F. Tompkins, Lauren Lapkus)
Listen: Apple | Website
Dr. Gameshow - A Really Positive Show (w/ Iliana Inocencio, Jon Wan)
Listen: Apple | Website
Doug Loves Movies - Kumail Nanjiani, Aparna Nancherla, Demi Adejuyigbe and Matt Besser
Listen: Spotify | Apple | Website
Doughboys Double - Octdoughberblessed: Take Me to Church
Listen: Website
High & Mighty - Male Friendships w/ Max Silvestri
Listen: Spotify | Apple | Website
Got a comedy podcast recommendation? Drop us a line at comedypodcasts@vulture.com.
This week's reviewers: Marc Hershon, Leigh Cesiro, Mark Kramer, Tom Rainey, and Anna Marr.