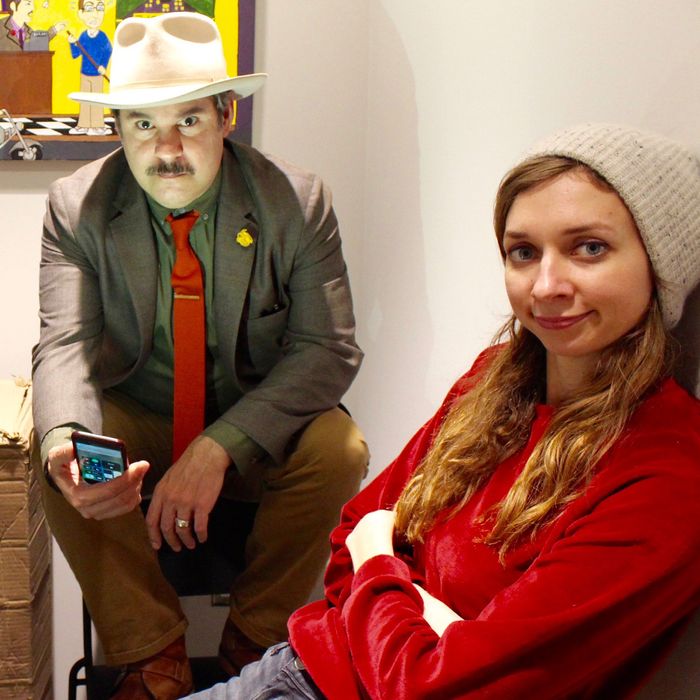 Scott Aukerman, Paul F. Tompkins, and Lauren Lapkus.
Photo: Courtesy of Earwolf
The comedy podcast universe is ever expanding, not unlike the universe universe. We're here to make it a bit smaller, a bit more manageable. There are a lot of great shows and each has a lot of great episodes, so we want to highlight the exceptional, the noteworthy. Each week our crack team of podcast enthusiasts and specialists and especially enthusiastic people will pick their favorites. We hope to have your ears permanently plugged with the best in aural comedy.
Threedom – Chalk Talk
Marc: It's like the Voltron of podcasting. The new Threedom show combines the awesome audio powers of Scott Aukerman, Lauren Lapkus, and Paul F. Tompkins all in one simple show. This trio has appeared on so many shows scattered throughout the podcast landscape that I hesitate to list them here for fear of running out of space. Suffice it to say that their collective experience behind the mic has honed each into lethally funny entertainers and, in this scenario, they're doing it all without structures, formats, or gimmicks. And as well as they have come to know each other over the years, Threedom reveals they still have surprises for one another, such as Lapkus's revelations about the multiple head injuries she has sustained over the years that resulted in unconsciousness — not to mention being the only person her two co-hosts know who received a trading card from a policeman with all of his stats on the back. Aukerman cops to having faked the measles as a kid by dotting his face with a red felt pen — a fact he hid for a decade and a half from his family, who believed his brother had done the deed. And Tompkins tells about the time his brother lost part of a finger and how he slammed his head into the floor trying to do a dance move when rehearsing for a school production of Oliver! Then they play a new game Aukerman came up with called "Duck, Mary, Kiss," a twist on the classic with a similar title.
Listen: Spotify | Apple | Website
Buckets With Amir Blumenfeld - Jimmy "Jordan" Butler w/ Joe Mande
Pablo: The NBA is currently in the midst of its second golden age, but the '80s lacked something to help fans of the orange ball get through the 82-game season and endless postseason: podcasts. From veteran shows like The Starters and Cookies to rookie podcasts like The Flagrant Ones and Buckets, the most entertaining league in sports is rife with shows hosted by funny comedians, players, and normies alike. On this week's episode of Buckets, Amir Blumenfeld is joined by one of comedy's most vocal NBA fans, Joe Mande, who unfortunately roots for the hapless Minnesota Timberwolves. They're the team that looked ready to topple the Lakers in 2004 — until Sam Cassell injured his hip doing his famous Big Balls Dance — and didn't make the playoffs again until last June. Mande's dark sense of humor came in handy during that futile stretch, especially since he makes an on-air realization that his worst moments as a fan aren't even devastating losses, since they've rarely had chances to lose in the big moments. That cynicism is already coming in handy before this season begins, since the superstar player they traded for last year is currently doing his best impression of Seinfeld's "The Jimmy" episode in practice. At least Mande can find solace in the Timberwolves being the only NBA team with a Wikipedia that lists the 2001 Tim Allen vehicle Joe Somebody under its "culture and lore" section.
Hollywood Handbook - Cedric Yarbrough
Kathryn: The boys make some time between elaborate ad reads to chat with Cedric Yarbrough (BoJack Horseman, Speechless, Paradise PD) about the current political climate, from the drinking games we all play as kids to the suburban white person's hair-trigger for calling 911. Turns out there's a traitor in the studio: in the style of Barbecue Becky and Permit Patty, Chef Kevin himself called the cops on people having sex that very morning. But all offices face that issue at one point or another. Cedric talks starring in Reno 911! and nailing the dialogue in Speechless, and heat-seeker Hayes looks to make a career out of screaming about big and/or spicy foods. Plus: The boys decide which bugs various celebrities would play on the show Animals.
Listen: Spotify | Apple | Website
Ask a Clean Person - Sweatah Weathah (w/Josh Gondelman)
Leigh: Some things just make sense together. Like Ross and Rachel, tossed salads and scrambled eggs, and Josh Gondelman and long discussions about sweaters. Gondelman, who has described himself as "if a cardigan were a person," also named his tour last year the Sweater Weather Tour, making him the perfect guest to talk all things sweaters on this week's episode of Ask a Clean Person with host Jolie Kerr. If for some reason you're not into sweaters, the two also discuss how super-famous people co-opted the art of checking into hotels under fake names, ruining it for the rest of us; why we shouldn't say "dungarees"; and why humans seem to panic when it comes to wool getting wet, yet sheep consistently keep it cool in the rain. While you will learn how you should and should not be washing your sweaters, the key takeaway from this episode is that care tags, as a thing inside your shirts that are sometimes too long, are annoying and unnecessary. But care tags when they're examined and read in several languages by Josh Gondelman are absolutely necessary.
I Was There Too - 12 Years a Slave and Saturday Night Live with Taran Killam
Mark: As Matt Gourley's I Was There Too sadly winds down a nearly four-year run as the preeminent movie historian podcast, its subjects remain as top-notch as ever. In almost 100 episodes, there hasn't been a guest with such a telescopic range of roles to cover as Taran Killam. Killam most famously spent six seasons at 30 Rock on Saturday Night Live, known best for his turns as "Mokiki," "Glice," Paul Ryan, and other very dumb men. But the Groundlings alum has also played everything from a con man in the 2013 Academy Award winner for Best Picture 12 Years a Slave to a nominee at the fake Academy Awards in Naked Gun 33 ⅓ :The Final Insult to a literal king in Hamilton on Broadway. Killam holds nothing back while spilling the beans on Trump hosting SNL, including an awkward dinner with Trump, Melania, Ivanka, and Jared Kushner. He manages to bring these stories to life with skilled and specific impressions of everyone involved. If you've ever wanted to hear Michael Fassbender, Steve McQueen (the director), Seth Meyers, Lorne Michaels, Brad Pitt, Arnold Schwarzenegger, Trump, Frank Oz, Miley Cyrus, Robert Stack, and Leslie Nielsen on the same podcast, you have confusing tastes, but this episode is your dream come true.
Lizard People: Comedy & Conspiracy Theories - Khloé Kardashian Is O.J.'s Daughter w/ Carl Tart
Tom: Whether you're interested in a conspiracy theory that involves lust, deception, and murder or just want to hear comedians talk about their AIM away messages from high school, Lizard People may be the podcast for you. Throughout the years, host Katelyn Hempstead has listened to her fair share of outlandish, easily dismissed conspiracies. This week, however, guest Carl Tart appears to have piqued her interest. The conspiracy in question: Is Khloé Kardashian's biological father O.J. Simpson? Much to the intrigue of Katelyn, Carl has kept up with the Kardashians and built an impressive case as to why the infamous athlete is forever tied to the socialite turned influencer turned entrepreneur. Much like O.J.'s failed 2006 hidden-camera prank show Juiced, Katelyn and Carl share a lot laughs at the expense of Simpson throughout. As conspiracies go, this one actually seems to be more grounded than previous topics covered on Lizard People, e.g. I find it hard to believe a cursed mummy caused the sinking of the Titanic. Conspiracy aside, Katelyn and Carl are eager to figure out why Khloé is always holding a football. Have they considered it may be in her genes?
Listen: Spotify | Apple | Website
Mean Book Club - The Secret by Rhonda Byrne
Elizabeth: Some book clubs are dedicated to classic literature and insightful discussion. Some book clubs go all out with themed food and drinks. Mean Book Club prides itself on ripping New York Times best sellers to shreds. Podcast hosts Clara Morris, Sarah Burton, Johnna Scrabis, and Sabrina B. take on books that have made a lot of money but won't be added to the American literary canon anytime soon. For this week's episode they've read — or listened to free sample chapters of — Rhonda Byrne's 2006 self-help book The Secret, which they reveal is less of a book and more of a collection of quotes. They talk about the power of positive and negative thinking, discuss if dogs engage in The Secret, and debate whether the idea is victim-blamey. While The Secret is either the best or worst book they've read this season, they keep an open mind and Sabrina was even able to "Secret" herself Oreos. Scrabis is still waiting for the cupcake she envisioned to arrive, but may find a greater reward when she sells her used copy of the book to one of her improv students.
Natch Beaut - Special FX Makeup with Kerry Herta
Anna: When a beauty and self-care podcast starts with a "This Is Halloween" parody featuring the lyrics "cream your neck 'til the neighbors gonna die of fright," you know it's about to get spooky. Comedian Jackie Johnson welcomes guest Kerry Herta, a makeup department head and award-winning makeup artist known for groundbreaking HD makeup and all of those iconic American Horror Story ads you can't unsee. For Herta, every day is Halloween. She clues us in on the difference between her multiple titles, why high ethical standards are paramount in her career, and how, on Instagram, everyone's a makeup artist. Don't get spooked peeking behind the scenes! Did you know that AHS ads use all practical effects, including real spiders and hand-painted bee contact lenses? Or that the most crucial part of the creepy makeup process is taking it off? Or that high-def TV changed the makeup industry?? Fear not — where there are tricks there are treats. Herta shares some tasty tips for making your complexion the best it can be. Take a break from peeping leaves and peep all the products Herta mentions (and lives by) at natchbeaut.com. After all, as Johnson says, iPhones are the HD-TV of our lives.
Other Podcasts We're Listening To:
The Hilarious World of Depression - Chris Gethard Does Not Avoid the Collision
Listen: Spotify | Apple | Website
Late Night With Seth Meyers Podcast - Kenan Thompson
Listen: Spotify | Apple | Website
Alison Rosen Is Your New Best Friend - Bonnie McFarlane Doesn't Do Farm Girl Comedy
Listen: Spotify | Apple | Website
Couples Therapy - A Nauseous Coquette (w/Bowen Yang, Matt Rogers, Mike Brown, Dillon Stevenson)
Listen: Apple | Website
The Jeselnik and Rosenthal Vanity Project  - A Two-Year-Old, Another Two-Year-Old and Satan Ruled Out
Listen: Apple | Website
Mall Talk - Wet Seal w/ Megan Gailey
Listen: Spotify | Apple | Website
The Oval Office Tapes - Kanye, #hetoo & the Ghost of John McCain
Listen: Spotify | Apple | Website
Got a comedy podcast recommendation? Drop us a line at comedypodcasts@vulture.com.
This week's reviewers: Pablo Goldstein, Kathryn Doyle, Marc Hershon, Leigh Cesiro, Elizabeth Stamp, Mark Kramer, Tom Rainey, and Anna Marr.