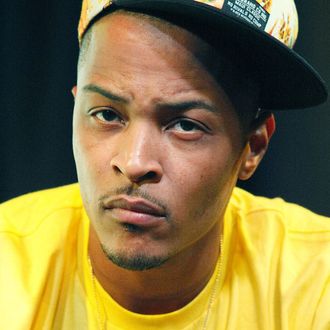 Is Kanye 'Dead and Gone' to T.I.? More likely than you think!
Photo: MediaPunch/REX/Shutterstock
Today was the final straw for rapper/lifesaving guru T.I., according to T.I.'s Instagram. Following Kanye West's bizarre visit to the White House to talk with Donald Trump, T.I. says that he can no longer support Kanye, and said that he regrets ever working with him. "Now I've been extremely patient and made it a point to not jump to any premature conclusions about Ye & his antics," T.I. began. "Partially due to the lessons learned from the outcome of other similar situations dealing wit my brother Wayne (which I admittedly mishandled a bit in hindsight) But now this shit is next level, futuristic Sambo, Hopping Bob, Stephen off Django ass shit Ye!!!!" In short: T.I. has tapped out.
T.I. and Kanye sparred over their politics on "Ye vs. The People," where T.I. was a stand-in for "The People." In the Instagram caption, T.I. says that he declined Kanye's invitation to join the Trump meeting. "We just saw Mr. West's Soul on auction," he concluded. "If you listen closely you can hear the tears of our ancestors hit the floor. All I can say is… I've reached my limits. This is my stop, I'm officially DONE!!!!"