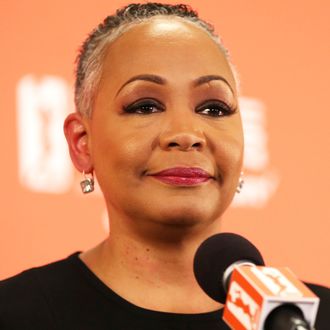 Prior to Time's Up, Lisa Borders was president of the WNBA and was an executive at Coca-Cola.
Photo: David Sherman/NBAE/Getty Images
Time's Up has hired its first president and CEO. Lisa Borders, formerly president of the W.N.B.A., has been appointed to the position, effective November 1. Borders discussed her new gig in an interview with Vanity Fair, where she recalled reading the New York Times' bombshell report detailing decades of sexual assault and harassment accusations against Harvey Weinstein, and hearing Oprah Winfrey's impassioned Golden Globes speech: "I was being not just invited, but encouraged — implored — to step forward and be part of this transformational change for women," Borders said. She underwent interviews by ten members of Time's Up's president and CEO Search Committee, which included Shonda Rhimes, Jurnee Smollett-Bell, and Kerry Washington to earn the position, and was recommended by Time's Up founding member Wendy Clark. Prior to the WNBA, Borders was executive VP of global community affairs at Coca-Cola, and ran for mayor of Atlanta.
Borders declined to go in detail about her thoughts on Donald Trump, but did dispute that Time's Up is an organization for and about famous women in Hollywood: "It's out here for everybody. This is not a club," she told Vanity Fair. "I would just offer the invitation to everyone, right here, right now … Come join us on this journey."