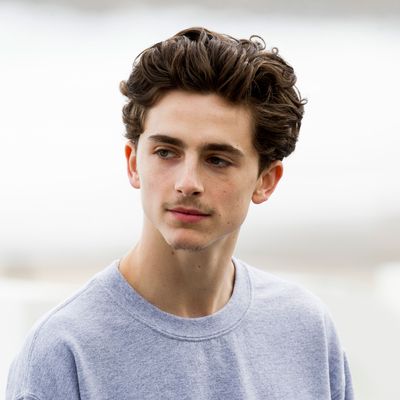 Timothée Chalamet and his little mustache
Photo: Juan Naharro Gimenez/WireImage
On its surface, the prestige drama Beautiful Boy (which arrived in theaters to stronger-than-expected box-office returns this weekend) seems like a boilerplate "two hander." That's Hollywood parlance for a star vehicle spotlighting the dramatic machinations of a duo of actors — in this case, Timothée Chalamet and Steve Carell, respectively portraying a methamphetamine-addicted teenager suffering through the wash-rinse-repeat cycle of withdrawal, recovery, and relapse, and his long-suffering journalist father. The film, directed by Belgium's Felix Van Groeningen, is based on memoirs by real-life father and son David and Nic Sheff.
But according to critical consensus — especially out of the Toronto International Film Festival where Beautiful Boy had its world premiere last month — the film hinges on Chalamet's devastating performance, which will most likely place him squarely on the short list of best supporting actor nominees down the Oscars stretch. "Timothée Chalamet might be the male actor of his generation," Los Angeles Times critic Kenneth Turan wrote in his review of the film. "With moments reminiscent of James Dean, the ne plus ultra of these roles, Chalamet both echoes the best of what's come before and makes the part his own, allowing us to feel we've never seen a character like this. If you want to witness what honesty, authenticity and a remarkable gift can accomplish, this is the place to go."
He added: "Chalamet is so good it's worth seeing Beautiful Boy for his work alone."
Last year, the 22-year-old actor appeared in two best picture Academy Awards-nominated movies, turning in a supporting performance as a high-school cool-guy in Greta Gerwig's directorial debut Lady Bird and starring as co-lead in the coming-of-age romance Call Me By Your Name, racking up a raft of critics awards and a best actor Oscar nomination for the latter film to become the youngest actor nominated in the category since 1939. In the process, Chalamet turned almost overnight into moviedom's foremost 20-something heartthrob, with throngs of young women turning up to bum-rush him at Academy screenings of Call Me By Your Name (in which he plays a 17-year-old American vacationing in Italy who falls in love with a graduate student played by Armie Hammer), compelling the film's distributor Sony Pictures Classics to hire additional security guards to tamp down the Beatlemania-like fervor surrounding Chalamet at those events.
Thanks to Chalamet's sensitive-dude gravitas — and the fact that he's blessed with a kind of androgynous man-child beauty and great, swoopy hair — the actor's career to date can conjure fair comparisons to that of early Leonardo DiCaprio. Pre-dating his breakthrough in James Cameron's 1997 Titanic, Leo delivered stirring performances in a string of exquisite dramas including What's Eating Gilbert Grape (for which he landed his first Oscar nomination) and The Basketball Diaries (in which he plays a teenage drug addict) and also portrayed a gay character — the poet Arthur Rimbaud — in director Agnieszka Holland's Total Eclipse.
But to hear it from an assortment of Hollywood hands — producers, agents, studio executives, and awards campaign veterans — canvassed by Vulture, Chalamet occupies a different realm from Leo: he's an actor who has come to be viewed as emblematic of a cultural shift that calls into question the very essence of modern male masculinity. "In our ever-rapidly changing culture, the notion of what a leading man is evolving," says David Unger, CEO of the talent management and content production company Artist International Group. "He may not look like a brooding tough-guy, anymore. Today's leading man is a more sensitive, thoughtful person. Timothée Chalamet exhibits a version of that. He's symbolic of the emotional young man."
Born and raised in Manhattan, a graduate of the Upper West Side's Fiorello H. LaGuardia High School of Music & Art and Performing Arts, Chalamet cultivated his dramatic chops on off-Broadway plays, landing a recurring role in the Showtime spy-thriller Homeland in 2012 (as the vice president's cocky son) and made his film debut two years later in Jason Reitman's critically lambasted dramedy Men, Women & Children. According to people who have worked with the actor on the promotional circuit, he is unfailingly polite, remembering names, maintaining direct eye contact, and making a point to shake hands with fans — especially the borderline hysterical teenage females who have become Chalamet's primary constituency.
"He's not some kid who decided to be an actor because he had some shit to get out of him. That's what makes him different," says an Oscar strategist acquainted with Chalamet. "And he's the kind of kid who you rip his picture out of 16 magazine and hang it on your wall — there haven't been a lot of those on-screen in film lately. They're mostly on TV."
Whether Chalamet can hope to claim an Oscar at this nascent stage in his career, however, is an unresolved question. While historically, the Academy has lavished awards on twenty-something actresses — Jennifer Lawrence and Brie Larson being two recent examples — the best actor and supporting actor categories have been the almost exclusive province of middle-aged or older men. Last year, Darkest Hour star Gary Oldman beat out Chalamet for the statuette and you'd have to go all the way back to 1994 to find another best supporting actor nominee younger than 28 (and that would be none other than DiCaprio, then 19, in Gilbert Grape).
But thanks to a recent initiative by the Academy of Motion Pictures Arts and Sciences to fill its ranks with younger voters and more people of color, that calculus may be changing. "You have a different Academy with all the new people in it. It used to be 50-50 with old farts," the strategist notes. "It's now a lot younger, a little more savvy. There's a different actor's branch. The Academy membership has changed."
To be sure, for some of the industry's old farts, Chalamet can be an acquired taste. "He's pretty fey," says one veteran studio hand and Academy voter in his 60s. "He might be the next Anthony Perkins, rather than the next Leo."
According to a hit-making movie producer who arranged a "general meeting" (a kind of meet-and-greet job interview without any specific job being offered) with Chalamet last year, the actor's absence of macho swagger, his innate sensitivity, and his apparent emotional availability are his primary selling points.
"The way I define and break down my male actors is very specific," the producer says. "I determine whether they're alpha or beta — I need to know which side of the ledger they come up on. Leonardo DiCaprio is alpha. He's alpha in the way he runs his life, in the performances he gives; he's alpha in the choices he makes. When Timothée walked out of the room, he was beta for me. Maybe in this era, the male movie star that is a little more compassionate, that has that softness, will be rewarded. We're seeing a complete course-shift around the alpha males in Hollywood. We're redefining what it means to be a man."
"Girls love him now because I don't think they're scared of him," the producer adds. "They're falling in love with the idea of a good guy. And audiences support that. That's why Tom Hanks is so great. He's always the good guy. You're selling the new male. What does the new male movie star look like in a post #MeToo world, where you can't get away with all the things the alpha guys used to crush it at?"
Chalamet has also made excellent choices so far in terms of choosing scripts and the filmmakers with whom he has worked — one notable asterisk on that resume being Woody Allen, who directed Chalamet in the Amazon Studios' romantic-comedy A Rainy Day in New York. In light of continuing allegations of sexual abuse by Allen's adopted daughter, Amazon has indefinitely shelved the film and Chalamet publicly disavowed the director, donating his salary from Rainy Day to several charities in January.
Up next, the Oscar nominee is set to portray King Henry V in The King, an epic historical drama directed by David Michôd that wrapped production in England and Hungary in August; and Chalamet will reunite with Gerwig, delivering another supporting performance in her adaptation of the Louisa May Alcott novel Little Women (scheduled for an awards season bow circa Christmas, 2019).
"At some point, he's got to make a more commercial choice," says Unger. "But he's very smart at choosing good roles, connecting with the audience and projecting a tonality that we haven't seen before. The comparison for me: He has everything we loved about River Phoenix and Heath Ledger. Those guys in their day were revelations as young actors."
Our Oscar strategist adds of Chalamet's representatives at United Talent Agency: "He's got really good people behind him, good agents. They really are molding him and picking right."
In addition to having reportedly signed on to reprise his role as Elio in director Luca Guadagnino's planned sequel to Call Me By Your Name, Chalamet is on deck to appear in what is shaping up to be his most commercial (and least awards-y) movie project to date: Dune, a big budget reboot of the visionary science-fiction novel directed by Blade Runner: 2049 filmmaker Denis Villeneuve. Set on a desert planet in deep space in the distant future, the film — currently in pre-production — will reportedly feature Chalamet portraying the brooding scion of a noble family leading a rebellion to restore their reign.
And if the calculus of Chalamet appearing in a popcorn movie directed by an acclaimed auteur, aiming for four-quadrant appeal, carries more than a whiff of What Would Leo Do? — that's no coincidence. "It has always been my dream to do a big movie," he said during an interview with the Philippine Daily Inquirer. "And looking at the careers of Leonardo DiCaprio or Joaquin Phoenix, those guys exclusively work with great directors. So I said to myself, if you do a big movie, make sure it's with a great director."