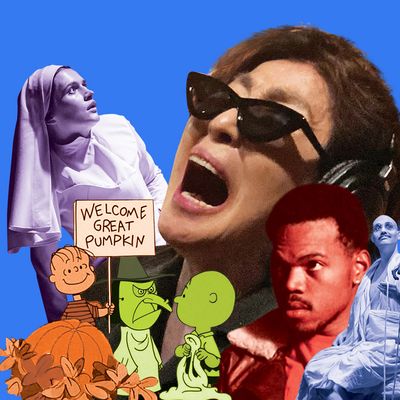 Photo-Illustration: Vulture
TV
1. Watch It's the Great Pumpkin, Charlie Brown
He really might show up this time. Linus said so.
No Halloween season is complete without watching the entire Peanuts gang cruelly shun Linus while he's struggling with delusions about a generous pumpkin who can fly. — Jen Chaney
ABC, October 18.
Art
2. See Chitra Ganesh: Her Garden, a Mirror
Reimagining a feminist utopia.
Politically charged and cryptically coded, Chitra Ganesh's solo show, drawn from the 1905 Bengali novella Sultana's Dream, has an accelerated sculptural and conceptual intelligence and a touch of magic about it. In the darkened gallery, viewers encounter a totemic tower and an enormous hand that's digitally covered and uncovered with multicolored light. Monitors are placed on the floor, and a cycle of graphically arresting black-and-white linocut prints hangs on the walls. — Jerry Saltz
The Kitchen, 512 W. 19th St., through October 20.
Theater
3. See On Beckett
Hat tricks.
In a delightful act of professional generosity, the brilliant clown Bill Irwin dons bowler and baggy pants to perform selections from the works of Samuel Beckett and to discuss his long-standing obsession with his language. Equal parts master class, playful experiment, TED Talk (if TED Talks weren't so cheesy and corporate), and love letter, Irwin's show brims with physical virtuosity, astute analysis, and sharp poignancy. It's an intimate gift from an extraordinary performer. — Sara Holdren
Irish Repertory Theater, through November 4.
Opera
4. Hear Marnie
A novel-cum-film-cum-opera.
The Metropolitan Opera has ratcheted up its ambitions, staging new operas by three composers who are not yet 40, Missy Mazzoli, Matthew Aucoin, and Nico Muhly, plus more experienced Broadway hand Jeanine Tesori. First up is Muhly, whose second Met opera is based on the Winston Graham novel that beguiled Hitchcock. — Justin Davidson
Metropolitan Opera, opens October 19.
Movies
5. See Private Life
Be emotionally upended.
Tamara Jenkins's first film since The Savages is a comedy of sorts — hilarious until the four-fifths mark, when the sadness is too thick to be cut by one-liners. It's about a couple (Paul Giamatti and Kathryn Hahn) who waited too long to have a child and whose attempts to adopt go nowhere, crushingly. Jenkins hugs the border between gripe comedy and high drama: You never know if what the characters say is a Neil Simon–ish plaint or something horrible. — David Edelstein
Netflix; in select theaters.
Pop Music
6. See Steely Dan
Pouring one out for Becker.
Remember the life of Walter Becker as his bandmate Donald Fagen leads a two-week celebration of Steely Dan's illustrious catalogue. Most nights have a different theme; there are greatest-hits sets, sets chosen by popular demand, and sets devoted to specific albums. If you ever wanted to hear Aja, Gaucho, or Countdown to Ecstasy in full, now's your chance. — Craig Jenkins
Beacon Theatre, October 17–30.
Books
7. Read Friday Black
In the name of "self-defense."
Nana Kwame Adjei-Brenyah takes the absurdities of racism and other ills to comic-dystopian extremes in his debut collection. A theme park called Zimmer Land allows patrons to hunt "terrorists"; a chainsaw murderer of five black kids concocts an elaborate self-defense; a department store becomes the scene of a zombie apocalypse — or is it just the Friday after Thanksgiving? — Boris Kachka
Mariner, October 23.
Theater
8. See The Things That Were There
Remembrance of things past.
Jedi master of downtown experimental theater David Greenspan brings a new play to the Bushwick Starr in a co-production with Abingdon Theatre Company. Inspired by Stein and Wilder, Greenspan meditates on loss and memory in this story of a family (himself among the performers) gathered around a dinner table full of ghosts. — S.H.
The Bushwick Starr, through November 3.
TV
9. Watch Bodyguard
The OG King in the North.
This limited-series political thriller, with Richard Madden (Robb Stark of Game of Thrones) as an Afghanistan vet with PTSD guarding the British home secretary (Keeley Hawes), was extremely well-received on BBC One, and its finale now ranks as one of the most-watched shows of the decade in the U.K. Translation: Be ready to binge. — J.C.
Netflix, October 24.
Pop Music
10. Listen to Warzone
Still imagining.
Yoko Ono is rock-and-roll royalty with an impressive résumé in experimental art, and her new album, Warzone, accesses both wings of that legacy, reworking Ono's own songs of hope and protest through the years; their focus on peace, love, and feminism feels as vibrant and powerful today as it did in the '70s, '80s, and '90s. — C.J.
Chimera Music, October 19.
Classical Music
11. Hear Pierre-Laurent Aimard and Tamara Stefanovich
Two couples, one masterpiece.
Few musical marriages have produced more ecstatic music than that of the 20th-century composer Olivier Messiaen and pianist Yvonne Loriod. Long before they wed, their relationship yielded Visions de l'Amen, a transcendent, heated work for two pianos, played by another couple whose personal and musical lives intertwine. — J.D.
Zankel Hall, October 25.
Art
12. See Kathy Butterly: Thought Presence
Labored ceramics.
Waves of wanting overtook me in this infinitely sensual show of small-scale ceramic sculptures. I imagined holding, living with, and loving these multicolored carved, squeezed, and molded sculptures with their many layers of gorgeous, shiny glazes blazing like hard fire. To call this work only craft is to miss the mysteries of their physicality, processes, phosphorescent color, and intimacy in condensed form. See if you can refrain from caressing one or two of them when the gallery assistant turns away, then tell me you can't imagine wanting one of these three-dimensional sculptural calypsos too. — J.S.
James Cohan, 533 W. 26th St., through October 20.
Theater
13. See Lewiston/Clarkston
Intimate epic.
Samuel D. Hunter has written two new plays focusing on modern-day descendants of the explorers Meriwether Lewis and William Clark, presented together in a single evening with a catered meal in between. Set at a failing fireworks stand in Lewiston, Idaho, and at a big-box store across the river in Clarkston, Washington, the plays gather 51 audience members together to encourage a communal consideration of the legacy of westward expansion and the state of the American experiment. — S.H.
Rattlestick, through December 2.
TV
14. & 15. Watch Making a Murderer Part 2 and Hear From Its Creators
The much-discussed sequel.
The true-crime doc argued that Steven Avery, a previously exonerated killer, and his nephew Brendan Dassey were wrongly accused in the homicide of photographer Teresa Halbach; it became a controversial national obsession more than two years ago. A lot has happened since then, to put it mildly. But those who binge-watched part one will likely be eager to see part two, which picks up in 2016 with an active legal effort to get Dassey's conviction overturned. The night before its Netflix premiere, see episode one of part two at 92Y, where filmmakers Moira Demos and Laura Ricciardi will discuss their Emmy-winning series live. — J.C.
92Y, Kaufmann Concert Hall, October 18; Netflix, October 19.
Classical Music
16. Hear Yuja Wang and Martin Grubinger
Piano with a bang.
Wang is one of those virtuosos who can pull an orchestra out of a piano the way Mary Poppins yanks lamps from her carpetbag. Now, she and percussionist Martin Grubinger divide up Stravinsky's massive Rite of Spring among two hands and four mallets, dispense with one of the pianos in Bartók's Sonata for Two Pianos and Percussion, and perform two new works for their unorthodox duo. — J.D.
Carnegie Hall, October 26.
Movies
17. See Slice
Midnight-film fare.
Chance Bennett, a.k.a. Chance the Rapper, makes his feature-film debut as a werewolf in A24's horror-comedy that follows a literal ghost town with a pizza shop above a portal to Hell. When a delivery boy is found dead, Bennett's character, Dax Lycander, is accused of murder. But Dax is no Jacob Black (Twilight) or Scott Howard (Teen Wolf). As Dax says, he's "the kind of werewolf that wants to deliver quality Chinese food at affordable prices."
iTunes; Amazon Prime.
Classical Music
18. Hear Satyagraha
Tightropes and tumbling.
Philip Glass's 1980 opera is about Gandhi, more or less, but its abstraction allows directors to range pretty far. This production, a collaboration between the Swedish opera company Folkoperan and the Circus Cirkör, interprets nonviolent resistance as a form of gentle acrobatics. — J.D.
BAM New Wave Festival, opens October 31.
Theater
19. See Measure for Measure
Some rise by sin, and some by virtue fall.
A woman demands justice from a government of deceitful, self-righteous, power-hungry men. Recent news or Shakespeare's brilliantly murky problem play? British director Declan Donnellan and his acclaimed company Cheek by Jowl collaborate with Moscow's Pushkin Theatre on a Russian-language production of this darkly comic, morally knotty, starkly contemporary-feeling play, telling the story of a repressive regime and the young nun who attempts to challenge its rank hypocrisy. — S.H.
BAM, Next Wave Festival, through October 21.
Books
20. Read Melmoth
The gothic tradition redirected.
Helen Franklin, a British translator in Prague, is shown a manuscript about Melmoth the wanderer, a folkloric wraith cursed to bear witness to acts of complicity with persecution and genocide. (Melmoth first appeared in an 1820 gothic novel; here, novelist Sarah Perry changes his gender to female.) Franklin is wracked with a mysterious guilt, which manifests in the sensation of Melmoth's presence, unraveling the dark events of her own past. — B.K.
Custom House.
Pop Music
21. Listen to Saturn
Wonky funk returns.
If you're unfamiliar with British singer-songwriter NAO, whose genre-hopping debut, For All We Know, is one of the sharpest R&B outings of the decade, you'll get another chance to discover her when she unveils her follow-up album, Saturn. Early tastes of the set, like the robot-gospel tune "Another Lifetime" and downcast SiR duet "Make It Out Alive," suggest another hit. — C.J.
RCA, October 26.
Theater
22. See Black Light
The diva is present.
Radiant songstress Jomama Jones is the onstage alter ego of the versatile theater artist Daniel Alexander Jones, who last performed as his diva double in a much-praised run at Joe's Pub this past spring. Now Jomama returns for an Off Broadway show, weaving together personal and political reflections with robust original songs inspired by Diana Ross, Prince, Tina Turner, and Sade. — S.H.
Greenwich House Theater, through December 31.
Opera
23. Hear Hungarian State Opera
Budapest debuts.
Even as Hungarian nationalism acquires a more frightening cast, the government is sending its most eminent opera troupe on tour, complete with sets, singers, and a cast of 300. For a global art form, opera can be quite provincial; the company introduces U.S. audiences to works that have heroic status in Hungary but are virtually unknown outside it, starting with Ferenc Erkel's Bánk Bán. — J.D.
David H. Koch Theater, opens October 30.
Books
24. & 25. Read Heavy: An American Memoir and Hear Kiese Laymon
R. O. Kwon recommends.
Weight is both unavoidably corporeal and a load-bearing metaphor in novelist-essayist Kiese Laymon's sharp, (self-)lacerating memoir, addressed to the single teen mom turned professor who raised him to become exceptional, sometimes using a belt. Every action has a reaction, and every success its cost, as Laymon thrives in some respects but succumbs to addictions (food most of all). On October 30, Greenlight Bookstore hosts Laymon for a conversation about his deeply personal book, where race, class, and the scars of sexual violence are front and center. — B.K.
Scribner; Brooklyn Public Library, 10 Grand Army Plaza, October 30.
*This article appears in the October 15, 2018, issue of New York Magazine. Subscribe Now!