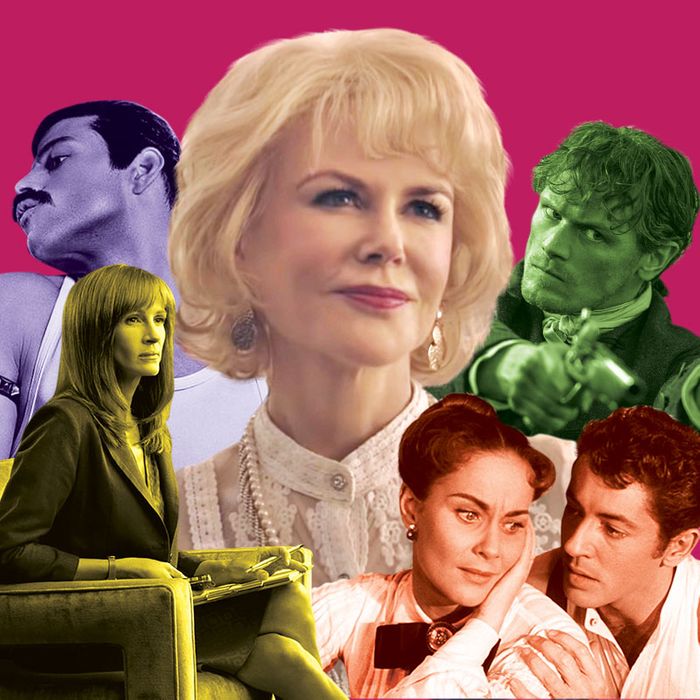 Photo: Twentieth Century Fox/Focus Features/Amazon Prime/Starz
Art
1. See Natalie White: Someday
#Shame.
Did you know the Equal Rights Amendment passed by Congress in 1972 still hasn't been ratified? Neither did I. After Illinois ratified the ERA in May, only one more state is needed to reintroduce it to Congress. A gut-punching activist exhibition on Canal Street calls attention to and tries to change this sad fact. An open gallery flies flags listing the states yet to ratify the ERA, some altered with jabs at Republican forces blocking the 40-plus-year effort. —Jerry Saltz
314–316 Canal Street, through November 10.
Theater
2. See Thunderbodies
General consternation.
Playwright Kate Tarker takes a loopy, satirical look at U.S. imperialism in this off-kilter war play. Grotesque and childlike characters collide as the climate collapses, and despite the fact "the war is over," the violence both faraway and at home doesn't seem to stop so easily. Lileana Blain-Cruz directs. —Sara Holdren
Soho Rep., through November 18.
Classical Music
3. See Joan Tower
At 80.
Composer Joan Tower turned 80 in September, and festivities are still going on. First, the American Composers Orchestra programs her Chamber Dance with premieres by Valerie Coleman and Alex Temple. Then National Sawdust celebrates by surrounding her music with that of Jennifer Higdon, Julia Wolfe, and Tania León. —Justin Davidson
Zankel Hall, November 2; National Sawdust, November 11.
TV
4. Watch Patriot Season 2
Bourne again.
One of last year's oddest dramas returns for a long-delayed second season, with CIA agent John Tavner (Michael Dorman) embarking on another dangerous mission, this time to rescue his brother (Michael Chernus). It's mainly about the psychology of its depressed, still-malleable hero, who plays as if Jason Bourne had been reimagined as a Wes Anderson sad-sack, and his family, which includes Lost's Terry O'Quinn as his agency-veteran dad. —Matt Zoller Seitz
Amazon, November 9.
Movies
5. See Senso
Roger Ebert called it "a passionate and melodramatic romance."
Summarily trashed in 1954, Luchino Visconti's Senso returns — lusciously restored for Rialto — to take its place as a grand melodrama that cries out to be sung. Alida Valli is a countess who falls hard for Farley Granger as an arrogant Austrian officer in 19th-century occupied Venice, but his fall is perhaps harder, as he begs her to help him desert. It's a sumptuous wallow, and with Granger dubbed in Italian you don't even have to put up with his usual toneless voice. —David Edelstein
Film Forum, through November 8.
TV
6. Watch Homecoming
Another luminary jumps on the TV bandwagon.
Julia Roberts stars in this half-hour podcast-based drama as a therapist for soldiers at an experimental facility. What exactly is happening there? Why does her character leave the job and seem reluctant to discuss it? The quest to answer those questions, and nuanced performances by Roberts, Stephan James, and Bobby Cannavale, will draw you in right away. —Jen Chaney
Amazon, November 2.
Movies
7. See Bohemian Rhapsody
Is this just fantasy?
A shallow but incredibly stirring biopic of Freddie Mercury, the Queen vocalist whose passionate stage persona finally transcended camp. With fake choppers, Rami Malek is smaller and skinnier than the real Mercury, but the soul is every bit as large. Though dubbed, he makes you believe Mercury's voice is pouring out of him. —D.E.
In theaters November 2.
Art
8. See 50 Years: An Anniversary
An enduring presence.
The strongest, longest-lasting, and final connection to an art world before it was shot through with market talk, high prices, and sharks is the Paula Cooper Gallery, which celebrates 50 years of art, activism, and revolutionary ideas. Cooper and a handful of other galleries — most long gone — built this city. The restaging of some of Cooper's inaugural exhibition will give you a taste of just how far out there this gallery was from the start. Miraculously, blessedly, it's still ultrarelevant today. —J.S.
Paula Cooper Gallery, 524 West 26th Street, through November 3.
Books
9. & 10. Read The Feral Detective and Hear Jonathan Lethem
A triumphant return.
The title character of this expertly written noir set in the Pynchonian hinterlands of California is supposed to be Charles Heist, a rescuer of trafficked runaways. But that designation ultimately belongs to Phoebe Siegler, a Times editor who, after Trump's election, calls on Heist in search of a lost New York girl. On November 14, find Lethem at Books Are Magic in his first New York appearance of his book tour. —Boris Kachka
Ecco, November 6; Books Are Magic, 225 Smith Street, Cobble Hill, November 14.
Pop Music
11. See Chris Stapleton
From a room to the MSG stage.
Sharp songwriter Chris Stapleton's voice can melt the coldest heart. His 2015 Traveller took him from Nashville hit-maker to nationwide recognition; last year's two-volume From a Room proved his success was no fluke. Catch him live with Brent Cobb and Marty Stuart. —Craig Jenkins
Madison Square Garden, November 2.
Comedy
12. Go to #Nasty Women — A Night of Female Resistance Comedy
Which usually sells out.
This all-female ensemble of stand-up comics now has a regular home. First up: Dulcé Sloan (The Daily Show With Trevor Noah), Iris Bahr (Curb Your Enthusiasm), and more. Amanda Duarte hosts.
14th Street Y Theater, November 12.
Opera
13. See Les Pêcheurs de Perles
If you loved Bizet's other masterpiece, Carmen.
Ravishing melodies bubble up from the deep in Bizet's opera about Ceylonese pearl fishers. It's a mishmash of exotic stereotypes, which director Penny Woolcock wraps in a topical veneer. But the point is the singing, and with Pretty Yende as the priestess Leïla and Javier Camarena and Mariusz Kwiecien as her South Sea Jules and Jim, skepticism should be easy to suspend. —J.D.
Metropolitan Opera, opens November 14.
Theater
14. See Waiting for Godot
Clowns in purgatory.
In a new production of Samuel Beckett's existential behemoth from Ireland's Druid theater company, "ennui meets startling slapstick comedy." Director Garry Hynes and her actors emphasize the play's flights of tragicomic absurdity. It's a clown show on a tightrope above the abyss. —S.H.
Lincoln Center, Gerald W. Lynch Theater at John Jay College, November 2 through 13.
Theater
15. See Wild Goose Dreams
All the lonely people.
Leigh Silverman directs Hansol Jung's smart, poignant play about a lonely South Korean father and a young North Korean defector who meet online. Returning to the Public after an initial run at the Public Studio, Jung's funny, sad, searching play with music gets at the heart of a world with infinite connectivity and little connection. —S.H.
The Public, through December 16.
Books
16. Read Those Who Knew
A reckoning.
A hotshot senator from an unnamed island country's Truth and Justice Party has a history of sexual assault. Poet-translator Idra Novey (Ways to Disappear) examines the dissonance of public and private lives with this timely new novel.
Viking, November 6.
Pop Music
17. Listen to Negative Capability
From 17 to 71.
British singer-songwriter Marianne Faithfull's 21st solo set takes her full circle with a cover of her 1964 Jagger-and-Richards-penned debut single, "As Tears Go By," plus ten stark, beautiful folk songs, in collaborations with Nick Cave, Mark Lanegan, and Ed Harcourt. —C.J.
Panta Rei, November 2.
Art
18. See Gray Foy
Jewel of a show.
The graphite-on-paper works by the late artist Gray Foy are magical fantasies. They're a little bit Bosch, a little bit Dalí, and all his own glories. On view are the mid-century American artist's early Surrealist works, dated 1941 to 1975, many of which were recently discovered in his estate in drawers and closets. —Wendy Goodman
Francis Naumann Fine Art, 24 West 57th Street, through November 16.
TV
19. Watch Late Night's Live Election Night Coverage
If you need a laugh.
By 11 o'clock on Election Night, you may need a break from CNN and MSNBC. The late-night shows are counting on that, providing alternative live coverage. The Daily Show With Trevor Noah will present its "Democalypse 2018" live on Comedy Central at 11 p.m.; Stephen Colbert's Late Show will go live at 11:30 p.m. on CBS with plenty of political analysis, no doubt; and over on NBC, Late Night With Seth Meyers will broadcast his election reactions in real time at 12:30 a.m. —J.C.
Multiple networks, November 6.
Classical Music
20. Hear JACK Quartet
"Your friendly neighborhood new-music string quartet."
The string-quartet genre remains astonishingly adaptable and contemporary, especially in the hands of this quartet, which rarely plays music written before its members were born. In this context, Ligeti's 50-year-old String Quartet No. 2 is practically early music; the rest of the program, by Andreia Pinto Correia, Sabrina Schroeder, and Zosha Di Castri, dates back only to 2010. —J.D.
92nd Street Y, November 9.
TV
21. Watch Outlander
Introducing the adorable new dog Rollo.
In season four, the hottest couple on television — Caitriona Balfe's Claire and Sam Heughan's Jamie — venture to a new land: Colonial America, where they of course find themselves in the middle of conflict. Don't worry, though. I can guarantee they engage in a few steamy love scenes. —J.C.
Starz, November 4.
Classical Music
22. Hear Nightcap: Curated by Gabriel Kahane
With Pulitzer winner Caroline Shaw.
The singer-songwriter, who recently released Book of Travelers, has always had at least a couple of toes in the classical-music world. Now, the New York Philharmonic taps him to curate one of its late-night chamber-music after-concerts, with an unannounced program pegged to the orchestra's earlier dive into Schubert and Beethoven. —J.D.
Stanley Kaplan Penthouse, November 10.
Movies
23. See Boy Erased
Lucas Hedges is everywhere this fall.
Joel Edgerton directs this haunting pray-away-the-gay story based on a memoir by Garrard Conley, about a Baptist pastor's son (Lucas Hedges) who's sent away for "conversion therapy." Spoiler: It doesn't take. Russell Crowe plays the pastor, Nicole Kidman the cheerful, brightly coiffed mother who goes along with her husband — to a point. Edgerton plays the would-be converter, who has wayward impulses of his own. —D.E.
In theaters November 2.
Pop Music
24. Listen to Black Velvet
A posthumous release.
The late Florida soul powerhouse Charles Bradley's friends and family oversee the release of his final album, named after the pseudonym the singer took before his breakthrough. Black Velvet assembles songs recorded during the sessions for Bradley's three stunning studio albums on Daptone Records. —C.J.
Daptone Records, November 9.
Talks
25. Go to Festival of the Future
To Belfast and beyond.
Join Kate Mulgrew (Orange Is the New Black), Nancy Whang (LCD Soundsystem), and writers featured in the story collection Octavia's Brood for an evening of readings and storytelling about conflict and alternate realities. The event marks the Stateside launch of Éist, a "visionary fiction program" inspired by the late Octavia Butler, author of Parable of the Sower. Admission includes a copy of Butler's Lilith's Brood — whether reenvisioning life during the Troubles, or Trump, there's no better guide than the Grande Dame of Science Fiction.
Irish Arts Center, 554 West 51st Street, November 5.
*This article appears in the October 29, 2018, issue of New York Magazine. Subscribe Now!