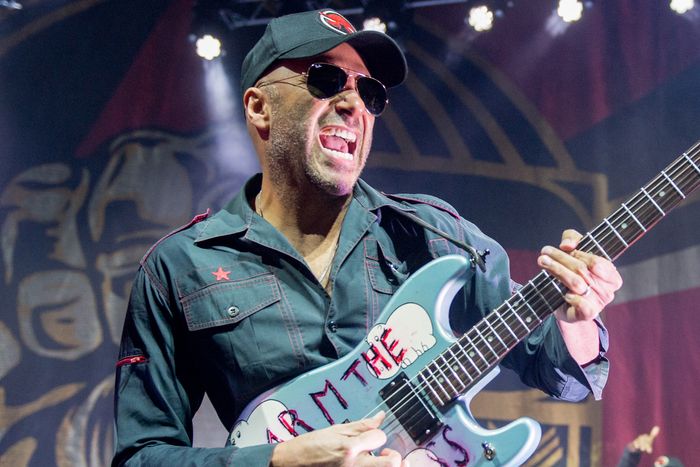 Photo: Ollie Millington/WireImage
Though Rage Against the Machine staged a reunion tour in 2008 and have performed a handful of other times since, the seminal rap-rock group hasn't recorded a studio album since 2000's Renegades. But Tom Morello — Rage's boundary-pushing guitarist whose sound defined the band as much as front man Zach de la Rocha's rhymes — has remained an alt-rock fixture.
Still, despite launching multiple new projects and engaging in one-off collaborations with artists big and small, Morello has never released a solo album under his own name — until now. With The Atlas Underground, due Friday, Morello brings together famous friends from the electronic, rock, and hip-hop worlds for a wild product that he's taken to calling a "sonic conspiracy."
To prepare for The Atlas Underground, revisit Morello's essential non–Rage Against the Machine work below.
Audioslave, "Like a Stone" (2002)
After de la Rocha left Rage Against the Machine in 2000, producer Rick Rubin united Morello and his Rage comrades Brad Wilk and Tim Commerford with Soundgarden's Chris Cornell. They didn't become the modern-day Led Zeppelin that Rubin predicted, but they did find immediate success: Their second single went gold, earned a Grammy nomination, and peaked at No. 31 on the Hot 100, which remains the highest chart showing of a Morello-affiliated song. Cornell delivered a spine-tingling vocal, but Morello's solo — a squealing interstellar transmission that proved his inventive style was equally effective in power balladry as it was in Rage's bombast — solidified the track's spot in the alt-rock canon.
The Nightwatchman, "Battle Hymns" (2007)
Despite its many successes, Audioslave's apolitical nature disappointed some. Morello rectified the shortcoming with his Nightwatchman project, releasing three albums and an EP of folk-oriented protest tunes, most of which he wrote and sang himself. Many Nightwatchman songs lean on vague platitudes, but "Battle Hymns," released during a particularly bleak period in the Iraq War, is incisive anti-war critique. "Can you explain away the sleight of hand and the criminality of spending souls for oil?" Morello asks somberly as he strums guitar and blows a harmonica.
Street Sweeper Social Club, "Promenade (Guitar Fury Remix)" (2009)
Socially aware strumming only goes so far. Morello returned to his rap-rock roots with Street Sweeper Social Club, his volatile duo with fellow radical-minded musician Boots Riley of the Coup. According to Morello, Riley pitched an instrumental resembling "evil disco square-dance rap" — and the peculiar request yielded "Promenade," a deeply groovy anti-capitalist screed that's also Street Sweeper's definitive song. Their sole full-length, from 2009, includes a solid version, but for an additional minute of Morello's six-string wailing, check out the superior "Guitar Fury Remix" from 2010's The Ghetto Blaster EP.
The Nightwatchman, "Solidarity Forever" (2010)
Morello never shied from contextualizing the Nightwatchman in the lineage of American protest music, so it was inevitable that he'd eventually interpret some of his spirited folk forebears. His Union Town EP collects antique pro-worker tunes from the early 20th century to great effect; while Morello ably covers Woody Guthrie's "This Land Is Your Land," the set's true standout is his rousing rendition of Ralph Chaplin's 1915 union anthem "Solidarity Forever," which turns the tune into a gypsy-punk gem.
Travis Barker feat. RZA, Raekwon, and Tom Morello, "Carry It" (2010)
From Rage Against the Machine's 1997 tour with Wu-Tang Clan to "Lead Poisoning," The Atlas Underground's closing collaboration with RZA and GZA, Morello has spent most of his career in the vaunted hip-hop outfit's orbit. He rekindled the magic with two of the group's members on "Carry It," a thundering highlight from Blink-182 drummer Travis Barker's solo debut. Sometimes Morello's guitar mastery can wear thin if it's a recording's only focus; here, offset by swaggering RZA and Raekwon verses, it truly shines.
Bruce Springsteen, "This Depression" (2012)
Around the release of the first two Nightwatchman records — which frequent Springsteen producer Brendan O'Brien helmed — Morello struck up a personal and professional relationship with the Boss. The pair performed together repeatedly beginning in 2008, and Morello even filled in for E Street Band guitarist Steven Van Zandt on an Australian tour in 2013. The partnership extended to the studio, where Morello contributed to two songs on Springsteen's 2012 LP Wrecking Ball. Though he's sharing wax with one of America's most revered musicians, Morello maintains his singular tone, which pairs surprisingly well with Springsteen's steely heartland rock.
John Fogerty, "Wrote a Song for Everyone" (2013)
The cascading solos Morello lets rip at the end of John Fogerty's re-recorded "Wrote a Song for Everyone" are a far cry from the rootsy blues-rock that characterized Creedence Clearwater Revival's original. But it manages to gel with plucky mandolins and a spirited vocal duet between Fogerty and Miranda Lambert for an unexpected reimagining of the song that's among the best on Fogerty's 2013 album of the same name.
Ramin Djawadi ft. Tom Morello, "Pacific Rim" (2013)
Blockbuster action flick music supervisors can't get enough of Morello's otherworldly riffs, which have appeared in Spider-Man, Battleship, Real Steel, and Bright. The best of the crop is "Pacific Rim," a team-up with film composer Ramin Djawadi (Game of Thrones, Iron Man) for the 2011 sci-fi film of the same name. The quaking result underscores Morello's versatility: How many musicians can successfully play with members of Wu-Tang and Hollywood's best orchestral minds?
Bruce Springsteen, "The Ghost of Tom Joad" (2014)
Morello played an integral role on Springsteen's most recent album, receiving credits on eight of the tracks on 2014's High Hopes. The updated version of "The Ghost of Tom Joad" the two recorded bore special significance: Rage Against the Machine covered the 1995 Springsteen tune on Renegades, and it was a signature live collaboration between Springsteen and Morello, who played it during 2009 performances at Pete Seeger's 90th Birthday Concert and the Rock and Roll Hall of Fame 25th Anniversary Concert. Here, they blow out Springsteen's subdued original into an electric seven-minute behemoth.
Prophets of Rage, "Unfuck the World" (2017)
"We're not a supergroup," Morello declared upon announcing Prophets of Rage in early 2016. "We're an elite task force of revolutionary musicians determined to confront this mountain of election year bullshit, and confront it head-on with Marshall stacks blazing." While the high-octane rap-rock Morello, Wilk, and Commerford churned out with rappers B-Real and Chuck D shares plenty of DNA with Rage Against the Machine's, that doesn't detract from its pummeling power. Their self-titled debut's lead single joins a bracing chorus ("No hatred, fuck racists") with critiques of fascism and drone warfare, before Morello unleashes his six-string pyrotechnics. Michael Moore, who directed Rage Against the Machine's "Testify" and "Sleep Now in the Fire" clips, helms the song's can't-miss music video.
Chuck Berry, "Big Boys" (2017)
Morello's sonic inventiveness and technical skill have enshrined him as one of rock's most influential guitarists. So, though their styles are worlds apart, seminal guitarist Chuck Berry enlisted Morello for a song from his final album, 2017's Chuck. On "Big Boys," Morello keeps his most flamboyant tendencies in check — so it goes when teaming up with a serious contender for rock's Mount Rushmore — but his playing still infuses the tune with youthful energy.
Tom Morello, "Dirty Deeds Done Dirt Cheap" (2018)
With The Atlas Underground, Morello invited other vocalists and musicians to help him create a high-concept, grandiose sonic landscape. But he hasn't abandoned his folksy Nightwatchman ethos completely. Morello has performed a cover of AC/DC's 1976 classic for years, but it'll finally see official release on an Appleseed Records compilation due later this month. His colorful version deviates from the original substantially, translating power chords into propulsive strumming, adding an off-kilter clavinet solo, and rewriting the lyrics to decry American foreign policy. "Call the White House anytime," Morello sneers. "I'll send the bombers in with a stupid grin."