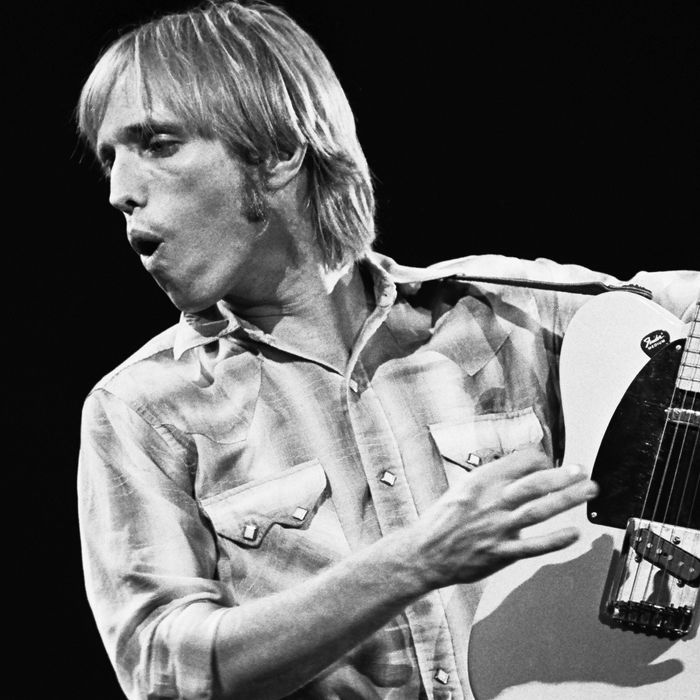 Photo: George Rose/Getty Images
Tom Petty, the greatest living entity to ever emerge from the inhospitable swamps of Florida, died exactly 367 days ago today — a fact that this writer, and she's assuming the rest of the country, is still in deep denial about. However, the pain of losing one of America's finest musicians wasn't as palpable this month, thanks to the release of his archival An American Treasure box set. In it, Petty's wife, daughter, and former bandmates curated an immaculate shrine to his career, a literal treasure chest full of rarities, alternate tracks, historic live performances, and — the holy grail! — previously-unreleased recordings. There are 12 of these recordings in total, and we've outlined all the intel you'd want to know about them below. As Petty himself would say to kick off a tune: A one, two, a one, two, three, fouhhhh…
"Surrender"
A 2000 version of "Surrender" has actually been floating around for a while thanks to its inclusion on Petty's Anthology: Through the Years, but the An American Treasure version has finally given fans what they were hoping for: the original 1976 version, which stemmed from the band's Tom Petty and the Heartbreakers sessions. Interestingly, the band tried to record it again in 1979 to include in Damn the Torpedoes, but it was deemed not worthy enough to include.
Stand-out Pettyism: "Don't let me down / I just can't hang around / Feeling this way forever / On your balcony."
"Lost in Your Eyes"
Petty recorded "Lost in Your Eyes" with his first band, the country-garage skewing Mudcrutch, which predated the Heartbreakers by a few years. (Petty remained active with Mudcrutch until his death, touring with them as late as 2016 — it helped that a few of the members were in the Heartbreakers.) This was recorded in one of the band's later sessions, in 1974.
Stand-out Pettyism: "Baby / You never realized / That I could have stood there lost in your eyes / Stood there waiting / And not realized love isn't easy."
"Keep a Little Soul"
Ultimately cut in 1982 for not meshing with Long After Dark's other tracks, "Keep a Little Soul" showcases a bouncier side of the band — and some excellent piano-on-organ riffs. Also, there's a music video to accompany it!
Stand-out Pettyism: "Oh little one / Who lives like a king / Don't be afraid to depend on me."
"Keeping Me Alive"
Another Long After Dark recording that wasn't up to snuff at the time, "Keeping Me Alive" actually ended up seeing the light of day over a decade later with Petty's 1995 box set Playback, owing to his love for the song. This An American Treasure version comes from a different studio session, though, and is remastered to perfection — the difference is considerable.
Stand-out Pettyism: "Well sometimes we ride around / She plays her radio up loud / If I was sad, well, I'm happy now."
"Walkin' From the Fire"
Not to be confused with "I'm Walkin'," the Fats Domino standard that the Heartbreakers covered on a few occasions, "Walkin' From the Fire" was birthed from a Southern Accents recording session in 1984. It was recorded prior to Petty infamously breaking his hand on a wall when he got frustrated mixing the album's opening track, "Rebels."
Stand-out Pettyism: "The last time I've seen her was at a discotheque / counting buttons on a lawyer's vest / she walked out but it ain't over yet."
"Gainesville"
As a sonic love letter to Petty's Florida hometown, "Gainesville" was recorded in 1998 for the Heartbreakers' Echo, but was left off the final album due to its sentimental nature — both melodically and tonally. "Echo is supposedly his dark album," Ryan Ulyate, one of An American Treasure's producers, told Rolling Stone. "'Gainesville' is this guy who is looking back on this early life with some nostalgia for a simpler time. I love the song, but I can see how it didn't necessarily fit the vibe of Echo."
Stand-out Pettyism: "Homegrown in the headphone."
"Lonesome Dave"
A bluesy boogie of a song, "Lonesome Dave" refers to Dave Peverett, the lead singer and rhythm guitarist of Foghat, who some of the Heartbreakers were reminiscing about — not so kindly — while helping Petty record his solo album Wildflowers in 1993. It didn't end up fitting the overall theme of the album, but Mike Campbell and Benmont Tench, in a recent Los Angeles Times interview, said recording the track was one of their favorite Petty memories of all time. "We had barely learned it at that moment, and we were all laughing about the lyrics," Tench recalled. "That's the kind of writer he was … I always say I'm an evangelist for Tom, because I think the world needs to know just how great he was."
Stand-out Pettyism: "Whatever happened to Lonesome Dave? / He used to play in a guitar band / 365 days a year / Bye bye, Dave."
"Wake Up Time"
While the original "Wake Up Time" closed out Petty's Wildflowers upon its 1994 release, this version of the ballad stems from an early studio session two years prior — the instrumentation is slower, and Petty's vocals are more meditative, if that's even possible.
Stand-out Pettyism: "You follow your feelings / You follow your dreams / You follow the leader / Into the trees."
"I Don't Belong"
Similar to "Gainesville," the surprisingly jaunty "I Don't Belong" stemmed from the Heartbreakers' Echo sessions in 1998, and was cut due to the album taking a darker route. The lyrics may seem dour, but it's about as bubblegum as Petty ever got.
Stand-out Pettyism: "Show New York that you'll wear out."
"Don't Fade on Me"
Petty decided to use another version of "Don't Fade on Me" to include as a halfway point on Wildflowers, but after listening to this alternative — hauntingly stripped down to the barest of acoustics — you may wonder why he made that choice.
Stand-out Pettyism: "Was it love that took you under? / Or did you know too much? / Was it something you could picture? / But never could quite touch?"
"Bus to Tampa Bay"
What can we say, our man loves Florida! Consider this another lovely, sentimental song about Petty's youth that just couldn't find its way onto an album. Specifically, "Bus to Tampa Bay" was recorded in 2011 with the intent of it being included on Hypnotic Eye.
Stand-out Pettyism: "Fighting off the Everglades' invaders / He burnt them down and left them for the gators."
"Two Men Talking"
While the Heartbreakers dabbled with playing and honing "Two Men Talking" live as early as the turn of the century, it ultimately became a long-gestating song that never came to fruition on any album. This version, recorded during sessions for Hypnotic Eye in 2012, is the only studio version that Petty liked enough to keep.
Stand-out Pettyism: "When the hard times come / You're gonna see who's got your back / Sure will."