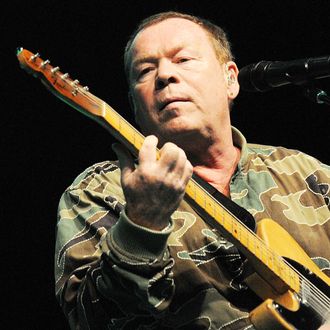 Ali Campbell, the guy Kavanaugh thought he assaulted.
Photo: Gerardo Mora/Getty Images
As if the details of Supreme Court nominee Brett Kavanaugh's past behavior weren't already painful enough, on Monday night, the New York Times reported that he was once involved in a bar fight with a man he thought was the lead singer of that mostly white reggae band UB40 (of "Red Red Wine" fame). The incident happened in 1985 when Kavanaugh, an undergrad at Yale at the time, mistook a 21-year-old man at a local bar for Ali Campbell, the lead singer of UB40 (who had performed in the area that night), and allegedly threw ice and a beer at him, causing injury. Kavanaugh was not arrested for the attack, but he and four other men were questioned by police. (According to the report, Kavanaguh "did not want to say if he threw the ice or not.") UB40 have now responded to the news saying the band, like most people, wants nothing to do with this Brett Kavanaugh mess. "Obviously, there must have been an assault because the police were called and a report was filed," a spokesperson for UB40's Robin Campbell (Ali's brother) tells Billboard, "but this is a case of mistaken identity and has nothing to do with UB40." Oh, how we wish that were true.