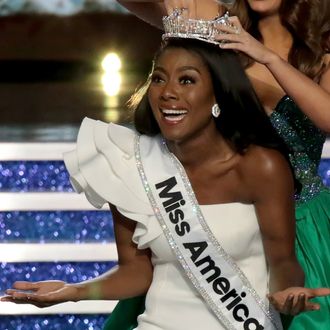 A former Miss America.
Photo: Donald Kravitz/Getty Images
Time to dust off your flaming batons and get your ventriloquist dummy out of its trunk. Your individual odds of becoming Miss America during any given year aren't stellar, but if you are going to run, 2019 might just be your time to shine. The national organization, the Associated Press reports, has revoked the licenses of four different states following a complicated, queasy-making, Gretchen Carlson–related revolt that pits states vs. national leadership in a way that will eventually make for a great movie, but not for, oh, another decade or so.
The move was the latest in roughly ten months of tumult. As you might recall, Miss America Organization CEO Sam Haskell stepped down last December after leaked emails revealed body-shaming and slut-shaming correspondence about past contestants and winners. Dick Clark Productions, which partnered with the company for its annual televised pageant, also subsequently severed ties with the company.
In the aftermath, former Fox News anchor and one-time Miss America winner Gretchen Carlson came onboard as chairwoman. Since then, petitions for and against current leadership have been passed through the Miss America community, the swimsuit competition has been axed, and criticism of Carlson and CEO Regina Hopper have mounted, to the point that as of last month 46 of 51 state-level pageant organizations have called on the pair to resign. Per the AP, "many state officials say their opposition is rooted in a lack of transparency and communication from national leaders, and does not involve the swimsuit decision."
All of which leads to the latest bizarre development, in which the national organization has terminated the licensing agreements of four states. In order to get their licenses back, which would enable them to take part in the national pageant and retain their scholarship money, Georgia, West Virginia, Pennsylvania, and a fourth unidentified state must reportedly replace their current leadership and request an appeal.
Also chillingly, reports AP, "Other states have been asked to explain — in writing — why they acted as they did in the run-up to the pageant." In a statement about the decision made Monday, the Miss America Organization said merely, "The process regarding Miss America state licensees is confidential."