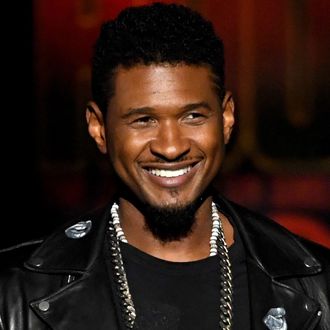 What is happening?
Photo: Kevin Winter/Getty Images
Last night, Usher surprise-released a new album. Usher. In this economy! The eight-track album, A, produced entirely by Atlanta producer Zaytoven, is Usher's attempt at revisiting his Georgia roots — but he doesn't seem to know quite how. It is R&B that is trying to be trap ("trap soul") that is trying to sound relevant but does anything but. (It even wastes features from Future and Gunna — how?) Worst, it's Usher doing an impression of Usher circa 2004, and there's nothing more hurtful than watching one of R&B's finest sound so bored being himself. Case in point: the track "Birthday." While a perfectly passable bop that I will no doubt be found booty-bouncing to when my birthday rolls around, it contains phoned-in, pitched-up samples of the "oh's" from Nelly's "Dilemma," and has Usher on autopilot waxing poetic about eating, ahem, "cake." It's better than that time he told he us he would give us "that ghetto D," but not by much! But, lord, is nothing bleaker than this section from "Gift Shop": "This shit got me feeling like Michael / She call me her idol / She play me on Tidal / She cum on arrival / But I don't want no bridal."
And then there's the following track, "She Ain't Tell Ya," which is just about as lazy as it gets: Usher samples Usher — technically, Lil Jon featuring Ludacris and Usher on 2004's "Lovers and Friends." Except I worry it's not a sample at all and rather Zaytoven flipping through the golden era of Usher's discography and accidentally coming up with the same piano melody because there's just nothing left for Usher to work with. (There's no credit for it that I can find, unlike "Dilemma.") What if Usher didn't notice? What if he did and didn't care? Oh my god, what if Lil Jon, who produced the timeless original, didn't get a check? We should all be outraged.