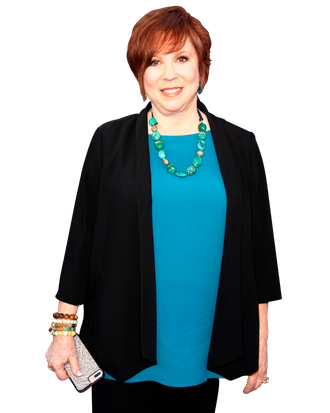 Vicki Lawrence, whose new Fox comedy The Cool Kids debuted last week to huge ratings, is a 50-year TV veteran who has somehow managed to star in just a handful of shows. Her relatively brief résumé as a series regular is perhaps the result of her early Hollywood success. At the age of 18, she was handpicked by Carol Burnett to join the cast of Burnett's eponymous CBS sketch comedy, in part because of how much alike the two looked. "I started in the Emerald City," Lawrence laughs. "You hear actors all the time talk about all the shit you have to go through to become a star. My whole young experience was just so special." Her star just kept rising: The 11-year run on The Carol Burnett Show, a brief flirtation with pop-music success, eight more years starring in the Burnett-inspired spinoff sitcom Mama's Family, and in 1992, her own daytime talk/variety show, Vicki!.
But the second half of Lawrence's career was different. Despite good ratings, Vicki! lasted just two years, in no small part because of a "very abusive" battle with a male executive that led to her firing, and which she now realizes was a #MeToo experience of her own. "I don't really have any direct proof, but I think that may have been why I didn't work much for a good number of years," she says. Thankfully, she's made dozens of guest-star appearances in the time since, including recurring roles on Hannah Montana, Yes, Dear, and Great News, and she's also toured the country with a stage show in which she reprises the Mama character.
Still, Lawrence's new gig on the Charlie Day–produced Cool Kids — she, David Alan Grier, Martin Mull, and Leslie Jordan play four very rowdy retirees — represents her first series-starring sitcom role since Mama signed off in 1990. And once again, audiences seem ready to embrace her. Boosted by a strong lead-in from the revived Last Man Standing, the premiere of Cool Kids drew over 9 million viewers, making it the most-watched new series launch on Fox since New Girl debuted in 2011. A few days before the Cool Kids debut, Vulture spoke with Lawrence about working alongside a new generation of "young and adorable" TV writers, the highs and lows of her illustrious career, and that #MeToo moment.
This is the first regular series role you've had in some time. How did it come together?
I haven't done this on a regular basis since the '80s.
Since Mama's Family went off the air, really.
I know. And the traffic has gotten so much worse in L.A., it may kill me. [Laughs.] So how did this happen? Well, they were casting this right when we were doing the 50th anniversary of the Burnett reunion. I didn't want to go, because I just wanted to go over to CBS and see Carol, hang out, see all my old friends, and visit with all the cool guest stars she was gonna have on there. I could not be bothered. My agent kept calling me saying, "But this is perfect for you!" And I went, "It's cute, but really, I'm so tired of going to auditions."
You did two shows early in your career that ran for a long time: The Carol Burnett Show and Mama's Family. So you didn't have to go out on a ton of auditions, I'd imagine?
I never have. It was an accident I ended up on The Carol Burnett Show. I was literally kidnapped by television. Mama's Family spun off of that show, so I didn't have to audition for that. So, I really haven't had to do a lot of auditioning. And when I would go out and audition, it was just so frustrating, and demeaning, and difficult, and time-consuming. I walk in, and invariably people say, "Oh, you're younger than we thought you were gonna be." Because they expect Mama to walk in the room. Or the casting people now are in their 30s, and the Burnett Show is television history, and I really haven't done a whole lot of stuff looking like me. I don't know. I just wasn't a big fan. Very frankly, I was sitting around waiting for somebody to say, "We really want Vicki. Can we get her?"
You were on Great News before it was canceled. Did you have to go out for that?
They came to me with Great News. Tina Fey said, "Can we please get Vicki Lawrence?" And I'm like, "Shit, I'm not saying no to Tina Fey."
But you did this one because your agent wouldn't leave you alone.
Honest to God, he just drove me nuts. He just kept calling and calling. So I looked at my schedule and I picked what would absolutely be the best time for me: 11 o'clock, Thursday morning. I'm thinking, "I'll get my son to drive with me, so we can carpool. I'll miss the traffic going and I'll miss the traffic coming. It'll be okay."
It does surprise me that you and some of your co-stars actually had to audition for Cool Kids. You're all comedy legends!
As I said, all the casting people are young now. They're in their 30s and 40s. They may know you, and they may know your work, and they may love you, but they're like, "Oh, my God. Is she vertical? Is she coherent? Is she still funny? Has she lost her shit?" You know, they don't know. [Laughs.]
How was the audition once you got there?
The casting gal, her name is Wendy O'Brien. She is a huge fan of mine, and she really wanted to pick my brain about how we got the chemistry on the Burnett Show. I said, "Dear God, how the hell do I know how that happened?" We talked about that for a while, and then she scheduled a meeting for me to go in and meet the producers.
Including the show's co-creator, Charlie Day?
Had no idea who Charlie Day was, but I thought, "Oh my God, what an adorable, cute, young bunch of guys this is. How nice this is, that there aren't the old guys in the suits anymore." They're just young and adorable.
What's it like working with producers like Day, compared to the last time you worked as a series regular back in the '80s? You mentioned the "old guys in the suits" being gone. Has it been a better experience?
Our whole staff is that younger generation, which is so refreshing. It's a great energy. Gone are the old suits. Our daughter came to one of the script readings, and she said at the end, "It's just so different, Mom. All the suits are gone." It's just comfortable. It's easy. It's casual. It's fun. And this cast? We each had a blast doing the pilot. I've done a few pilots, and they're usually not a blast.
I also think the idea that Charlie Day is in charge of this show is gonna make a big, big difference, because this is basically Always Sunny in Philadelphia but with old people. It's just going to be crazy, silly fun. We're not embracing any old shit. We're not gonna take an hour and a half to do something on the computer. We're not gonna talk about our aches and pains, I don't think. Unless it's a really funny drug episode, which I can totally see happening.
How would describe your character in a couple sentences?
She's feisty. She's bawdy. She's bodacious. I think she'd probably scare the crap out of Mama. She's a bit of a wild child. She's just speaks her mind. She's a bit raunchy. She's definitely horny.
I was happy when Fox picked up The Cool Kids because networks have had such an aversion in recent years to comedies about people over 50 or 60. It's like they don't remember how well The Golden Girls worked.
The problem with the executives is that they live on the Coast, and they have no idea that there's an entire country in between. They really don't. That's why Mama's Family did not succeed on NBC, because those executives didn't understand a rural comedy, number one. They did not understand a young woman playing an older woman, number two. They just never really gave her a chance until we went into syndication.
A lot of people forget that Mama's began on a broadcast network, but it became a hit in syndication to local stations.
That show had incredible numbers throughout the real country. As for shows [with older casts], I think everything has to come together perfectly. The cast has to come together. The idea has to come together. But I do think the older generation is finally being embraced. You're seeing a lot of "older" movies now, like Bucket List or Last Vegas or there's a recent one with all the gals …
Book Club?
Right! I haven't seen that one. There've been some wonderful movies about older people. They're being embraced a little more, certainly in film.
They always say that the target audience [for TV] is 18 to 49 — a lot of those people are back at home, living with their boomer parents. We're the ones with the disposable income! I've asked many times, "Why, why, why not?" And they say, "Well, older people are set in their ways. They tend not to try new things." I'm like, "I try new shit all the time." I don't get it. I'm the one buying things. The 25-year-old who's got more college debt than they know what to do with is not. They're using whatever I buy.
Plus, a lot of younger viewers are watching shows on Netflix and not on traditional TV anymore.
Well, everybody's going everywhere. We had that whole meeting with all those people. I'm like, "You're from what, now? What in the hell is Roku?" Then after this meeting, we did these promos: "If you missed The Cool Kids on Fox, don't forget to check us out on Netflix. Don't forget to check us out on iTunes. Don't forget to check us out on Roku. Don't forget to …" At the end of the meeting, I said, "I've got a question. How in the hell do you do the ratings anymore?" They said, "Oh, it's very complicated and very different." Television is not like television was at all, anymore.
And younger people aren't against watcher older actors in comedies. The Golden Girls did great with college kids.
We tested really well with the younger audience. Because God knows, they love to laugh at their grandparents. And yeah, I knew many young people that were in love with The Golden Girls. The young audience loved Mama's Family. When I first started doing my road show, I assumed that my audience was gonna be an older crowd from the Burnett Show, and I was really surprised by the fact that so many young people showed up.
When I first started doing my show, they got me one of those electric scooters that old people use, and I came zooming down the aisles on the way up to the audience. One night, I cut through an aisle, and there was a row of these adorable young guys that were, like, I don't know, 19. I went by them, and they were screaming and yelling and stomping their feet. So I backed up and I went, "Really?" And they were, like, "Shit, we would not have gotten through without Mama. You were really hot back in the day." I'm like, "Yeah!"
Why isn't there talk about a Mama's Family reboot? You're busy now, but if someone were to suggest it, would you be down? Reboots are all the rage and I think there'd be an audience for it.
Yeah, maybe there would be. It would have to change gears a tiny bit. And the rights to Mama are so convoluted, it would not be fun figuring it all out. I actually have to pay to use her on the road. She's not mine.
Is she Carol Burnett's creation?
Not really. If it was Carol's, it would be easy because Carol and I love each other. It's a really big mess. And I just don't see that ever sorting itself out. Sadly, I just don't see that ever happening.
l wanted to talk about some other aspects of your showbiz career. You were, very briefly, a pop star. You had a big hit with "The Night the Lights Went Out in Georgia." And it all happened while you were starring in The Carol Burnett Show. It must've been a cool time in your career. 
At the time, it was not that cool.
Really?!
First of all, I was married to the guy that wrote that song for, like, ten minutes. And he hated the song. I kept telling him, "This is a smash. Why not [record it]?" He said, "Because I hate it," and he left. We took it to this producer, Snuff Garrett, who could not give it to anybody — everybody said it would offend the South. Finally, Snuff threw his hands up and said, "Let's just go in the studio and do it with Vicki."
What happened when the song turned into a big smash?
My husband was so unhappy that I had a hit record. Everybody wanted to talk to me and he was getting no credit. I mean, it was a doomed marriage from the get-go, but that was really the catalyst, so we got divorced. I had to go finish the album with a gun to my head. It was like, "You have to do this, or I'm gonna sue you." That was not fun. It's a very bittersweet chapter of my life.
You did all the big shows on the guest circuit back in the day: Roseanne, Murder She Wrote, Laverne and Shirley, and The Love Boat. Was that as much fun as it seemed, or are you going to ruin the illusion for me?
Well, it was interesting. If you were doing a love story, they always did the kissing scene first. You're like, "Really? Could I just get to know this guy for five minutes before we do this?" But always, always, the kissing scene was first. And you were intimidated by all the darling girls in the bikinis at the pool scene. Just intimidated the shit out of me. Other than that, it was pretty fun.
In researching your career before our chat, I saw that you actually did an episode of Supertrain, which was this notorious one-season bomb back in the 1970s. What do you remember from Supertrain, or have you blocked it from your memory?
Jesus, Joe. I do remember Supertrain because we were [living] in Hawaii. They asked me to do this little part. I said, "No, I'm in Hawaii. I don't want to do it." They called back, and "We'll throw in a color TV." I said, "No, what don't you understand? I'm in Hawaii." Now they start upping the salary, and it's the TV and it's all kinds of shit. I finally go, "All right, fine." I had such a small part. I remember having to go out on the set and model clothes for that director. I was so mortified because it was in front of Don Meredith. He was doing Monday Night Football at the time and I was such a big fan.
We have to talk about your game-show days, too. You were a regular on The $25,000 Pyramid with Dick Clark and various versions of Password. And you did Hollywood Squares a lot.
I just loved games.
You loved playing?
If it's a game, I will play it. When the Burnett Show first started, there was a game show on the air called Stump the Stars. Carol said, "We're gonna go do it." And I said, "Yay, I'm in." And Harvey's like, "Okay, whatever." Halfway through taping the first show, Harvey looked at me and Carol and he said, "You guys are fucking nuts." We're like, "Goddammit Harvey, we want to win." He just looked at us and threw his hands up. "You're fucking nuts."
You're also one of the few women who's hosted an American game show. You did the NBC version of Win, Lose, or Draw. How did that end up happening?
Well, Bert Convy hosted the syndicated version, so they wanted a woman. They thought. "Let's go the opposite way, and let's get a woman to do network version." So that's how I got that job!
Convy produced the show with his friend Burt Reynolds. Did you work with Burt a lot?
Oh yeah, I met with him a bunch. Snuff Garrett, who produced "The Night the Lights Went Out in Georgia," used to have game nights at his house. And I remember playing — it wasn't called Win, Lose, or Draw then, it was just charades. And I'm like, "Oh my God, I can't draw shit." [Laughs.] He said, "No, we're going to. And Trini Lopez is coming over." I can't remember who Trini was dating at the time, but Burt was dating Sally Field. And we all played Win, Lose, or Draw. It was a crazy, fun night.
Any other fond memories of Mr. Reynolds?
He was just so sweet. If anything would go wrong on the game show, everybody would just go, "For God's sake, don't tell Burt because he'll come over and hit someone." He was just like, "You take care of this lady." He was just a very nice person to have in your corner. Bert Convy would come in and try to be logical. Burt Reynolds would come in and just beat the crap out of someone. I mean, not literally, but …
Was it fun hosting a game show after having been a contestant?
Yeah, it was great fun. The hardest part of the whole thing was the wardrobe. The stylist they hired decided that it should be suits every day. Meanwhile, you've got Richard Simmons sitting on the couch in his dolphin shorts. They decided they need me to be really buttoned-up because research says that women like a suit during the day, and they fantasize about these men that host the game shows. And I'm like, "But I'm not a man!" It just became all about this goddamned suit.
That kind of stuff is really hysterical in TV. When I started to do Cool Kids, they said, "Are you gonna be okay if we make you look older?" This was not Charlie. This was somebody else on the way out of the audition. I said, "You know what? Story of my life. People have been doing it to me for years, so whatever you guys like." Ultimately, we got to the pilot and Charlie said, "I want you to be happy, and I want you to have fun. So you look like you, okay?"  I very much appreciated that.
You had your own daytime talk show in the '90s. I remember covering some of the drama behind the scenes. Was it not a good experience?
It was not. We just had somebody at the Cool Kids taping last week who was on the crew for the talk show. We were talking about it, and I said, "Oh my God, it was my #MeToo moment." We talked about what a difficult time it was, and how it could not happen now.
What happened?
I worked for a man who said, "TV is stressful. It is difficult." I said, "You don't know what the fuck you're talking about." He said, "You know absolutely nothing about daytime." I'm like, "Daytime, nighttime. It's still show business." We disagree from the very get-go as to how that show should run. He thought it should be chaotic, and confused, and we should be pitted against each other. It was incredibly difficult.
Who was he?
I will not mention names. I really won't. But I totally understand the whole #MeToo movement. That [Designing Women creator] Linda Bloodworth-Thomason wrote about Les Moonves. It isn't always sexual, not at all. It can just be very abusive.
It can be about power.
Yeah. In spite of all this stress behind the scenes, the show was really getting popular. I'm like, "Can't we just hold hands and enjoy the fact that we're going to have a hit?" But it was miserable, and the verbal abuse escalated to a bit of physical abuse in the second season. I really felt I had no choice but to go to the boss in New York, and say, "Can't do this. You've got to fix this for me." It just really never occurred to me that their solution would be to fire me. It never occurred to me that somebody wouldn't listen, because we were becoming a hit! I kind of feel like I was Ellen before Ellen. But they made it very difficult behind the scenes. I got fired and I went into a depression.
I don't really have any direct proof, but I think that may have been why I didn't work much for a good number of years. I didn't get called for any auditions. The next thing that happened to me was maybe Hannah Montana — that was because they asked for me. They probably didn't know about the talk-show world. Now, I'm working for Charlie, who doesn't remember any of that shit.
It sounds like you're really happy to be back with a regular series gig.
Oh, I love what I do. Now that I've got this new series out, Al [Schultz, Lawrence's husband] will go into the bar and all his buddies will go, "When are you going to let Vicki retire?" He says, "They just don't understand that this is your golf. They don't get that this is what you love. This is what makes you happy."
You're a performer.
I mean, showbiz beats the crap out of working for a living.