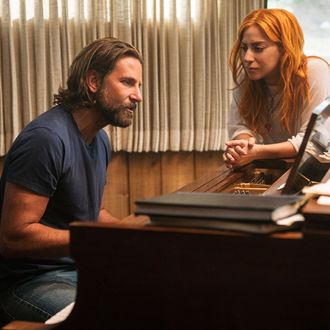 Bradley Cooper and Lady Gaga.
Photo: Clay Enos/Warner Bros. Pictures
In haaa ah ah ah ah aaah aaah ah ah ah ah aaaaaah-onor of this weekend's A Star Is Born premiere, FilmStruck currently has the first three versions of A Star Is Born available to stream, plus here's a little interview with Bradley Cooper (see below) in which he details the cinematic Easter eggs he's hidden in the 2018 remake as a reference to the previous movies. For example, the moment Lady Gaga's Ally sings the preamble of "Somewhere Over the Rainbow?" Oh, you better believe that's a nod to 1954's A Star Is Born leading lady Judy Garland.
So before you let the old ways die, sit back and enjoy them, from the 1937 original starring Fredric March and Janet Gaynor, Garland's 1954 edition featuring George Mason and, of course, 1976's A Star Is Born featuring Barbra Streisand and Kris Kristofferson. Boy, if you thought you were off the deep end before…