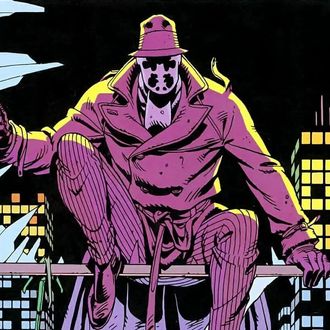 Excerpt from
Watchmen.
Photo: DC Entertainment / Dave Gibbons and John Higgins.
The first full day of New York Comic Con 2018 is barely underway, but there's already some good news for nerds. Syfy Wire conducted an onstage interview with artist Dave Gibbons, co-creator — along with writer Alan Moore — of the inestimable '80s DC Comics graphic novel Watchmen, and grilled him on Damon Lindelof's upcoming "remixed" take on the series for HBO. Gibbons said he's read the screenplay for the pilot, and though he was a good little boy and didn't divulge any details, he only had nice things to say.
"I have read the screenplay for the pilot episode and it absolutely blew me away," Gibbons told a crowd of hundreds at the back of the convention floor. "It came in at a very unexpected angle, felt very fresh. Felt Watchmen, but moved on. And I'm really, really thrilled about it."
He then subtly threw some shade at DC, whose relations with Moore and Gibbons have notoriously been chilly. Moore has outright denounced all attempts at adapting or expanding the story. Gibbons gave his blessing to a 2012 prequel-comics project from other creators called Before Watchmen, but wasn't consulted about the currently ongoing comics sequel, Doomsday Clock. "I've never been a great supporter of prequels and sequels," Gibbons told the convention crowd. "Although there have been some wonderful creators working on those projects that DC has done, I'd rather see fresh approaches and new approaches."
Gibbons then reiterated what diehards have long said about the original 12-issue saga: "Watchmen was always conceived as a graphic novel: a beginning, a middle, and an end, and that was it," he said. "And my feeling is that things that retread that ground tend to dilute it rather than expand it. However, with the HBO series, it doesn't attempt to do any of those things. Again, I have to be careful what I say, but it is a really fresh look at it. It felt new to me. It felt exciting. It felt of today, rather than of the '80s." Breathe a sigh of relief, Damon; you've already got one fan.