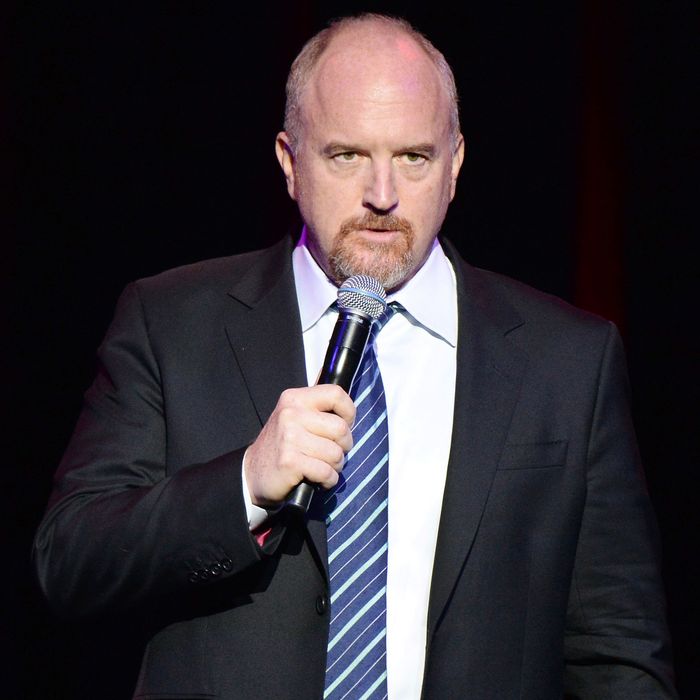 Louis C.K.
Photo: Kevin Mazur Photography/2016 Getty Images
Since the New York Times reported on Louis C.K.'s surprise drop-in set at the Comedy Cellar in late August, coverage of what's been billed by multiple outlets as C.K.'s "attempted comeback" has focused on the venues where C.K. has performed (including the Cellar and Carolines in New York) and the material included in his act during each performance. The New York Times published a new piece yesterday detailing C.K.'s latest two sets at the Cellar Monday night, which were notably not surprise drop-ins, but booked and announced performances on lineups alongside comedians including Michelle Wolf, Sam Morril, Godfrey, Matthew Broussard, and Joe Machi, to name a few. Now that C.K.'s performances have shifted from drop-ins to booked sets, the time has come to acknowledge one thing in the C.K. "attempted comeback" story: It's not an attempt anymore. Nearly a year after he admitted that the multiple sexual-misconduct allegations leveled against him were true, C.K. is back.
According to the Times' latest report, C.K.'s new material includes jokes alluding to his sexual misconduct, like, "They tell you that when you get in trouble you find out who your real friends are. It's black people, it turns out. They'll stick by you," and "I think even hell you can survive. Hell is not that bad. I've been there." While some audience members reportedly "filtered out" before C.K.'s set and there were two protesters outside the Cellar, the crowd "greeted him warmly," and none of the comedians who performed publicly objected to sharing a lineup with him. The fact is — whether it's tacitly or directly in support of C.K., or out of self-interest — the New York comedy-club community has welcomed C.K. back into the fold, which shouldn't be surprising to those familiar with the scene. As comedian Guy Branum wrote last year, the so-called "boys' club" mentality at venues like the Cellar "is the only real structure that exists in stand-up," and men in the club scene know that publicly questioning that structure means, in Branum's words, they'll "be expelled."
Speaking out gets even more complicated for women in the club scene. Stand-up Nikki Glaser, another Cellar comic, shared some prescient thoughts shortly after the C.K. news broke last year. "I tweeted Saturday about feeling scared to tweet about Louis stuff bc we are gonna forgive him someday & he & others will remember who spoke up," she tweeted last November. "I got a lot of support, but also got a lot of reminders that I'm angry & it doesn't look good. Just saying my fears have been confirmed." Branum and Glaser's points help contextualize why, two months deep into reports on these C.K. sets, comedians have kept mostly silent.
That's not to say no one has spoken out against C.K. In addition to many women in comedy who have been vocal about him (including Aparna Nancherla, Laurie Kilmartin, Nell Scovell, Elayne Boosler, and most recently, comedy show host Padma Lakshmi), male comedians like Andy Richter, Paul F. Tompkins, and Andy Kindler have been outspoken about C.K. on Twitter, while Ted Alexandro, who has opened for C.K. before, made headlines when he delivered a scathing set about C.K. and Bill Cosby at the Cellar last month. "Do you want to live in a world where a man can't politely ask a colleague if he can take off all his clothes and masturbate to completion? Is that where we are as a culture?" he said. "Why can't we just let Louie go back to writing jokes about how men are the greatest threat to the safety of women?"
Others have called for accountability and structural changes in the wake of the C.K. story. "If we want a comedy industry free from abuse, the organizations and industry figures that knowingly enabled and protected Louis C.K. while he abused fellow comedians must be held to account," Adam Conover tweeted last year, referring to the role C.K.'s manager Dave Becky played in silencing C.K.'s accusers. "Those of us who possess influence have the ability and responsibility to see that they are." Stand-up and Late Late Show head writer Ian Karmel took the strongest stance yet last week when he tweeted that he will no longer perform at clubs that allow C.K. on the lineup. Referring to C.K.'s new line about losing $35 million "in an hour," Karmel added, "Dude has had plenty of opportunities to say 'I was wrong, I felt compelled to do something that violated people, I've been to therapy and addressed it, and anyone who feels the same urges should seek out help, too.' But naw, it's about how he lost a grip of money. Fuck that."
No other comedians publicly backed Karmel or joined him in his decision, but that hasn't come as a surprise to him. "If it was politically advantageous to come out against Louis returning without consequence, smarter, more career-minded comedians would have done it before me. Mostly, other comedians — specifically other male comedians, but also women — just don't care," he says. "Like, they'll say they care, or they'll say it's bad that he's coming back without showing much contrition or willingness to explain why he's not going to whip his dick out around unwilling audiences anymore, but I feel like if people really cared, maybe they'd do more than just tweet about it."
Karmel thinks that while lesser-known comedians have bills to pay, more established comics and those fortunate enough to have full-time writing jobs like he does have no excuse. "I wish the bigger comedians, who don't have to worry about where they play, would walk the walk a bit more — but many of them are friends with Louis and know him on a personal level, and it's hard to come out against your friend. That's why I never expected this boycott to become a big thing," he says.
There's also the fact that performing at established comedy clubs, like Carolines and the Cellar, where C.K. has been showing up, is a goal and, when obtained, a huge accomplishment for stand-ups. The Cellar in particular prides itself, as owner Noam Dworman has repeatedly stressed, as a venue where comedians are free to test out any material they want without restrictions. Why should comedians — like those sharing a lineup with C.K. on Monday — who have no involvement with C.K., fall on the sword when it could put their own careers at risk? And as Dworman has said, why should he censor comedians when there's now a "swim at your own risk" policy, allowing audience members to leave when presented with comedians they don't want to see? As we've seen each time C.K. has performed, the responsibility gets passed around from clubs to comedians to the audience and back again. This cycle will probably continue as C.K. adds theater dates, builds an hour, and eventually, self-releases his next comedy special.
Meanwhile, a different cycle continues for the women who came forward with their stories about C.K. last year. "Since speaking out, I've experienced vicious and swift backlash from women and men, in and out of the comedy community," Rebecca Corry, who accused C.K. of sexual misconduct, wrote earlier this year. "I've received death threats, been berated, judged, ridiculed, dismissed, shamed, and attacked​. To see certain outspoken late-night talk-show hosts relentlessly go after Weinstein, Trump, and others for their misconduct, and avoid mentioning C.K.'s name is just weird. I wonder, if he did what he did to their wives, sisters, mothers, or daughters, would it still be not worth mentioning?"
It's been a year since the NYT report on C.K. and two months since his first publicized drop-in set, and the answer to Corry's question is a depressing one. While C.K.'s return to film and television remains unclear (FX severed ties with him last year, while Netflix won't say whether they'll have him back), his return to the comedy-club scene has arrived without much resistance. Meanwhile, anyone else out there who has been sexually assaulted or harassed by powerful people, but has not yet shared their story, are watching this all play out. "Maybe Louis never masturbates in front of an unsuspecting person ever again, but the fact that there were, at best, soft consequences for this shit is going to reverberate through our scenes," Karmel says. "Like this entire fucking discussion has hinged on, 'When does Louis get to come back?' and almost never on, 'How do we make our scene safer?'"