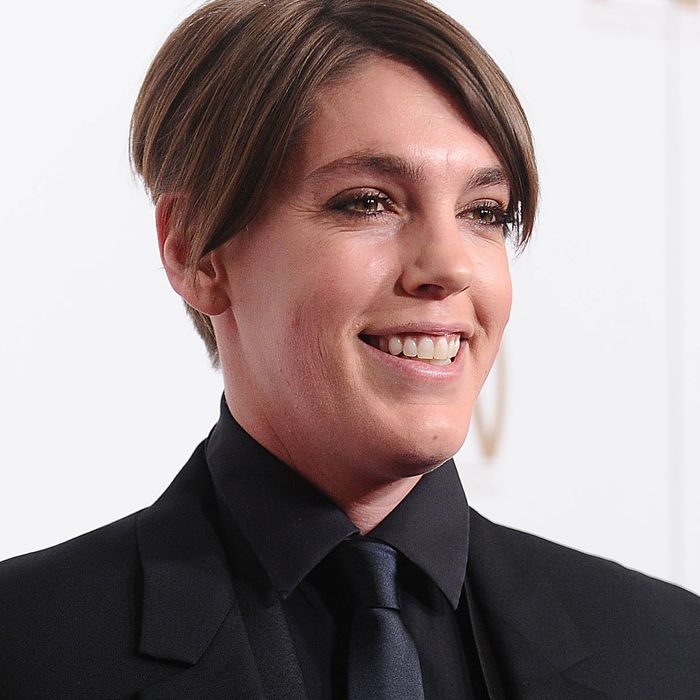 Megan Ellison.
Photo: Jason LaVeris/FilmMagic
Megan Ellison's Annapurna Pictures, the prestige production company behind such films as Zero Dark Thirty, American Hustle and Her, sent shockwaves through the industry this week by pulling the plug on a Jay Roach–directed Fox News biopic with an A-list cast just two weeks before production was set to begin, and firing the company's film production president Chelsea Barnard. Renowned as among the most filmmaker-friendly movie distributors in operation — extending directors such as David O. Russell, Paul Thomas Anderson, Kathryn Bigelow, and Adam McKay relatively robust budgets to direct serious-minded, awards-oriented dramas, in an era when most movie studios have all but abandoned the milieu for superhero and popcorn fare — the West Hollywood–based Annapurna also off-loaded a stripper caper flick set to star Constance Wu and Jennifer Lopez, based on the New York magazine article "The Hustlers at Scores," with rights to that project going to STX on Wednesday. All of it prompted widespread speculation about the company's financial health.
To hear it from a knowledgeable Annapurna insider, the main issue is Ellison herself, daughter of multi-billionaire Oracle founder Larry Ellison. Described as a mercurial presence by people inside the company, Ellison has a reputation for being alternately extremely hands-on and hands-off with her oversight of the company — pulling ten-hour days for weeks on end, but then dropping off the radar for up to three months at a time, unavailable by phone, text, or email, according to people who have worked with her. And despite her reportedly pouring around $200 million into the company to date, Annapurna has been bleeding cash; its debut offering as a film distributor last year Detroit was an unmitigated flop, costing the company tens of millions of dollars in losses after a major marketing spend. The period western The Sisters Brothers, which cost nearly $40 million to produce, has only grossed $757,000 since arriving in theaters on September 21.
As a result, Larry Ellison, whose net worth is estimated to be around $60 billion, is said to have stepped in to try and impose some financial discipline. "She doesn't like adults telling her what to do," says the source. "They're in a little financial trouble. And her dad is like, 'I gotta rein you in.'"
Ashley Momtaheni, a corporate spokesperson for Annapurna, calls those characterizations of Ellison "categorically false." "Larry could not be more supportive and empowering of Megan and this company," she says. "He's her dad. So do they talk about business, do they interact? Of course. But his involvement in the company since day one has not changed. This is all rumors and speculation." (Megan Ellison does not grant interviews.)
But according to several film executives who have transacted deals with the company, Ellison is well-known throughout Hollywood for going frequently incommunicado. Worse, at a time when Annapurna is deep in the awards season movie scrum, releasing such prestige titles as Adam McKay's Dick Cheney biopic Vice, the Nicole Kidman–starring cop drama Destroyer, If Beale Street Could Talk (Barry Jenkins' follow-up to the Best Picture Oscar winner Moonlight) and the Coen brothers' episodic western The Ballad of Buster Scruggs, many of Annapurna's top executives have left the company. In addition to Barnard's firing this week, president Marc Weinstock and CFO Josh Small both exited in July.
"The core issue is, she's a billionaire's daughter and she doesn't have the wherewithal to do what she needs to do when having a movie and television company," says a top talent agent who has done business with Annapurna. "She is not consistent. She shows up, then she disappears. She can't have hard conversations. She doesn't have anybody who works there who has any idea what the fuck they're doing, in terms of making decisions without her."
Then there are Annapurna's film budgeting issues. Vice cost the company an eye-watering $60 million to produce; Annapurna insiders feel the fact-based drama starring Christian Bale as Dick Cheney (and set for a Christmas release) should have cost about half of that price. They point to its budget as emblematic of the kind of costly, director-pleasing/bottom-line bleeding overages that are putting Annapurna in financial peril.
"You don't make Detroit for $45 million. You don't make the Cheney for $60 million," says the Annapurna insider. "You cannot make this movie for more than $35 million. It breaks even at 80. That's the through line. She's like the emperor who does not want to hear from her own people. She self-sabotages."