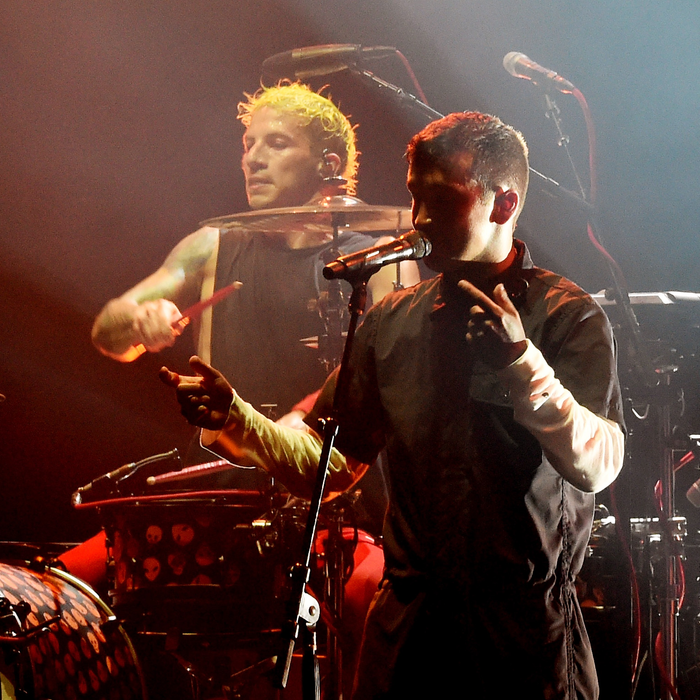 Photo: Kevin Winter/Getty Images
You're on a date, in an Uber, heading to a romantic location. Would you rather be listening to a podcast in which your ex-wife is laying bare the dissolution of your relationship, or the new Twenty One Pilots single? For BoJack Horseman's Mr. Peanutbutter, the choice is all too easy. "Ew, back to the podcast," the oblivious, tongue-wagging canine actor coolly requests after his killer whale driver (this is BoJack Horseman, after all) offers him and his date Pickles a brief respite from listening to ex Diane Nguyen talk trash on his failings as a partner. If you're not a regular BoJack viewer, that sentence might elicit more than a few questions, but after watching the scene within the show's brilliant fifth season, I only had one: What does this adorably stupid golden retriever have against Twenty One Pilots?
Dating back at least to the days of Nickelback, the culture surrounding pop music — especially as it exists through the lens of social media — has often thrived on rallying around common villains. Ironically, most of the ire directed toward those aforementioned Canadian lunkhead-rockers faded into endless, good-natured memedom as the digital age swallowed the discourse whole, but targets big and small have since popped up: Taylor Swift obviously looms large, Rita Ora and Jessie J's inexplicable and occasional ubiquity has been known to rankle pop's nerdier set, and Macklemore and the Chainsmokers both took turns in the crosshairs during their moments of Zeitgeist dominance.
You could argue that Post Malone has since taken up the mantle of popular music's public enemy No. 1 — but his continued success and strangely endearing persona have turned many of his detractors into grudging admirers, and despite notching a Top 10 hit this year, comedy-rap bonehead du jour Lil Dicky's not quite there yet in terms of mass visibility. There's a void in the place which our collective pop heart hates — are two post-genre pop-rock alchemists from Columbus, Ohio, really meant to fill it?
When considering the disparate elements of their ascent — from punk-adjacent Fueled by Ramen upstarts to the first act in RIAA history to have every track on their album receive a Gold certification — the ire directed their way makes a bit of sense. Most of the general public's introduction to Tyler Joseph and Josh Dun's polyglot sound was 2015's "Stressed Out," taken from the aforementioned record-breaking Blurryface from that year; the single peaked at No. 2 on the Billboard Hot 100 and featured the former's rapping — arguably the most noxious quality of Twenty One Pilots' sound —front and center. Fellow album cut "Ride" was similarly successful, peaking at No. 5 on the strength of a reggae-centric structure not unlike Canadian fake-patois goons Magic!'s easily hateable hit "Rude."
Keeping in line with their kitchen-sink genre approach established from 2009's self-titled debut on, Blurryface featured strung-out hip-hop beats and blasts of grating EDM rubbing elbows with hammy, theater-kid piano figures — and did I mention the rapping? "This is not rap, this is not hip-hop," Joseph spits on opening track "Heavydirtysoul," one of a few songs in the band's discography that also alludes to his practicing Christian faith, "Rapping to prove nothing/ Just writing to say something." In our post-Macklemore climate, bars like these coming from a guy who looks like this can invite the type of mass derision that MAGA hat-wearers only dream of.
Keeping all of this in mind, I have some terrible news for Twenty One Pilots' would-be detractors: they're actually getting … better. The duo's fifth album Trench dropped last Friday, and Joseph and band mate Josh Dun are continuing to refine their sound with moderately appealing results. It remains to be seen whether it packs the hit-charting capacity that Blurryface — which debuted at the top of the Billboard 200 on week of release — surprisingly possessed; it certainly doesn't seem to augur well that only one of Trench's four singles (the thrashing "Jumpsuit") has cracked the top 50 of the Hot 100. But remember that "Ride" reached its chart peak a full year after the album's release, and that rock-leaning acts in the 2010s have been lucky to see such chart success once in their entire careers, never mind per album cycle. Chart-wise, this is long-game music.
Lest you think they've totally shed their most potentially divisive qualities, there's still a bit of rapping and a reggae-ish rhythm here and there, as well as a vague conceptual bent with talk of fictional cities and nefarious bishops. But Trench's mid-level highs are easy enough to enjoy without needing a Coheed & Cambria–esque grimoire to sort it all out.
Trench was co-produced by Joseph and Paul Meany of fellow faith-adjacent rockers Mutemath, and the album as a whole possesses the sort of cool-handed neon sound that briefly put Meany's main act on the buzz-making map in the 2000s. Still a going concern, Mutemath's 2006 self-titled debut represented one of a few instances in the era of MP3 blogs where bands could accrue grassroots popularity by way of sounding like Pitchfork-beloved indie acts without actually being covered by Pitchfork; similarly, there are more than a few moments on Trench — the M83-aping closing track "Leave the City," "Morph"'s watery PBR&B chorus, the full-band bombast of "Cut My Lip" that sound like they'd appeal to that indie-centric site's readership circa five or six years ago.
The smooth, slippery electronic pop-rock of Trench essentially smooths Twenty One Pilots' eccentricities in a way that makes their sound more palatable than ever before — an arguable improvement over their past work that nonetheless feels ominous for their future. In his negative writeup of the album, music critic Steven Hyden laments Trench's placid, mid-tempo, no-right-angles sound and attributes it to more nefarious technological advances in the music industry: "What streaming has done is implore artists to dial back the obnoxiousness, sand off the rough edges, and excise anything else that might interfere with the endless flow of carefully modulated data pouring out of your laptop speakers."
Indeed, it's not hard to imagine something like the ghostly pitter-patter of the mental health–focused "Neon Gravestones" segueing perfectly into a Post Malone single, or fitting perfectly in a curated playlist designed for days when life's got you down. There's nothing on Trench that comes close to hinting at the sonic stridency Twenty One Pilots possessed in the past — and although its even-keeled vibe might be a boon for their streaming numbers, it also threatens to render them more anonymous than ever, pointing to a future in which their faces blur past the point of hateability and toward total obsolescence.