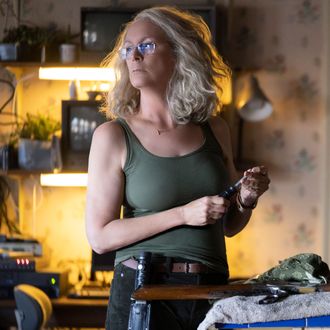 Photo: Ryan Green/Universal Pictures
The new Halloween cleaned house at the box office this weekend. With a domestic haul of $77.5 million, it notched both the second-highest opening for an R-rated horror movie of all time (one suspects that pesky It from 2017 will never be beat), as well as the second-highest opening for an October release of all time, sitting just behind the recent record setter, Venom. Even taking into account what was surely a hefty marketing price tag, it's another very worthwhile investment for Universal and Blumhouse, which co-financed the reportedly $10 million picture with Miramax. All involved can toast to their success this week.
But you know who else is toasting? The five-time returning Halloween heroine, Jamie Lee Curtis. The delightfully plainspoken star posted to Twitter on Sunday that she was going to allow herself a "boast post" to celebrate the success of her signature franchise's return to form, and the fact that her movie, anchored by a 57-year-old leading lady, is the biggest movie in America. As Variety reports, Halloween's megahaul is the best opening for a horror movie with a female lead, as well as the biggest first weekend ever for a movie with a female lead over 55.
And that's the real story here. It is absolutely impressive for a horror movie to threaten a comic-book film for box-office supremacy, and Blumhouse is no doubt pleased about setting a new personal best for debut weekends in their catalogue. But given the strength of the superhero economy, we also see staggering sums of money posted at the box office pretty regularly. If someone at Disney decides October is the right time for one of their future Star Wars films, that monthly record will likely be raised once again.
Movies breaking the bank that star women over 55, on the other hand? Now there is a unicorn. Comb through the highest-earning films for every single month and you won't find that demographic cracking the top ten in almost any of them. And yet twice this year we've seen horror films putting their over-55 female stars front and center to great success. Insidious: The Last Key, starring the 75-year-old Lin Shaye, had the second-highest opening weekend, the second-highest domestic gross, and the highest international gross of the whole Insidious franchise. And this wasn't a movie that buried Shaye after the lead, either. It was a prequel specifically focused on her character, the medium Elise, and while it was critically dragged, audiences proved they would show up for more ghost-hunting adventures with Shaye.
Halloween is what happens when you take a piece of legendary horror iconography and you make a really good movie out of it. We must of course acknowledge the appeal of a well-designed Shape, but this Halloween was not advertised as merely a body-count movie. It was framed as a "#MeToo horror film" built around three generations of Strode women who were all affected by the trauma of Michael Myers's first killing spree in 1978.
It's no small thing that an R-rated horror film marketed on the presence of a lead character who is referred to as "mom" and "grandmother" throughout can threaten box-office records. (Even the Rock knows it!) Liam Neeson has proved (over and over again) that hard-boiled heroes can still kick ass over 50, and Tom Cruise is defying physics at an alleged 56, but such stardom is a privilege typically afforded to men only. Between YA hits and super-blockbusters, the women we vote to No. 1 at the box office are either 20 years old playing 14, or 25 playing any age between "can legally drink" and "maybe she's a young 40?"
Horror has an advantage in promoting older stars. It's a genre that loves a "crone" in the villain's role, but casting a seasoned heroine also means seeing someone with the wisdom of a life lived facing off against evil. Part of what makes watching Neeson kill whole armies of people thrilling is that he's a dad's age, and part of what makes watching grown Laurie Strode on the gun range so intensely exciting is thinking, Wow, grandmother takes no shit!
Seeing actresses like Shaye and Curtis prove they can still shoulder the load of franchises, have audiences celebrate them, and make it worth a studio's bottom line expands the definition of what's possible, what's "appropriate," for older women to do and be onscreen. They can be fierce. They can be fighters. But older Laurie is as much defined by her strength as she is by her vulnerability, and the fact that nearly $80 million worth of tickets were sold to see a 57-year-old woman be sad and cry sometimes — in addition to cleaning her tactical weapons — is pretty heartening. Curtis deserves to gloat all the way to the bank.