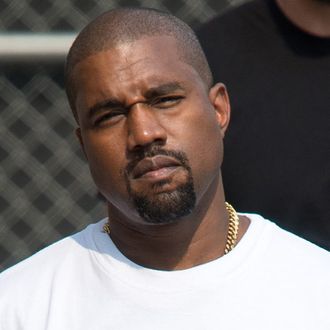 Kanye.
Photo: RB/Bauer-Griffin/GC Images
If you're keeping up with Kanye (welcome to the pitiful club), you'll recall that his new album Yandhi did not arrive on Saturday as he repeatedly said it would, to probably only Kanye's surprise. On Monday, his wife Kim Kardashian tweeted that the new release date has been set for November 23, a.k.a. Black Friday. On Monday, Kanye sat down with TMZ's Harvey Levin to explain himself as only Kanye can. According to Kanye, the album didn't come out because it's just so next-level good, but also because it doesn't exist. "Um …" [Deep breath. Scratches chin. Pulls excuse from ass.] "… I didn't finish it … A person from my management staff had suggested because the album is so good," he began. Please, go on:
"I started incorporating sounds that you've never heard before, pushing, and having concepts that people don't talk about. We have concepts talkin' about body shaming and women being looked down upon for how many people that they've slept with. It's just a full Ye album. Those five albums that I dropped earlier were like superhero rehabilitation. Now the alien Ye is fully back in mode, off of medication, working out, breathing as much fresh air as possible, thinking, doing, being hisself."
And who is this being formerly known as Kanye? "When I say being myself, that doesn't mean I'm being Donald Trump. It means I'm being me and I'm punk. And I can wear whatever I want 'cause I'm a god." Kanye will now retreat to Africa — sorry, "what is known as Africa" — in two weeks to record the "so good" album. "I felt this energy when I was in Chicago, I felt the roots. But we have to go to what is known as Africa. I need to go, I need to find out what it's really called. Just grab the soil and be and cook food — five meals a day so the metabolism stays up — have my kids in the studio, and have the mic in the open so you can hear nature while we're recording. So we're going to bring out the album on what is known as Black Friday, November 23rd." Mark it on your calendar then burn it.