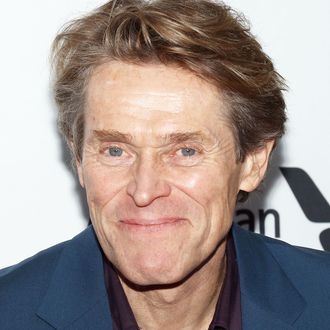 Willem Dafoe.
Photo: Jim Spellman/WireImage
Willem Dafoe is gunning for a fourth Oscar nomination for the upcoming Vincent van Gogh biopic At Eternity's Gate, which covers the final two years of the troubled artist's life. Van Gogh famously died at age 37, which means that, in the film, the 63-year-old Dafoe is playing someone nearly half his own age. If you have a problem with that, Dafoe wants to clear the air.
"Anyone who's talking in those terms [against the age gap] is not understanding the kind of movie we're making, and doesn't have an imagination about … physical health and how things have changed over the years," he told Vulture when At Eternity's Gate played the New York Film Festival's closing night gala on Friday.
When told that some online have cried foul on the casting, Dafoe offered up what he hopes is a "very convincing response to that age question."
"It's not a regular biopic, number one," he began. "And number two: I was surprised that he was only 37 years old, and then I looked and did some research [on] what the average age of mortality was in France in the late 19th century. 40 years old! Now it's 70 years old. So without being too cute about it, today's 70 was yesteryear's 40."
Echoing Julian Schnabel, who told Esquire earlier this year that van Gogh was "pretty world-weary and torn up by 37," Dafoe added that the Starry Night painter "had a very tough life."
"I even heard someone say, 'Well, it takes away from the idea that he died so tragically as a young man,'" Dafoe said. "My point is: 37 wasn't young in those days, particularly if you're drinking absinthe every day."
"So that's my very, I hope, convincing response to that age question," he concluded before entering the Alice Tully Hall theater. "Get it out there!"