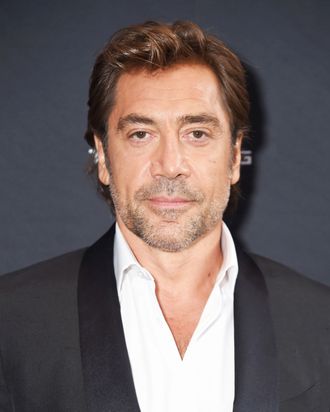 Javier Bardem, Alec Baldwin, and Diane Keaton still support Woody Allen.
Photo: Michael Loccisano/Getty Images
Javier Bardem has reiterated his support for his Vicky Cristina Barcelona director Woody Allen. During a master class at the Lumière Film Festival on Monday, Bardem spoke about the director and allegations that he molested his daughter Dylan Farrow. "He's a genius," Bardem said, according to Variety. Even during the #MeToo movement, the actor said that he "would work with him tomorrow."
In his defense of Allen, Bardem told the audience that the allegations against the director aren't new, since they worked together in 2007, and that he still hasn't been investigated for any new crimes. "Today, 11 years later, it is the same accusation. Public accusations are very dangerous," Bardem said. "If some day there is a trial and it's proven to be true, I would change my opinion, but at this moment, nothing has changed." Bardem's Vicky Cristina Barcelona co-stars Rebecca Hall has said she "regrets" working with the director, and donated her salary from his most recent (and unreleased) movie to charity. Other actors (Griffin Newman, Michael Caine, Marion Cotillard, Peter Sarsgaard, Colin Firth, and more) have said they would never work with the director again.