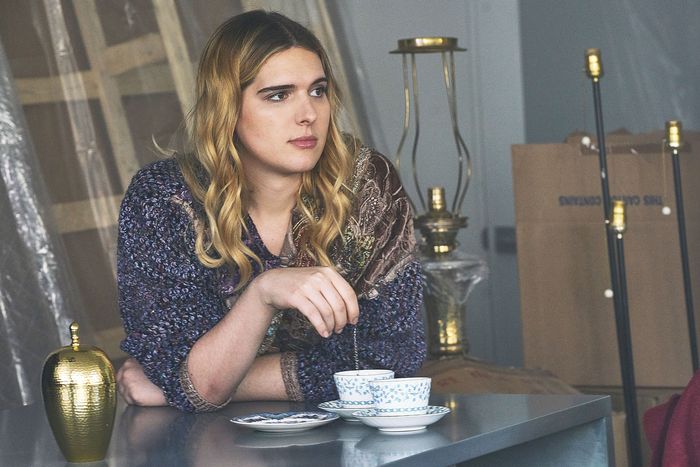 Allow me to float a theory: Anyone who has to say to "I'm happy" to himself over and over and over again is definitely not happy.
Three months have passed since the breakup and Joe is, allegedly, a changed man. Peppy music plays in the background of his shiny, smiley relationship with Karen, "my little neat freak," who organizes Joe's books alphabetically. (Remember how Beck was incapable of sorting books?) Those of us who get Joe can tell this is doomed from the jump, because Karen has inexcusably red state taste in television — Joe couldn't stomach The Bachelor, so just think of what having The King of Queens playing in his apartment does to his tender psyche — and suggests that Joe invest in a Kindle. A Kindle! Shudder.
Joe has stopped doing his kind of next-level-spy shit and is just internet stalking Beck like your average hung-up ex, Googling her to discover that she wrote a piece called "What to Wear to Your Best Friend's Funeral" that went viral and has since landed a book deal which, yeah, that checks out. Joe has cut himself off so completely, he's only looking at Beck's Facebook three times a day! He keeps his hands busy by rubbing Karen's feet while she watches terrible CBS sitcoms.
Meanwhile, Beck is reading the comments and, in Peach's absence, has escalated her friendship with Blythe. This doesn't really work for Lynn, who cannot hang, but it's really working for me, as I live for Blythe's dialogue. She apologizes for being late to drinks with "There was this essay in The Believer that would not let go of me" and encourages Beck to turn her home into a writer's colony by surrendering all earthly distractions, namely, social media and also the internet. Beck frets about how the public will panic if she goes dark and Blythe, who is perfect, kills that fantasy with, "You're not J. K. Rowling."
Beck writes for a few minutes and does 10,000 yoga stretches before plugging her router back in so she can stalk Joe's new girlfriend. Because of course. Beck — who, I cannot stress this enough, is supposed to be a fiction writer — moseys over to Joe's neighborhood to accidentally-on-purpose "bump" into Joe and Karen and then, when asked what she's doing in the area, does not even have a story prepared. BECK. "Taking a walk around the block." Come ON.
Beck claims to be listening to a podcast Joe recommended; Karen says podcasts are just droning (I mean … show me the lie) but any appearance of coupled bliss is botched when Joe gets caught using that most basic honorific: babe. Beck sees her opening and texts Joe, who has his read receipts on (amateur!) and faster than you can say "this is not what Peach died for," Beck's sending Joe "potential author photos" and setting such desperate thirst traps I'm honestly embarrassed for Joe that they worked.
The show continues to waste John Stamos on these kind of boring interstitials where he extra-narrates the show — we already have a narrator! — and tries, but fails, to get Beck and Joe to make better decisions. I did laugh out loud when he said "I have great metaphors." Beck whines to Stamos that Joe's new girlfriend "puts stickers on pictures" and other such appalling transgressions. Meanwhile, Joe explains "Ronaldo and I used to make fun of people who said 'babe.'" Don't we all, though?
Beck and Joe can't avoid each other because the only couple on You that I'm rooting for, Ethan and Blythe, are moving in together, and even though Blythe seems like the sort of person who would hire movers, they enlist Beck and Joe to move boxes and bump knees all day. Later, Beck gets Joe to meet her on the Circle Line boat to read her pages because she needs both edits and "a sea breeze." Obviously they have sex on this empty tourist vessel and Joe barely waits until Beck has climbed off his lap before blurting out, "That was a mistake." And then they have sex a bunch more times.
What do you all make of the whole stairwell urchin's mom plotline? To me, it feels like it was scooped up from the cutting room floor of some other Lifetime show and shoved into this one to … I don't know what, exactly. Make this episode feel a million hours long? We know virtually nothing about Claudia, the mom, except that she is a nurse and an addict with an abusive boyfriend who she can't let out of her life. It is sad and strange and sort of gratuitous. What are we learning, here? That your soundproof torture-slash-murder dungeon can, in a pinch, serve as a safe space to detox? That Karen is a good friend and Joe is a shitty person who cheats on his girlfriend with his ex to the detriment of all his other relationships? We already know Joe is a bad person! We have watched him kill TWO people. I guess the only takeaways here are 1. Ron is back and 2.) the hallway ragamuffin is angry with Joe now that Ron has returned.
At Blythe and Ethan's "Swedish word for a housewarming party," Karen tells Beck how amaaaazing Joe is, which just makes Beck miss him more. (And Blythe tells Joe, "Personally, I'm of the opinion that all penetration under patriarchy is rape.") Karen gets in Beck's head and Beck, developing a conscience for a hot second, breaks things off with Joe. "Let's face it, I am no good for you. But Karen Minty is." I'm sorry, it is hilarious that they insist on referring to her as "Karen Minty." No one else in this show is named Karen! It's not like they need to clarify which Karen they mean. Joe's been dating her for three months.
So Joe goes home and something about the sight of Karen giggling at Kevin James and giving herself a pedicure announces to Joe that the relationship must end. "It's over," he says, which, rude. Karen tells him "Do not talk for a minute, please," and then she just coolly collects all her belongings and bounces. I like Karen a lot! Get as far away from Joe as you can.
Joe sprints across town, breaks Beck's window, and all but bursts into "You Belong With Me" outside her door. What a thrilling reunion.
Now it's Karen's turn to just be in the neighborhood, where she tells Beck, "I just had to say thank you. I owe you. Turns out you're my Get Out Of Joe Free Card. You showed me who he really is." But she saves her best dig for last: "Just be careful! I've got a feeling you're no Candace."
"You've got to know, what he did to me, one of these days, he's going to do to you too. Maybe he'll do whatever he did to Candace." So … murder? I'm still hoping it's something more interesting than just, he killed her. But maybe that's what You has done to me: Made me numb to homicide as a plot device.