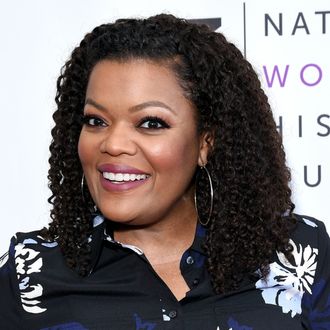 Yvette Nicole Brown.
Photo: Presley Ann/Getty Images
Community alum Yvette Nicole Brown subbed in for The View's Joy Behar on Friday, and, boy, she didn't hesitate to get in the mix. The subject? First Lady Melania Trump's recent interview with ABC News' Tom Llamas, in which she responded to rumors of Trump's alleged infidelities, including his (extremely) brief affair with Stormy Daniels. "It is not a concern or a focus of mine," FLOTUS told Llamas, blaming the media for spreading gossip. "I am a mother and First Lady, and I have much more important things to think about and to do."
When Llamas subsequently stopped by The View to discuss the interview, Brown had quite a theory as to why Melania remains relatively unfazed by rumors about her husband's dalliances. "Is it possible that she's not concerned with his mistresses because she was one of them?" the Mom actress reportedly suggested, according to Deadline. "Is that possible that it doesn't affect her in that way?"
Which is not going to help Melania Trump's opinion of the media, that's for sure. In response, White House press secretary Sarah Sanders took to Twitter on Friday to put The View on blast for their "disgusting attacks" on Melania. "The left's 'war on women' they disagree with is a disgrace," Sanders tweeted in part."
For the record, Brown is standing by her musings. For the historical record, the president and First Lady famously first met in November 1998, when Trump was separated from then-wife Marla Maples and, funnily enough, was on a date with another woman. Having finalizing his divorce in 1999, Donald and Melania later tied the knot in 2005.