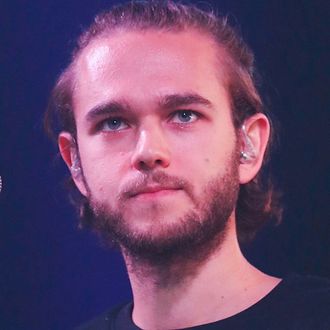 Zedd.
Photo: Hanna Lassen/WireImage
Earlier this week, noted music theorist Zedd took to Twitter to get some things off his chest – namely, his befuddlement over "Mo Bamba," the viral club juggernaut from New York rapper Sheck Wes, who is now in serious contention for Song of the Year. (Do the right thing, Grammys!) The song had been unanimously praised — even given the full Diary of a Song track dissection by the paper of record — until along came Zedd on Monday with a thought: "I just heard the song 'Mo Bamba' for the first time … and I have so many questions…," he tweeted and deleted. Well, as it so happens, A-Trak had some answers.
The DJ/producer/label owner interjected to stand on the right side of history. "It's the best song of the year," he wrote. Zedd's rebuttal? "You guys have absolutely lost your mind." Humoring him nonetheless, A-Trak tried to get Zedd to see the light by explaining the song's appeal – it's "total innovation" and unparalleled energy when experienced in the club – but no dice. "Agree to disagree," Zedd replied.
Here's where things get spicy: "You can't. Objectively, you can't disagree, sorry," A-Trak hits back with the peace offering of accompanying Zedd to a club so he can hear it properly. But it's no use. Zedd, an intellectual, is a "musician" and "how a club reacts doesn't fall into my method of judgement [heart emoticon]." What unfolds next should be printed, framed, and lasered into the cerebrums of every capital-M musician for the rest of days. A master class in checking biases at the door, listening with your heart not your degree, and reading the room. Because for all of A-Trak's continued reasoning with Zedd about why it's dangerous for DJs to work from an elitist perspective, it's the actual producer of "Mo Bamba" who schools Zedd at his own game best. Here's "Take a Daytrip" with the full breakdown of the song's chord progression, thank you and good day.
Zedd has, ahem, yet to respond. In the words of young scholar Sheck Wes, "Oh! Fuck! Shit! Bitch!"