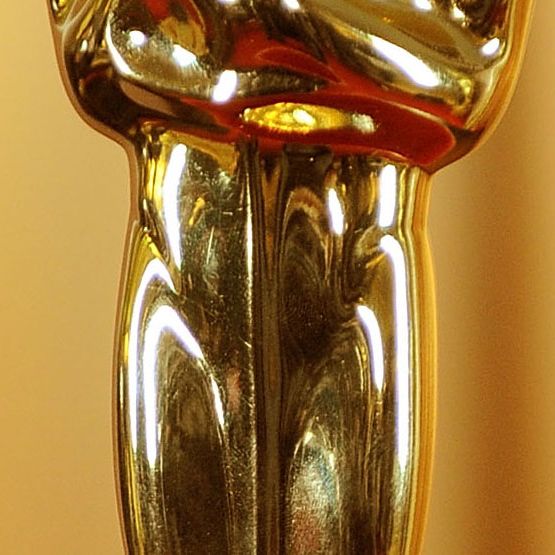 Photo: Andrew H. Walker/Getty Images
Some spoilers below for Roma, Suspiria, The Happy Prince, Border, and Outlaw King.
Incongruously violent, random, yet still somehow sensual, the naked martial arts sequence arrives early on in writer-director Alfonso Cuarón's autobiographical drama Roma. It's a strange denouement to lovemaking: During the build up, the film's central character, a nanny-come-housekeeper named Cleo (portrayed by newcomer Yalitza Aparicio), and her romantic interest Fermin (Jorge Antonio Guerrero) have skipped plans to see a movie and wound up in bed. Afterward, the young man wordlessly, inexplicably — and totally unclothed — retreats to the bathroom, removes the shower rod from its mount and proceeds to execute an elaborate kung fu routine of parries and thrusts with the pole while his unsheathed manhood performs a series of parries and thrusts of its own. The display of raw machismo and jangling man junk serves to simultaneously frighten and tantalize Cleo.
"There's a level of vulnerability to being fully naked that we are more used to in women than in men," says Roma producer Gabriela Rodriguez. "It's a level of intimacy that jumps out at you. When you see it, you're like, 'Where is this coming from?' But I think it worked for that character, the level of manliness and nakedness of a guy who you eventually see become [Spoiler Alert] a murderer."
But Roma's full-frontal moment is hardly an outlier when it comes to unzipping on-screen male genitalia this awards season. At a time when no small number of prestigious dramas and period biopics are jockeying for critical benediction from within a crowded pack of 2018's most exquisite films, a clutch of recently released movies are showcasing penises as a means of grabbing attention, shaking up viewers, and generating discussion.
In each case, the filmic depiction of what can only be called Prestige Peen™ serves a specific purpose: In Suspiria, the reveal of two characters' phalluses helps to further a uniquely witchy plotline. In Rupert Everett's Oscar Wilde bio-drama The Happy Prince, the penises are part of a joyous celebration of love. In Outlaw King, Chris Pine's dick literally steals scenes (and has arguably become the movie's main talking point). And in Sweden's foreign language Oscar submission Border, a character heretofore identifying as female — who also happens to be a troll — grows a penis during an outdoor sex scene, furthering her journey of discovery.
To be sure, the male member has popped up on-screen in any number of Oscar-nominated movies over the years: 1998's Mrs. Brown, Y Tu Mamá También (2003), Kinsey, 2006's Last King of Scotland and the European version of Brokeback Mountain among them. But never before has so much pecker been packed into a single awards season. It all combines to raise certain questions: Why so much Prestige Peen? Why now?
"I guess it's filmmakers saying, 'If we have women topless, we need to show men bottomless to show equity,'" posits one of several veteran awards campaigners contacted by Vulture for this story. "I guess it's some kind of quid pro quo? I mean, what I'm saying is, I have no fucking clue."
Luca Guadagnino's visually sumptuous horror-drama Suspiria follows a coven of murderous witches led by Tilda Swinton's character Madame Blanc, operating a modern dance academy in the politically tumultuous '70s Berlin. But when one of the dancers, Patricia (portrayed by Chloë Grace Moretz) goes missing, a pair of police detectives show up at the school demanding answers. They are summarily hypnotized by the witches, who proceed to shirtcock the more rotund cop and cackle with glee when one sorceress pokes the policeman's private parts with a sharp hook — a private humiliation indicating the coven's flippant attitude toward positions of power and general disregard for men.
But the film's more famous penis doesn't even belong to a man. Portraying a second character in Suspiria — an elderly psychoanalyst also investigating the disappearance of Patricia named Dr. Josef Klemperer — Swinton concocted a fictional alter ego to disguise her multiple roles, a novice male actor named Lutz Ebersdorf. And in order to more convincingly play a man, she requested that makeup artist Mark Coulier create a prosthetic dick and balls for the character. These are on prominent display in Suspiria's climactic, arterial splatter-suffused Black Sabbath sequence, during which Klemperer — stripped naked and visibly terrified — must bear witness to the arrival of a satanic presence. "It's a bit like Robert De Niro wanting to wear silk underwear when he played Al Capone," Coulier told Vulture earlier this month. "She wanted to feel that weight between her legs."
In the period epic Outlaw King, Chris Pine portrays Robert the Bruce, the medieval Scottish lord who successfully waged guerrilla warfare against the occupying English army in the early 14th century. But upon King's opening night premiere at the Toronto International Film Festival in September, critical discussion immediately coalesced around a 12-second scene taking place about 90 minutes into the film in which Pine emerges from bathing in a frigid Scottish lake — he's fully naked and unabashedly bears his wang to the camera. Vanity Fair declared his anatomy "the belle of the ball in Toronto," while Vulture opined in a headline that "Pine's Penis Dazzles."
Never mind that co-star Florence Pugh (as Robert the Bruce's wife Elizabeth Burgh) clocks significantly more screen time fully naked in Outlaw King. Rare is the A-list actor willing to put his peen onscreen (not to mention his pubes in an earlier sex scene). Meanwhile, Pine himself has justified the choice to drop trou in the sequence as a means of underscoring that "human beings can be beasts," while second guessing Hollywood's clichéd gender inequality toward nudity. "Florence shows her entire body in this film and no one is talking about that," Pine told the U.K.'s Daily Mirror. "People want to talk about my penis as if we're a bunch of teenagers playing spin the bottle. Is Florence expected to do that because she is a woman and I'm not expected to do that because I'm a man?"
Although it is tempting to view the sudden prevalence of full-frontal male nudity in movies as some kind of cinematic response to the #MeToo era — perhaps as gestures of "wokeness" at a time when sexism and patriarchal grandstanding are less tolerated — industry observers contacted by Vulture warn against reading too much into it. "Movies cannot move that quick," says one publicity veteran. "You see the #MeToo story lines on TV. But we will only start to see those on film next year."
Moreover, this source feels that the trend toward Prestige Peen may be a kind of 2018 flash in the pan and won't likely persist into next awards season. Instead, the multitude of movie penises will become an accepted facet the wider release corridor (in other words, more peen, less prestige). "I think more actors are comfortable with themselves and their sexuality so we see it more," she says. "But I think this is the last we will see of man junk flim-flaming around [during awards season] for a while. We may see some dick, but I think it will be more in an objectifying way."
British actor Rupert Everett wrote, directed and delivers a stirring performance as a physically declining, down-on-his-luck Oscar Wilde in the biographical drama The Happy Prince. While the film extensively chronicles the threats of physical violence and homophobia the writer faced in the late 19th century — after having been imprisoned for "gross indecency" — the two sequences of male nudity it showcases serve to celebrate gay love. The first is the prelude to a sex scene: Wilde's mercurial longtime lover Alfred "Bosie" Douglas (Colin Morgan) picks up a handsome Italian waiter at a restaurant in Naples who the couple bring him home for a tryst; the camera lingering over his nude body in profile. The second is a raucous depiction of what can only be described as naked musical chairs, also taking place while the couple remain in self-imposed exile in Italy.
But Everett denied making any sort of conscious effort to turn up the volume on full-frontal male nudity for his feature filmmaking debut and insists the amount of schlong that made it the screen is far from gratuitous. "I didn't realize there was any, hardly," he tells Vulture. "There's two bits of nudity. But that's not very much. When I started out in cinema, everyone was nude all the time. Now we're in a new Puritanism, I suppose. What I don't like, funnily enough, in movies, I'm not crazy on sex. It's very difficult to film and the noise of snogging I always hate."
(Everett, of course, appears in the altogether in the 1994 horror-comedy Cemetery Man. But he could be making oblique reference to the trickle of dick scenes in such yesteryear awards-y films as 1985's A Room With a View — featuring skinny-dipping by Rupert Graves and Simon Callow — and 1992's The Crying Game.)
Hands down, the year's most bizarre peen can certainly be seen in Border (Gräns in its native Swedish), the genre-blurring fantasy-drama directed by Danish-Iranian filmmaker Ali Abbasi. The film, which premiered at the Cannes Film Festival in May, winning the Un Certain Regard award, focuses on Tina (Eva Melander) a disaffected customs agent with beastly, mottled features and a superhuman sense of smell who suddenly discovers her true species: troll. But the discoveries don't end there. Hooking up with fellow troll Vero (Eero Milonoff) for a bout of wild sex in the woods, Tina — who had identified as female up until that scene — is flabbergasted to find she can grow a penis when she becomes aroused. Vore, meanwhile, does not have male sex anatomy. So Tina sets about trying out hers on him.
For her part, Roma's Yalitza Aparicio — a non-professional actress and former preschool teacher — wasn't even in the room during filming of the infamous naked martial arts sequence. "It was actually quite humorous, everything that he was doing. Alfonso had said to me that perhaps [Fermin] would appear naked in the scene and he asked me if I wanted to stay while they shot that," Aparicio recalls. "I declined."
Nate Jones contributed reporting to this story.