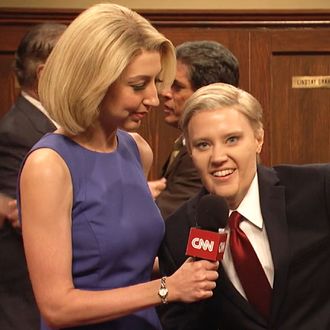 Just about every celebrity over the age of 18 is imploring you to vote in the 2018 midterm elections, but here comes your friend Vulture to implore you to devour the midterm election coverage, too. (You know, after you finish voting. They're not mutually exclusive.) As with any big news event, you may be wondering how to watch the news if you don't have a cable provider to give you "channels" or "programming," so here's a guide of how you can watch Election Day unfold on your screens for free. Remember, vote!
CBS
The Eye's streaming service, CBSN, will be begin its Elaine Quijano–hosted coverage at 5 p.m. ET. It will also include a simulcast of CBS's live coverage, hosted by Gayle King and others, from 9 p.m.–11 p.m. ET. Also streaming via Amazon Fire TV and Apple.
ABC
The network will provide a livestream of its coverage on the ABC News website, beginning at 4:30 p.m. ET. Prime-time coverage led by George Stephanopoulos will begin at 8 p.m. ET. Also streaming via Amazon Fire TV and Apple.
NBC
The Peacock — as well as its sister network, MSNBC — will be livestreaming throughout the entire afternoon and evening. You'll have the following options for coverage: NBCNews.com, MSNBC.com, or the NBC News app. Also streaming via Amazon Fire TV and Apple.
PBS
The PBS NewsHour coverage, anchored by Judy Woodruff, will be available on the following platforms for livestreaming: Facebook, Twitter, YouTube, and Ustream. Important note: Although coverage will begin at 8 a.m. ET online, Woodruff and her team won't show up until 8 p.m. ET.
CNN
CNN will be lifting its cable restrictions from Tuesday at 5 p.m. ET until Wednesday at 9 a.m. ET for midterm coverage. Free livestreams will be available on the network's homepage, as well as the CNNgo app.
Bloomberg
David Westin will be leading Bloomberg's coverage beginning at 8 p.m. ET, which will be available to watch on the network's livestream.
Snapchat
No joke! You have two options here: Good Luck America host Peter Hamby will be hosting the social-media app's official coverage beginning at 6 p.m. ET. The Washington Post will also be livestreaming from their Snapchat Discover account for the entirety of the evening.
Roku
If you have a Roku device but don't subscribe to any particular cable network, know that the following news channels can be watched for no additional cost: CBS News, NBC News, ABC News, Newsy, Newsmax, Univision Now, and CNNgo.