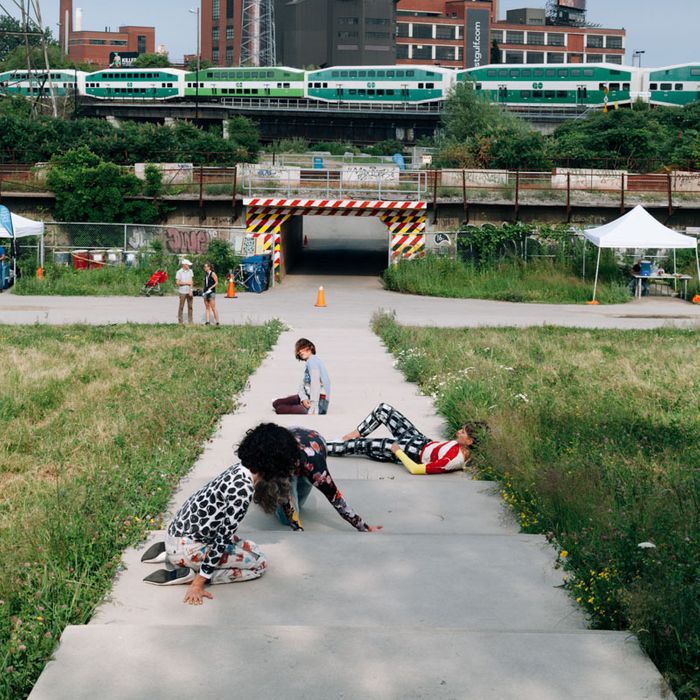 Maria Hassabi, "STAGING — undressed" (2017), a live installation presented by the Don River Valley Park Art Program.
Photo: Yuula Benivolski
If you want to avoid the hype Jacuzzi of Art Basel Miami Beach, head north, instead, to Toronto to see Mickalene Thomas's solo show Femme Noires, which opens this week at Art Gallery of Ontario. (The comparatively decorous local version of Art Basel, Art Toronto, happened last month.) Thanks to a culture of public funding for the arts in Canada, artist-run-centers, university galleries, and big institutions, like the AGO and the Royal Ontario Museum, often have go-to shows befitting a cosmopolitan city, even a rather tidy one like this one. And the local scene is home to a host of small, independent spaces like Franz Kaka, Bunker 2, ma ma, and Main Street.
From the inaugural exhibition at the new Museum of Contemporary Art, a group exhibition that brings together a clash of different styles, to the latest edition of a series of public works at a sprawling park (this time around they're sculptures, but in the past they've featured dance and performance art), there's plenty more to explore in Toronto. Here are six recommendations to check out.
October 26 to December 9
One of the most exciting exhibitions right now is American artist Kandis Williams's solo show, which opened back in October when Art Toronto brought in an influx of gallerygoers. From the outside, the neon-lit space looks more like a funeral parlor than a contemporary art gallery, setting a distinct tone for Williams's collages inside, which feel at once both dreamy and haunting. Women's bodies, alone or in groups, crowd the foreground of these compositions, layered atop images of empire and conquest. The ruins of civilizations past in the background hint at the epistemological foundations for how we perceive.
"I'm suspicious of images," Williams tells me over the phone, explaining how she's interested in the deeper symbolic influence of images and how they reinforce aesthetic regimes that keep a particular social order in place. The exhibition's title — the river in Greek mythology between the underworld and the realm of the living — hints at the sense of classical doom that is palpable in the collage works, both large and small, full of cutups and layered transparencies. As Williams's career picks up pace — this year she had solo shows at Night Gallery in Los Angeles and at Shoot the Lobster in New York — the Baltimore native continues to investigate representation and abstraction across a variety of mediums, including publishing, performance, video, and choreography.
September 15 to December 30
On the trail behind Power Plant gallery, on the shore of Lake Ontario, Beth Stuart has re-created a Victorian-era bathing machine, a portable changing room that reminds us of the period's extreme reverence for modesty. Together with Stuart's abstract experiments in painting and sculpture inside the gallery, the show aims to investigate the moral code devices like the bathing machine uphold.
September 5 to December 8
Over at the Art Museum on the University of Toronto campus, cheyanne turions curated a group exhibition guided by Indigenous artist and scholar David Garneau's concept of "extra-rational aesthetic." Here, a range of works show artists thinking about self-determination, coloniality, reparations, and the processes of cross-cultural encounters. A standout series of paintings by Joseph Tisiga, the Props for Reconciliation Series, shows characters from the Archie comics in scenes illustrating classic tropes of Indigenous folks. Also included is Mickalene Thomas's The Origin of the Universe 1, a remake of Gustave Courbet's The Origin of the World as a self-portrait.
September 22 to January 6
Curator David Liss organized "BELIEVE," as the big comeback exhibition for the new Museum of Contemporary Art (formerly the Museum of Contemporary Canadian Art). After a few years of confusion, with several staff changes and postponed reopening dates, the inaugural show in the new location, a fully renovated 96-year-old heritage building in the city's west end, features 17 Canadian and international artists — familiar names from recent art fairs and biennials. The show, despite some perplexing curatorial choices, is worth a visit. Highlights are videos from Tuan Andrew Nguyen (The Island) and Maya Stovall (Liquor Store Theatre), as well as wild and dazzling textile works and sculptural installations by artists Rajni Perera and Nep Sidhu, who collaborated on a sculpture featuring glammed-out pinball machines conjoined by a huge mass of wires. (Sidhu also regularly makes garments for Shabazz Palaces and Erykah Badu.)
December 2018 to October 2019
Since 2017, Kari Cwynar has curated temporary public works in the Don River Valley Park, an area of over 200 hectares in the city's east end. Cwynar's unusual approach has seen her bring in dancers and performance artists. Last fall, some controversy arose when Life of a Craphead (Amy Lam and Jon McCurley) floated a replica of a King Edward VII statue down the Don Valley river as a part of their performance garnering the ire of local white supremacists. For December, a selection of sculptures by Virginia Overton is being installed in the park. Overton, who often works in situ, makes minimal sculptures from scavenged material. These works are adapted from a commission Overton created for the Socrates Sculpture Park in Queens, New York, earlier this year. Here in the Don Valley, she created her sculptures with parts of previous works supplemented by materials she's sourced in Toronto. One piece, for example, is made of a metal rack she found on Geary Avenue inlaid with marble that she brought from NYC.
November 24 to December 22
Portrait photographer Bey's exhibition shows a range of staged and candid moments from everyday black life in America, selected from four different bodies of work spanning his career, from his earliest, breakout series "Harlem USA" to the more recent "Night Coming Tenderly, Black." The striking thing about Bey's work is the sense of intimacy. You feel a real encounter with his subjects.