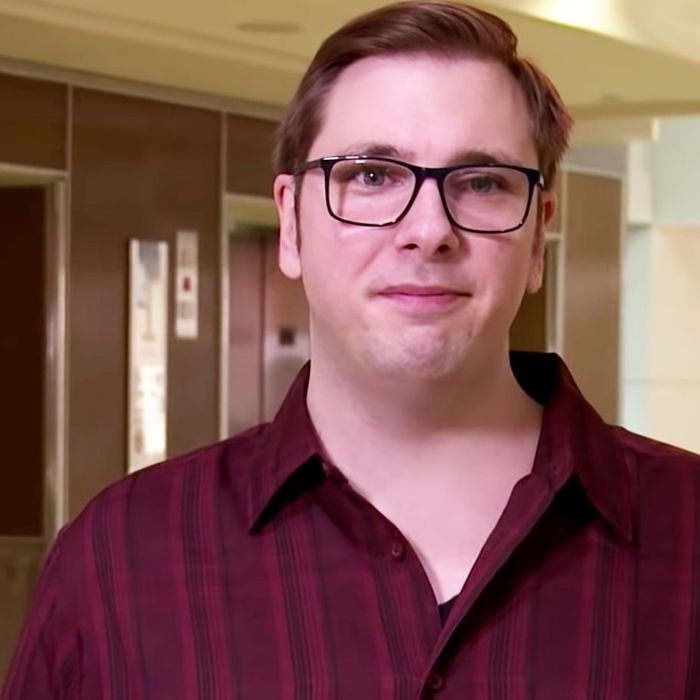 Another week, another groundbreaking episode of 90 Day Fiancé that has yet to be recognized by the MacArthur Foundation for its strides in genius television programming.
We start this episode with Jay's hot dad, Skinz, who has been bestowed that name by his community because he apparently has a lot of sex. (Ashley used a more offensive euphemism, but I will spare you all the visual!) Jay is the spitting image of his father, and the two share a camaraderie that's beautiful … until you realize they're laughing about being dirty philanderers. Jay admires the fact that his father has multiple women, although he claims that he wants to be better than his father. If I were a betting woman, I'd say there is a 100 percent chance that Jay cheats on Ashley within his first 48 hours of being in the United States.
On the other side of the equator, Steven is finally in Russia for the birth of his son. He struggles getting around the airport and train station because he can't read Russian. I can't help but laugh at him as the producer, who is probably fluent in Russian, watches him struggle to tell his right from his left. When Steven finally gets to Olga's small hometown seven hours outside of Moscow, his very pregnant girlfriend is waiting for him outside. Steven and Olga are absolutely sweet together and I don't want to see how Steven messes this up … because he will surely mess this up. Olga is overcome with emotions for him, which is difficult for her since she grew up in a Russian orphanage. Wait, what? This is a pretty big detail just stuffed in the back end of a confessional. I have no doubt this little peek into her traumatic childhood will rear its ugly head again with the birth of her baby.
Back in the United States, Reina tries not to kill Eric for being so Eric-y. It's worth mentioning that I love everything about Reina, our Indonesian Daria. I love that she indiscriminately takes photos of everything she sees, like Citi bike racks. I love that she wears oversized florals in an outfit meant for a Delia's employee. I love that she thinks her sister in an idiot because I do too. Reina is the perfect greek chorus for an audience trying to understand why Leida is with Eric, a man that buys one sandwich to split between four people. Eric's finances should be a walking red flag to Leida because he won't be able to support her in the lifestyle to which she's grown accustomed. And this has nothing to do with the fact that he pays child support, and everything to do with the fact that Eric doesn't have no money! The fact that Eric has no money doesn't change just because Leida's parents are in town. It's just more embarrassing for Leida, which is I why I would like to reiterate that she should go back to her mansion in Indonesia before it's too late.
Meanwhile in Las Vegas, in the happiest place on Earth, Larissa is miserable. She hates Colt's house and wishes he lived in a bigger one with a pool. Larissa has these unrealistic expectations of America and her fantasies are crashing around her. If the size of Colt's house was really such an issue, Larissa should have asked him to give her a FaceTime walking tour of his living situation before leaving her life in Brazil behind. Larissa's being pretty rude to Debra and Colt, but she has made one valuable point: they shouldn't have a slot machine in their dining room as decor. I don't care if it's a sentimental gift from Colt's father, it's gauche.
Larissa's confrontational behavior prompts Debra to believe that Larissa doesn't like anything about them … which is absolutely true. But is Debra really trying that hard? I mean, she offered Larissa beef stew. That's just insulting. The annoying part is that Debra spends her evening sobbing at the dinner table, I suppose mourning the sister-wife friendship with Larissa that will never be. She tries to explain to Larissa that it's her job to learn Colt's favorite meals. I find this infuriating. Colt is a grown man with two women, one of which is his mom, fighting over his attention. It's Colt's job to learn cook for his own dang self. It's not like his dishes are hard — he's eating bacon and eggs, for goodness sake. If he can read recipes.com he can prepare his basic-as-hell dishes. The problem isn't Larissa, the problem is that Colt isn't looking for a wife, but a servant, and the only woman willing to do that for a man that brings nothing to the table but dandruff is the woman who hosted him in her uterus for probably 17 months.
Now, we head to my sweet beautiful angel, Fernanda, in Lumberton, North Carolina. She's shopping with Jonathan's friend Dani, because Fernanda has nothing to do since she can't work until her K-1 visa is official. For the first time since Fernanda got to America, she's finally able to confide in someone about Jonathan's behavior. Dani dismisses Thong-Gate as just Jonathan being a "dumb boy" which … he's a 32-year-old man who wants to start a family. While he's not a dumb boy, he's certainly a stupid man. Fernanda is a sweet soul put on this Earth by God and she doesn't deserve to feel so isolated and alone. My heart breaks when she video chats with her family. She shouldn't be with Jonathan and I'd be happy to pitch in her for plane ride back to Mexico.
In Orange County, Asuelu and Kalani take a visit to the beach to emotionally prepare for their meeting with Kalani's "protective" father. There are so many gems from this scene. The fact that Asuelu is wearing American flag swim trunks. The fact that he points at the palm trees and screams at them for not having coconuts. The fact that he describes the beach as being covered with white people and rubbish. I could go on, but there is not enough time in the day to cover Asuelu's observations. In truth, I'm worried about Asuelu. When we eventually get to family dinner, Kolini, not to be confused with Kalani, is annoyed with Asuelu because he thinks he can just "immediately become a father to his son." I'm not so sure what's annoying about this … since … Asuelu … is his son's father. Asuelu doesn't deserve to be treated so cruelly because all he did was have consensual sex with an older woman. He wasn't expecting to get her pregnant and he's doing his best to try to make things right.
Back in Russia, Steve and Olga visit a department store to shop for the baby. Steve gets frustrated because he feels like Olga is making too many unnecessary purchase for frivolous things like … socks, clothes, and a bath. This man is woefully unprepared for a child if he doesn't think a baby needs clothes. What's worse is he's surprised that in Olga's culture, men aren't allowed in the birthing room. This is a problem for him because he wants to see his son's first placenta-covered moments. I can empathize with this, but Steven spends too much time being surprised. I mean, he was even surprised that Olga could give birth any day now, despite her being very pregnant. This man needs to learn how to chill, because right now he is more startled than a child who hasn't developed object permanence.
We end this episode with Jay finally in America. The first thing he notices is that it's freezing. This is a man who's never felt cold before and I'm worried for his health because he doesn't have a coat. Jay wants to get to Ashley's house and jump naked in the snow, which is not a good idea, especially since Ashley lives in a predominantly white neighborhood. The two are concerned about how their interracial relationship will affect the race relations in their community, and I'm guessing this is about to foreshadow a whole bunch of racism. I'm sure 90 Day Fiancé will handle this with nuance and care! Until next time…