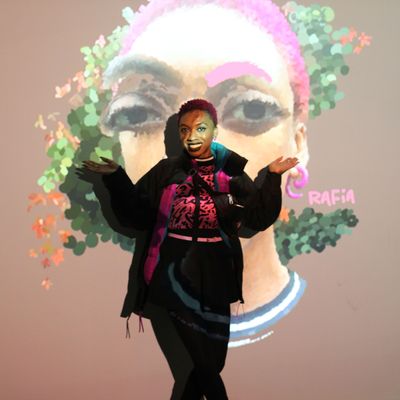 Artist Rafia Santana with their work in the group show
re:trospective
.
Photo: Whitney Mallett
"The idea was for this to be a retrospective of emerging artists," says curator and artist manuel arturo abreu of re:trospective, a group show that recently opened inside the onetime Pfizer factory in Bushwick.
"Retrospectives are this market tool to present a long view of an established artist's career, but I was interested in demarketizing it," abreu continues. "What does it mean for an emerging or younger artist to think about their work retrospectively? I think young artists are often thinking about their work this way, asking, How am I establishing a career or a presence for myself?"
The exhibition brought together nine artists' work: Tai Cruz, Pastiche Lumumba, Modus, Precious Okoyomon, Charlie Perez-Tlatenchi, Redeem Pettaway, Rafia Santana, Marcus Scott Williams, as well as abreu, who participated as both curator and artist. The selection process? "I just curated my friends," says abreu. "It's kind of a parody of art-world nepotism. People just curate their friends. Why would I do any different?"
The sprawling open-plan floor — this was a factory after all — was organized so that each artist had their own zone within the open space, sometimes using black tarps hung from the ceiling to demarcate their areas. It felt somewhere between an art-school thesis show, or a very DIY art fair (yes, the art is for sale).
Two years ago, Erin Davis and Max C. Lee started their exhibition project Re: Art Show organizing group shows on an unused floor of the 660,000-square-foot building, which they have been given access to rent-free. For their 24th exhibition, Davis and Lee invited abreu to put something together in the space, and abreu came up with the idea for re:trospective curating it under the umbrella of Portland, Oregon–based home school, a free art school co-facilitated by abreu and Victoria Anne Reis.
This theme of looking back as we move forward was one lens you could choose to read the show through. Ideas of endurance and mutation felt relevant to abreu's sculptures, which felt like mediated alien excavations, and Santana's video work, which saw digitally rendered faces, including the artist's and abreu's, morph and distort. Pettaway's installation was imbued with haunting nostalgia, including a little girl's plaid dress (maybe a school uniform) hung from the ceiling. And Okoyomon offered a macro perspective, creating (partly in collaboration with India Menuez) her own gay universe populated by angels and stuffed animal creatures with a quilted world of blue oceans and green continents underneath a fluffy white cloud onto which video was projected.
One of Lumumba's works seemed most explicitly about the past, future, and time, a working clock with its face made out of a grid of four faces, black-and-white photos of Azealia Banks, Janelle Monáe, Martin Luther King Jr., and Malcolm X. But the artist says he wasn't thinking about the idea of a retrospective at all when he designed it. The image was first a meme, and Lumumba challenged himself to transpose it into an IRL object and to put himself in the position of a potential collector making art that he would want to live with in his home.
Re: Art Show doesn't take a cut of the sales. "We focus on showing the work and facilitating a platform for artists," explain Davis and Lee. It's the kind of gesture that's especially valuable when emerging artists are in that liminal place between their past and their future, where they started from and where they want to arrive. Still, one wonders how much longer enterprises like this, taking advantage of the city's underused commercial space, will remain going. Gentrification in Bushwick, which until recently was the heart of the city's art-production district, continues to put pressure on the artists of the present, and squeeze out artists of the future.