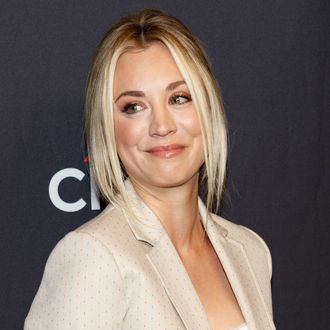 Photo: Christopher Polk/Getty Images
While you were pounding back pie slivers and/or having emotionally complicated political conversations with your in-laws (thank you for that!), Kaley Cuoco was celebrating Thanksgiving just as the Pilgrims did: by rescuing a baby sea lion. Just kidding, those Pilgrims would have eaten a baby sea lion just as soon as they could get their hands on one, which is why 2018 is a far superior year for The Big Bang star and her husband Karl Cook to find an injured pup on Thursday.
The pair phoned the Channel Island Marine & Wildlife Institute, whose volunteers graciously abandoned their families to come to the animal's aid. Based on the video Cuoco posted, at least one of them also didn't have any idea who Kaley Cuoco is, because to her, marine mammals are the real stars.
On Friday, the actress posted an update, announcing the pup's safe rescue and (hopefully) safe rehabilitation. Sure, it's technically after the holiday, but today, we give thanks for Sandy the sea lion, our Thanksgiving ocean angel.